Ford F-150 Lightning Truck Details Revealed: Price, Driving Range, Fuel Savings, And More
Details on the highly anticipated Ford (F) F-150 Lightning electric pickup truck have been revealed in a leaked window sticker that appeared on an internet forum.
The window sticker was disclosed for an entry-level F-150 Lightning model, which provided the truck's list price at $41,669, according to the forum post.
Listed on the sticker was the truck's estimated EPA range of 230 miles on a single charge with the standard-range battery and 300 miles with the extended-range battery, which is in line with the estimated mileage range that Ford had touted on its website.
The truck also requires 49 kWh of charge per 100 miles in the standard-range trim model and 51 kWh per 100 miles in the extended-range version of the truck.
Fuel efficiency for the Lightning model was listed as 68 MPGe for the standard variation and 66 MPGe for the extended range configuration.
Annual fuel cost was estimated at $950, according to the window tag listing.
With the extended-range battery on the truck, the price tag bumps up to the $74,000 range but comes with a number of other options.
Ford is currently not taking any more reservations for the F-150 Lightning as it has been overwhelmed with demand for the EV. The company capped orders for the electric truck at 200,000 units, it said.
The automaker has said that it will beef up the production of the truck over the next two years, doubling its annual capacity to 150,000 units a year by mid-year 2023. Ford currently has a production capacity for 70,000 to 80,000 Lightning models a year.
Deliveries of the first F-150 Lightning EVs are slated to begin this spring.
As of Friday at 11:24 a.m. ET, shares of Ford were trading at $16.39, down 19 cents, or 1.15%.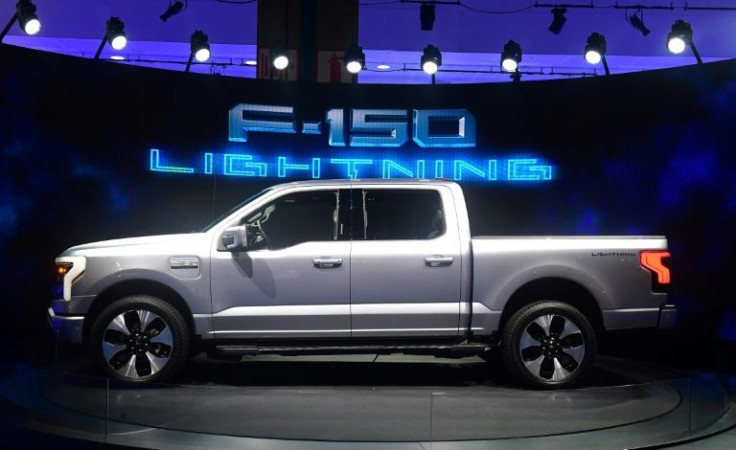 © Copyright IBTimes 2023. All rights reserved.