Ford's Bronco 4x4 Spotted Testing: Here's What Was Revealed In The Latest Spy Photos
As Ford (F) resumed vehicle production at its U.S. plants on Monday, the automaker is still testing its Bronco 4x4 SUV as it was reportedly spotted with less camouflage than it has previously been seen with.
The leaked photos show the 2021 Bronco, which had its release date delayed because of the coronavirus pandemic, without a roof rack on the hardtop, which was seen in other reported photos, Autoblog reported. This gives way to speculation that the roof rack is an option, which builds on the thought that Ford will release tons of accessories and options when it debuts the Bronco later this year.
The spy photos of the Bronco also showed off flared fenders at the front and rear of the SUV as well as an expansive window surface, which should add to the 4x4's visibility.
As previously reported, the Bronco is expected to be built on Ford's Ranger platform and may be powered by the same engine in the pickup truck with a turbocharged 2.3-liter four-cylinder powertrain. It also thought that the Bronco could be purchased with a turbocharged 2.7-liter V6 engine, but this has not been confirmed to date by Ford.
It is known that the Bronco 4x4 will be offered in a two-door and four-door configuration with a removable top to help it compete against the Jeep Wrangler. The SUV may also have a manual transmission option, the news outlet said.
Ford is also planning on launching the Bronco Sport – a more compact version of the 4x4.
Shares of Ford stock were up 0.27% as of market close on Friday.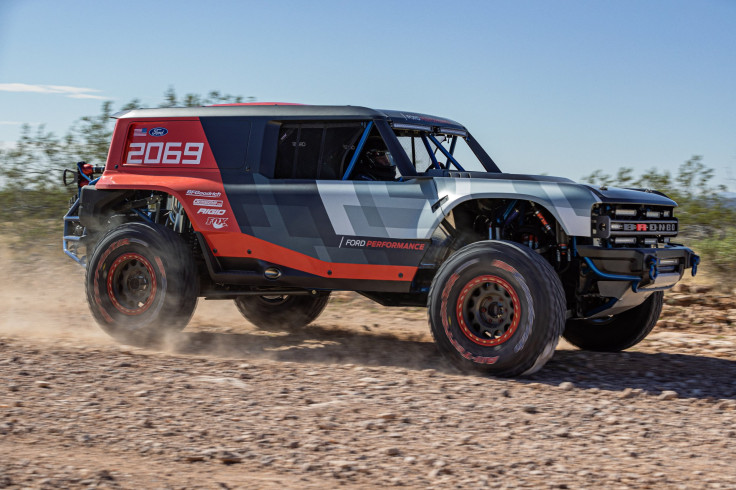 © Copyright IBTimes 2023. All rights reserved.