Former Astronaut Buzz Aldrin Marries Longtime Girlfriend On 93rd Birthday: 'Excited As Eloping Teenagers'
Former Astronaut Buzz Aldrin, the second man to ever walk on the moon, tied the knot with his longtime girlfriend in Los Angeles Friday.
The Apollo 11 co-pilot revealed the exciting news in a tweet, writing, "On my 93rd birthday & the day I will also be honored by Living Legends of Aviation I am pleased to announce that my longtime love Dr. Anca Faur & I have tied the knot."
"We were joined in holy matrimony in a small private ceremony in Los Angeles & are as excited as eloping teenagers," he added.
Aldrin also uploaded two photos alongside his tweet. In the first snap, one can see him dressed in a black tuxedo decorated with various pins while Faur sits by his side. In the second photo, Aldrin is seated next to his bride and is seen seemingly explaining something to Faur as the pair stares at a bouquet of white flowers.
This is the former astronaut's fourth marriage. As per Entertainment Tonight, Aldrin was married to Joan Archer from 1954 to 1974, and they had three children together: James, Andrew and Janice. He married Beverly Van Zile the following year, but they got divorced in 1978. Aldrin then tied the knot with his third wife Lois Driggs Cannon in 1988, and their marriage lasted for 24 years before their divorce in 2012.
Aldrin's bride, Faur, 63, is the executive vice president of Buzz Aldrin Ventures, which sells apparel and collectibles. Faur has a Ph.D. in chemical engineering, according to BBC News.
In 1969, some 600 million people watched in awe as Neil Armstrong and Buzz Aldrin became the first two people to walk on the moon as part of the Apollo 11 mission. The event was reportedly the largest television broadcast at the time.
Aldrin is the only surviving astronaut of three people who took part in the space mission. Test pilot and Air Force Reserve major general Michael Collins, who flew Apollo 11, died at the age of 90 in 2021, while Armstrong died at the age of 82 in 2012.
A clamor for public appearances for the astronauts ensued after the mission trip, BBC News reported.
"I hadn't thought that much of what would come afterward," Aldrin said in 2001. "I was not that prepared or comfortable to be thrust into the public eye that much."
Prior to landing on the moon, Aldrin flew fighter planes on the U.S. Air Force combat missions during the Korea war.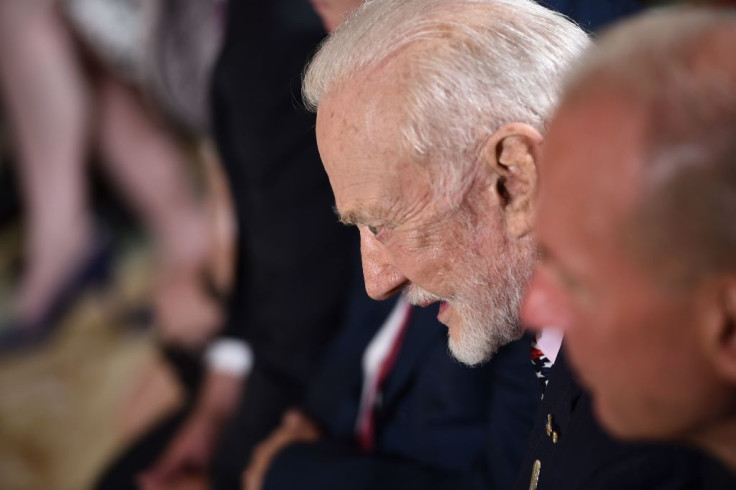 © Copyright IBTimes 2023. All rights reserved.