'Fortnite' Update: How To Gift Items From The Shop To Friends
"Fortnite" battle royale has received its v6.31 update, which adds a new limited time mode and a new pump shotgun. Developer Epic Games has also added the ability to gift items from the "Fortnite" in-game shop to friends.
"Hey everyone, we know that many of you have been eagerly awaiting a gifting feature and today we're excited to announce that for a limited time we'll be offering it with the release of our 6.31 update," Epic Games said on its blog. "This initial gifting period will last one week after the release of the update."
The new gifting system in "Fortnite" has some other caveats besides the fact that it will only be available for one week. First, the ability to gift items to friends is not available on the iOS version of "Fortnite." Epic said that Apple's policies are prohibiting them from making that possible. Users who wish to gift items purchased in the shop must also have multi-factor authentication enabled on their account.
Users must also be friends with somebody for at least 48 hours if they wish to send them a gift. Friends who don't qualify won't be shown in the friends list when sending a gift. Players can only gift three items within a 24-hour period and all gifts that are purchased are not refundable.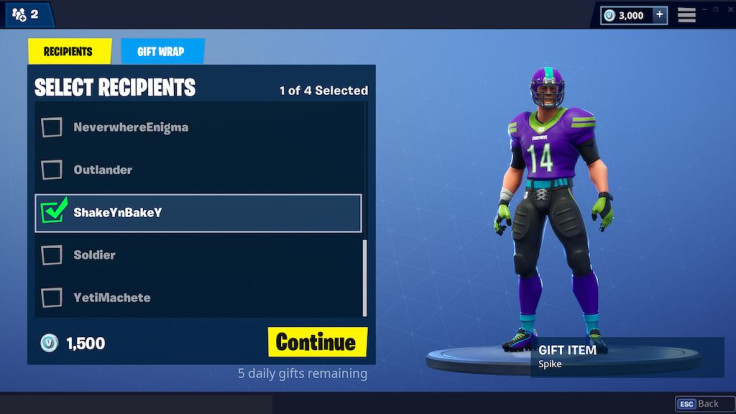 Now that's out of the way, here's how easy it is to gift an item from the "Fortnite" shop. First, users must select an item from the shop and two options will pop up: "Purchase Items" and "Buy As A Gift." Users will have to select the latter and choose the recipient or recipients from the friends list. Next, user will have to press continue and they have the option to include a short message with the gift.
The recipient of the gift will be presented with a gift box the next time they log in to "Fortnite." The gift box will be accompanied by the short message the sender wrote. The recipient will simply have to press the "Open" button to receive the item and have it placed inside their own locker.
Another thing to keep in mind with this system is that users will only be able to gift items that are currently available in the shop. Anything in the shop can be sent as a gift, as pointed out by The Verge. Users should also keep an eye out for their V-Bucks since buying an item as a gift will still require the in-game currency.
Th gifting system will only run for one week and Epic will take note of user feedback. If the test goes well, it's very likely that Epic will make this gifting system permanent in "Fortnite" battle royale.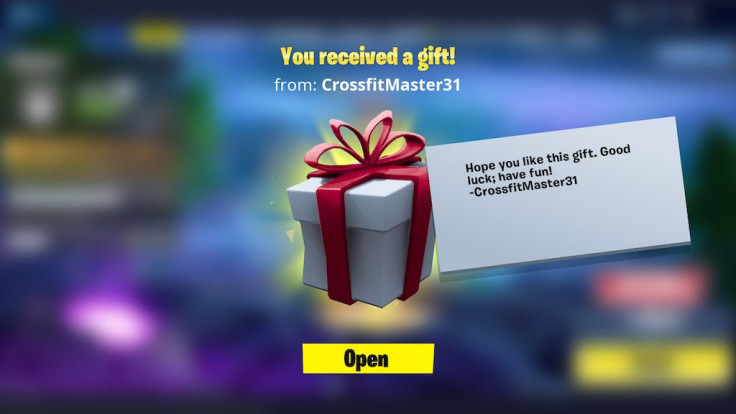 © Copyright IBTimes 2023. All rights reserved.