Fourth Grader's Poignant, Touching Gay Marriage Essay Goes Viral: 'Just Get Over It' [PHOTO]
Just about everyone has something to say about gay marriage, from national lawmakers and businesses to religious leaders and celebrities. But perhaps the most impactful messages of support come from everyday citizens, especially young kids.
Since it was posted on social news site Reddit on Wednesday, an anonymous fourth-grade student's essay on gay marriage has gone viral for his poignant, touching and mature message, saying people should "just get over it."
Read the full letter below: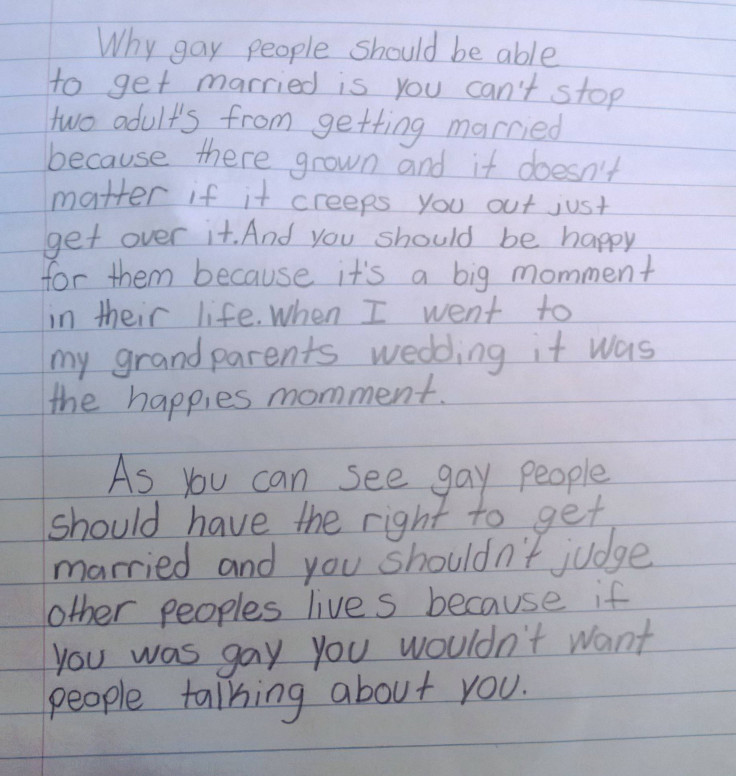 "One of my 4th grade students chose gay marriage as his topic for a persuasive essay," the student's teacher wrote on Reddit. "This is the result. More sense than some adults."
The teacher added, "I'm not sharing this because of how perfect the sentences are but because of how clear his thought process is on this specific issue."
© Copyright IBTimes 2023. All rights reserved.