France Conducts Its First Airstrikes In Iraq Against Islamic State, 'Entirely' Destroys Depot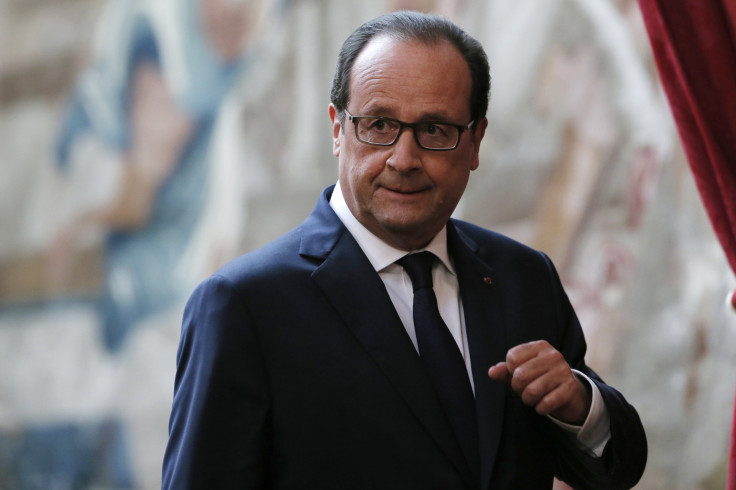 France said Friday that it conducted its first airstrikes in Iraq and destroyed a logistics depot belonging to the Islamic State group, formerly known as ISIS. The French airstrikes come as an effort to assist the U.S., which is working to gather support from the international community to tackle the growing threat from the militant Sunni terrorist group.
President François Hollande said Friday that its Rafale fighter jets hit the depot in northeastern Iraq and "entirely destroyed" the target, the Associated Press reported, citing a statement from the government. The move makes France the first country to assist Washington with airstrikes against the Islamic State on Iraqi soil. The attack by the French forces happened while U.S. Gen. Martin Dempsey, chairman of the Joint Chiefs of Staff, was in France to meet his counterpart Gen. Pierre de Villiers.
"Other operations will follow in the coming days with the same goal — to weaken this terrorist organization and come to the aid of the Iraqi authorities," Hollande said, according to AP, adding: "There are always risks in taking up a responsibility. I reduced the risks to a minimum."
Four French airstrikes hit the town of Zumar, killing dozens of extremist fighters, AP reported, citing Qassim al-Moussawi, a spokesman for the Iraqi military. Fighters for the terrorist group have been involved in heavy fighting with Iraqi and Kurdish forces for control of Zumar and surrounding towns.
On Thursday, Hollande had reportedly stated that his country would "soon" conduct airstrikes against ISIS, as requested by Iraq, but said that the assistance will not go beyond airstrikes, which are aimed at supporting the Iraqi military and Kurdish Peshmerga forces battling the militant group on the ground. France has also said that it will not conduct strikes in Syria, where ISIS controls significant portions of the country's north. French Rafale jets and an ATL2 surveillance plane had begun flying over Iraq since Monday.
"The French were our very first ally and they are there again for us," Dempsey said in Normandy in northwestern France, according to AP, adding: "It just reminds me why these relationships really matter."
The U.S. Central Command reportedly said Thursday that its military has conducted 176 airstrikes in Iraq since Aug. 8, during which time the Islamic State group has executed two American journalists in retaliation.
© Copyright IBTimes 2022. All rights reserved.
FOLLOW MORE IBT NEWS ON THE BELOW CHANNELS