Free Wedding Picture App, WedPics, Captures Moments On Your Special Day; CEO On Why App Is Revolutionizing Social Media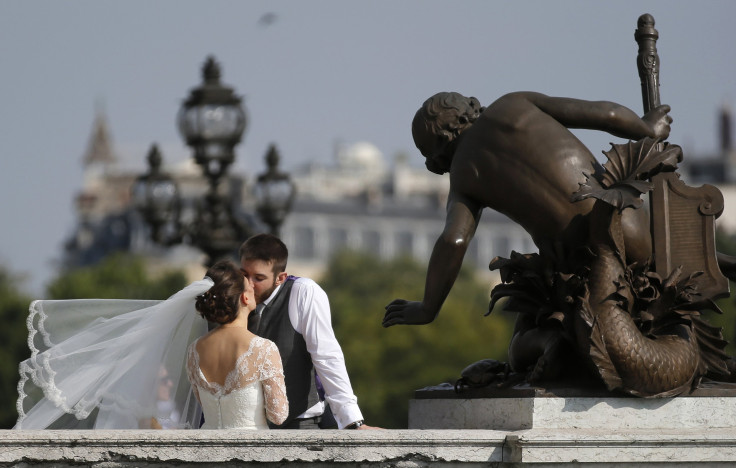 There's a reason your wedding is called "the Big Day," so why not celebrate the nuptials you've been dreaming about since childhood by having them documented? We know, we know; it sounds expensive. But it's not – we promise… especially if you're using the new app WedPics.
WedPics is a free app that says it will revolutionize how we capture wedding moments. Instead of relying on disposable cameras or misspelled Instagram hashtags, WedPics allows attendees to freeze memories from the happy day with a click of a button.
"WedPics actually was the offspring of our first app, Deja Mi, which was an event/location-based photo/video-sharing app," WedPics CEO and co-founder Justin Miller told the International Business Times in an interview. "The idea for Deja Mi was born while at a concert in 2010 and watching all of the folks around me capturing some amazing photos and videos. Given that I didn't know most of the people in the audience, it dawned on me that I would most likely never see any of that candid content again. The wheels began to turn and I thought, 'What if all of this media could be tied to the event/location vs. just the person?' Out of this, Deja Mi was born."
Then in 2012, Miller decided to pivot the concept of Deja Mi to a specific audience, targeting weddings.
"When we started developing WedPics we had about 18 months of experience under our belts" from the Deja Mi app, Miller said.
"Given that the average couple spends $28K on their wedding, and allocates approximately 10 percent of that budget towards the photographer, there's a lot riding on the ability to capture/collect this experience. And in today's world, where everyone is capturing candid content (when's the last time you went out to eat and didn't see someone snapping a shot of their meal?), the idea of aggregating wedding photos seemed like the perfect vertical," he said.
How does WedPics work, exactly? It's a free, fast and convenient way for guests to capture and collect photos and videos into a central, private location. This way you can prevent cyber-stalkers from peering in on your intimate day. WedPics gives the couple the power to control who is allowed to view and share content by approving each family, friend and guest to their account.
In addition to the privacy benefit, WedPics users can spend the money they save on photographers by printing a keepsake photo book or individual images through the apps' partnership with Target-Kodak. That's right, no more "right-click, save-as" bother. Just visit the marketplace, select "WedPics Prints" and choose your photos. Your order will be ready in a quick 24 hours so you can flip through your photos on the way to the honeymoon.
"It's tough to define my favorite moment as a single event," Miller replied when we asked him his favorite WedPics moment. "But one of the most rewarding experiences is hearing about how many incredible moments, experiences, etc. … were captured from our couples every day. There's really no better feeling than these testaments surrounding their special days!"
Yes, "days." That's because WedPics allows users to create specific albums for any event leading up to your wedding day from engagement parties to bridal showers, the rehearsal dinner to the reception that way you can make every second count without missing a moment.
Will you be ditching your wedding photographer for click-happy guests? Let us know in the comments section below and find more out about WedPics by browsing their website here.
© Copyright IBTimes 2023. All rights reserved.