'Futurama: Worlds Of Tomorrow' Trailer, New Gameplay Details Revealed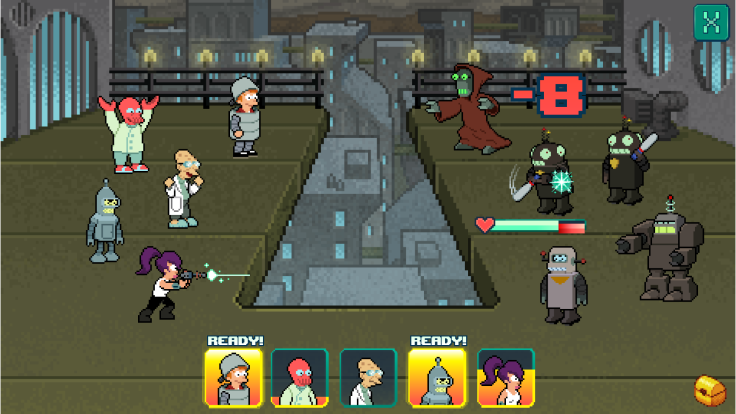 The trailer for "Futurama: Worlds of Tomorrow" has been released and is set to arrive soon for iOS and Android devices. The creators of the upcoming game also revealed some gameplay details as well.
The trailer for "Futurama: Worlds of Tomorrow" features a new animation showing Fry, Leela, Amy and Bender obsessing over a new Hypnotoad mobile game. "Futurama" villain Lrrr tries to seize the moment to attack New New York only to be distracted by the same game and crashes right into the Planet Express building. The trailer then cuts away to some gameplay footage.
Jam City's TinyCo game studio is developing "Futurama: Worlds of Tomorrow" and is being produced by FoxNext Games. TinyCo has also teamed up with "Futurama" creator Matt Groening and the Curiosity Co. to develop the game. David X. Cohen also acts as the executive producer of the game while all of the original writers of "Futurama" also return.
"I'm proud to say that 'Futurama' lives! In mobile-video-game teaser trailer form, anyway," Groening said. "If you squint, it's kind of like a little episode."
Jam City says "Futurama: Worlds of Tomorrow" will blend simulation, combat, galactic exploration and "choose-you-own-adventure" mechanics. The game is also in two major settings: New New York and Space Adventures.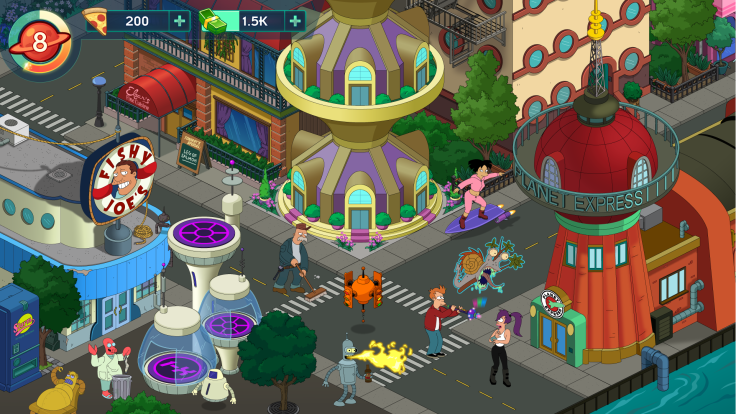 "In New New York, players will focus on rescuing characters, collecting special items and materials, expanding their characters' capabilities by leveling them up and crafting ability-defining character outfits, and tackling story-driven quests," Jam City said in its press release. Everything that happens in New New York will push the game's narrative forward.
As for Space Adventures, players will travel through different parts of the "Futurama" universe to fight enemies in 16-bit graphics. The developers also teased that players' choices in Space Adventures will "determine their fate."
"The 'Futurama' universe is chock-full of exotic planets inhabited by wacky creatures [and Smizmars]," said Josh Yguado, Jam City president and chief operating officer. "Whether you're counseling an alien overlord on Omicron Persei 8 or battling rogue robots on the streets of Chapek 9, exploring this crazy universe and interacting with its denizens will be a blast."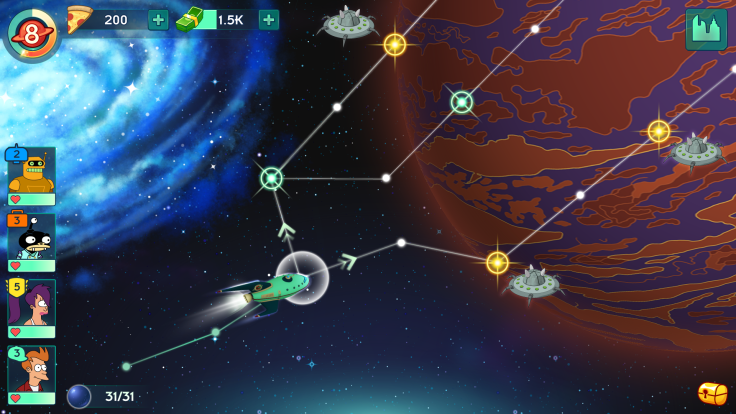 Judging from the game's description, it does look like the team behind it is ambitious. Mobile games typically focus on making one or two mechanics work the best, as pointed out by Engadget. "Futurama: Worlds of Tomorrow" is promising to deliver a blend of numerous game mechanics usually found on bigger-budget games.
There's no release date yet, but "Worlds of Tomorrow" will arrive this summer for iOS and Android devices. USA Today also reported in February the upcoming game will be free to play but will have in-app purchases that range from $1 to $50.
Creator Matt Groening teased they were going to "sneak some more 'Futurama' episodes in there on whatever device people are gonna be using," 9To5Mac reported. "Futurama" aired on Fox starting in 1999 until it was canceled in 2003. The animated show was revived by Comedy Central in 2008, but went off the air by 2013 after completing its seventh and final season.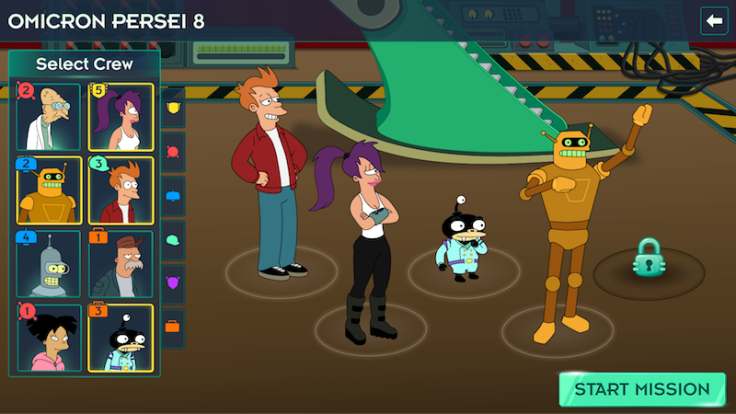 © Copyright IBTimes 2023. All rights reserved.
FOLLOW MORE IBT NEWS ON THE BELOW CHANNELS