Galaxy S9 Rumors: Will New Samsung Phone Feature 512GB eUFS?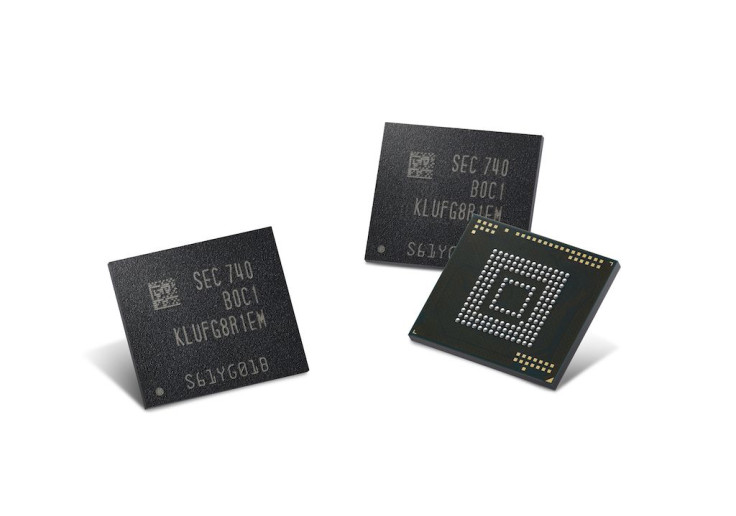 Samsung announced it has begun mass producing the industry's first 512GB embedded Universal Flash Storage (eUFS). Samsung intends to bring this new storage capacity on next-generation devices, possibly the Samsung Galaxy S9.
"The new Samsung 512GB eUFS provides the best embedded storage solution for next-generation premium smartphones by overcoming potential limitations in system performance that can occur with the use of micro SD cards," said Jaesoo Han, executive vice president of Memory Sales and Marketing at Samsung Electronics. "By assuring an early, stable supply of this advanced embedded storage, Samsung is taking a big step forward in contributing to timely launches of next-generation mobile devices by mobile manufacturers around the world."
With Samsung's new 512GB eUFS storage, the South Korean company will soon be able to manufacture smartphones or tablets that have built-in flash storage that's the same as or even more than some desktop or laptop computers.
The technology behind this new flash storage solution is based on Samsung's current 48-layer 256 gigabit (Gb) V-NAND chips. Samsung's 512GB eUFS is composed of eight stacks of 64-layer 512 gigabit (Gb) V-NAND and a controller, doubling the memory of the 256GB eUFS while maintaining the same size, according to ZDNet.
Samsung says that the 64-layer 512Gb V-NAND's advanced circuit design and new power management technology in the 512GB eUFS' controller can minimize the increase in energy it consumes. Simply put, Samsung's new storage solution is able to stay power efficient even though it contains twice the number of cells compared to a 256GB eUFS.
With 512GB of eUFS storage, Samsung says that a flagship smartphone would be able to store approximately 130 4K Ultra HD (3,840 x 2,160) video clips of a 10 minute duration. This is 10 times more than what a 64GB phone is capable of storing.
As for speed, Samsung says that the 512GB eUFS is able to offer read and write speeds of up to 860MB/s and 255MB/s, respectively. To put that in a real-life scenario, a user would be able to transfer a 5GB 1080p full HD video clip in around 6 seconds. The company says that kind of transfer speed is more than eight times faster than a typical microSD card is capable of.
As for random read speeds, Samsung says that the 512GB eUFS has a read speed of 42,000 input/output operations per second (IOPS) and write speed of 40,000 IOPS. The company says that this is around 400 times faster than a conventional microSD card. This kind of speed means that users should have seamless multimedia experiences on their mobile devices.
Samsung didn't say which of its upcoming new phones will get the 512GB eUFS first. The top candidate right now is the Galaxy S9, which is expected to be Samsung's next flagship Android smartphone. Samsung did mention on its press release that the 512GB eUFS will be used for its "upcoming flagship smartphones and tablets."
If this turns out to be true, then the Galaxy S9 will be the very first smartphone that will be available with 512GB of internal storage. This would be a feat that even Apple hasn't even accomplished yet. The only problem with this amount of storage is that it would certainly increase the price of the Galaxy S9, as pointed out by Neowin. The popular rumor right now is that Samsung may reveal the Galaxy S9 early during CES 2018, which kicks off on Jan. 8 in Las Vegas, Nevada.
© Copyright IBTimes 2023. All rights reserved.