GameStop Stock Up 60% After Elon Musk Posted This Tweet
KEY POINTS
Musk's tweet caused GameStop's stock to surge by 60%
Burry calls GameStop's stock surge 'dangerous'
Musk also caused a surge in Etsy's stock after he praised the e-commerce website
GameStop's stock on Tuesday saw a dramatic rise of more than 60% after Tesla CEO Elon Musk tweeted the "wallstreetbets" Reddit page.
Shares of GameStop rose by 60% in after-hours trading after Musk tweeted "Gamestonk!!" and attached a link to the "wallstreetbets" Reddit page, which boasts more than 2 million subscribers.
Earlier in the day, Social Capital's Chamath Palihapitiya announced he had purchased GameStop call options, causing the stock to surge. The company's stock closed up 92.7%.
While GameStop's investors celebrated the company's stock surge, high-profile investor Michael Burry warned that the rise is "unnatural, insane and dangerous."
"If I put $GME on your radar, and you did well, I'm genuinely happy for you. However, what is going on now – there should be legal and regulatory repercussions. This is unnatural, insane, and dangerous," Burry wrote in a now-deleted tweet.
Burry, head of Scion Asset Management, told Barron's he deleted the post after he tagged the wrong SEC Enforcement Twitter account. Burry made a substantial investment in GameStop in 2019. He owns 1.7 million GameStop shares, which has ballooned to $250 million from $17 million as of Tuesday.
GameStop Corp., a Fortune 500 company in Texas, is one of the world's largest retail gaming stores that offers games and accessories for various consoles, including Xbox One X, PlayStation 4 and 5, and Nintendo Switch.
In April, GameStop reportedly suffered financially as the coronavirus pandemic forced the company to shut 300 physical stores permanently. On April 1, the company's stock price was at $3.25. When trading ended Monday, the company's stock hit $76.79 and jumped to $96.67 on Tuesday.
Musk's Tuesday tweet was not the first time he had influenced stock prices. Earlier in the day, the Tesla CEO praised Etsy after buying a hand-knit wool outfit for his dog.
"I kinda love Etsy," Musk wrote on Twitter. "Bought a hand knit wool Marvin the Martian helm for my dog."
His tweet caused shares of the American e-commerce company to rise as much as 5% in premarket trading, though it closed at 2.1%.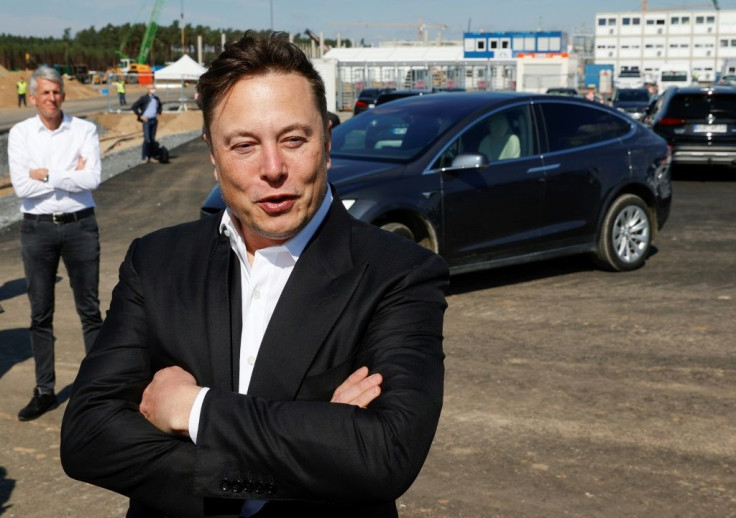 © Copyright IBTimes 2022. All rights reserved.
FOLLOW MORE IBT NEWS ON THE BELOW CHANNELS