Gazprom CEO Threatens Ukraine With Gas Disruptions, But European Union Says It Has Kiev's Back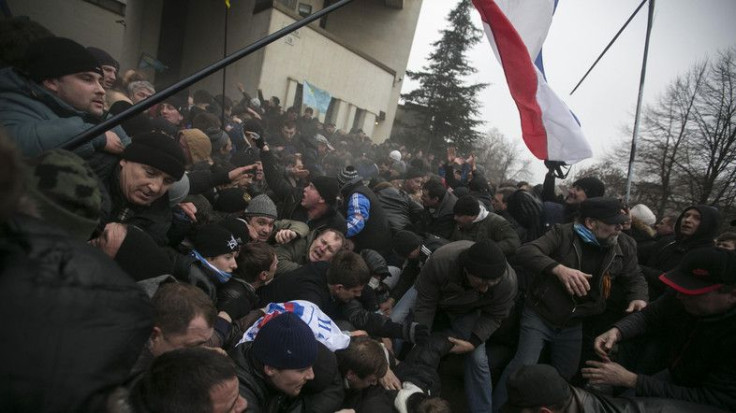 The head of the Russian state-owned company Gazprom threatened Ukraine Friday that it would stop natural gas supplies if the country did not pay its February bill. But Gazprom's threats may prove to be empty, as it may lose money if it follows up on that threat.
"Either Ukraine makes good on its debt and pays for current supplies, or there is risk of returning to the situation of early 2009," Gazprom CEO Alexei Miller said Friday, adding that Ukraine owed almost $2 billion in unpaid bills.
Russia, which supplies Europe with 30 percent of its natural gas and Ukraine with half of its supply, stopped the flow of the hydrocarbon in 2006 and 2009 over price disputes. Half of the European imports pass through Ukraine. So far Ukrainian officials have remained silent on whether they plan to pay OAO Gazprom (MCX:GAZP).
This latest threat comes as Russian forces have taken over Ukraine's autonomous region of Crimea.
On Wednesday, the European Union's executive arm came to Ukraine's defense by announcing it would assist the country if Russia decided to shut off gas supplies, by reversing existing flows back to Kiev.
"In the short term, the [European] Commission is ready to assist Ukraine in diversifying its gas supply routes, notably by ensuring that reverse flows with the EU, notably via Slovakia (in addition to Poland and Hungary, as is currently the case), can be operationalized as soon as possible," the commission said.
If Russia decides to cut supplies and divert its gas to Europe through other pipelines, Gazprom will fulfill only about two-thirds of contract obligations, because of limited capacity.
That means there will be less revenue for a company that makes up almost 8 percent of Russia's GDP as well as a significant portion of the state's budget revenues.
But European and Ukrainian officials believe that for Russia, "Gazprom is more valuable than Crimea," Mikhail Korchemkin, the executive director of East European Gas, told IBTimes.
If the state-owned company interrupts supplies or if tensions escalate further, it could cost Gazprom $20 billion and eliminate $6 billion worth of customs duties for Russia, possibly bankrupting the company, Korchemkin said.
While some believe Europe is also vulnerable to Russian supply cuts, Matthew Bryza, a former U.S. ambassador to Azerbaijan and current director of the International Centre for Defence Studies, a think tank, told IBTimes that he does not "anticipate any such worst-case scenarios."
"The worst of winter has passed in Europe and temperatures are rising, thereby reducing natural gas demand," Bryza said. "Hence, from the perspective of European natural gas demand, the timing of this latest crisis in Ukraine-Russian relations is quite good."
© Copyright IBTimes 2023. All rights reserved.
FOLLOW MORE IBT NEWS ON THE BELOW CHANNELS