German Business Morale Weakens At Lowest Level In Almost 2 Years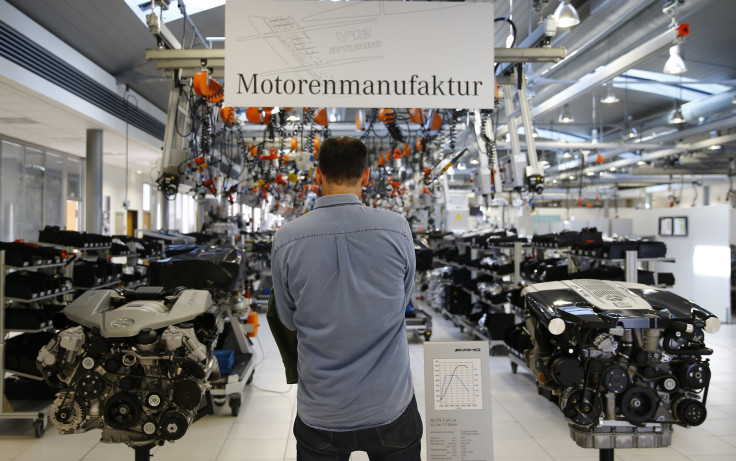 (Reuters) - German business sentiment darkened in October for a sixth month running, hitting its lowest level in almost two years which suggests that Europe's largest economy could be in for a bumpy ride in the fourth quarter.
The Munich-based Ifo think-tank's business climate index, based on a monthly survey of some 7,000 firms, fell to 103.2 from 104.7 the previous month.
That was its weakest reading since December 2012 and was below the Reuters consensus forecast for a reading of 104.3. German Bund futures rose after the release.
"We're in a downward spiral in terms of mood," said Andreas Scheuerle, an economist at Dekabank.
"The original mood killers - geopolitics, euro zone weakness, German economic policy and deflation concerns - have led to big downward revisions of forecasts and the weaker economic expectations are now weighing on sentiment," he added.
A slew of organizations including the OECD, the IMF and leading institutes have slashed their forecasts for German economic growth and the government now expects the economy to expand by just 1.2 percent this year.
While Germany steamed ahead in the first quarter, it suffered a shock 0.2 percent contraction in the second quarter and concerns are now rife that the economy will slip into a technical recession - defined as two consecutive quarters of declining economic activity - between July and September.
As tensions over Ukraine continue to weigh on the relationship between the West and Russia, where about 10 percent of German exporters send goods, the outlook for the remainder of the year is not rosy either.
Ifo economist Klaus Wohlrabe said he expected zero growth in Germany in the fourth quarter. The survey showed firms felt more downbeat about both their current situation and the future.
Recent hard data has painted a bleak picture, with industry orders, output and exports all plunging at their steepest rate since the height of the global financial crisis in 2009.
Investor morale has also plummeted recently. Consumer sentiment remains a beacon of hope, though, with a GfK survey last week showing that consumers were more optimistic heading into November. Germany's private sector also grew faster in October as manufacturing rebounded.
© Copyright IBTimes 2023. All rights reserved.