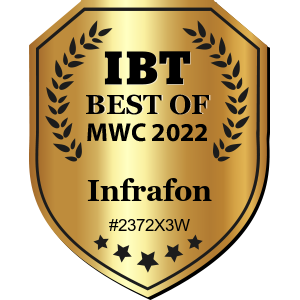 German-based startup Infrafon is set to debut a smart badge at Mobile World Congress 2022 that will innovate workflow and corporate organization.
Infrafon CC1 is a smart badge that has an aesthetically pleasing, sleek design. It weighs a mere 50 grams but has a touch-friendly, high-resolution electronic paper screen. It is Wi-Fi and Bluetooth friendly and is managed by cloud commands, administered by organizations via electronic kiosks, rather than individual holders of the badge, allowing for improved security and efficiency.
Infrafon CC1 is a smart badge that has an aesthecially pleasing, sleek design. Photo: Infrafon
Infrafon CC1 can have a massive impact on a multitude of workplaces, such as patient scheduling in medical areas and client management.
Infrafon CC1 was designed as a platform for modularity expansions. It is made by the company as well as third-party affiliates.
Founded in January 2021, co-founders Frieder Hansen and Brian Wyld started Infrafon with the objective to develop efficient third-party application ecosystems with solutions to assist and authorize the digitalization of human processes.
© Copyright IBTimes 2022. All rights reserved.