Germany, France Press for Coercive Eurozone Debt Rules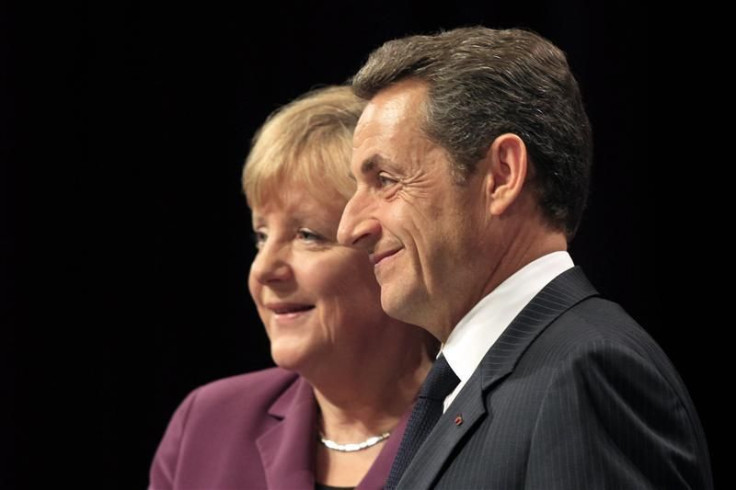 (REUTERS)-Germany and France stepped up a drive on Monday for coercive powers to reject euro zone members' budgets that breach EU rules, and the United States kept up the drumbeat of demands from the rest of the world for decisive action.
The OECD rich nations' economic think-tank said the European Central Bank should cut interest rates and abandon its reluctance to step up purchases of government bonds in order to restore confidence in the euro area, which now posed the main risk to the world economy.
The ECB shows no sign of doing so yet. It bought 8.5 billion euros of euro zone government debt in the latest week, at a time of acute turmoil, in line with its previous activity but well short of what economists say is necessary to turn market sentiment around.
President Barack Obama said the European crisis was a huge issue for the U.S. economy after meeting top European officials Herman Van Rompuy and Jose Manuel Barroso in Washington.
White House spokesman Jay Carney said Obama's message behind closed doors was that Europe needs to take decisive action, conclusive action to handle this problem, and that it has the capacity to do so.
In Brussels, finance ministers of the 17-nation currency area meeting on Tuesday are due to approve detailed arrangements for scaling up the European Financial Stability Facility rescue fund to help prevent contagion in bond markets, and release a vital aid lifeline for Greece.
The signs are the EFSF may not have enough clout, leaving the onus firmly on the ECB. Sources have said the Obama administration has urged Europe to allow the ECB to act as lender of last resort as the U.S. Federal Reserve does.
Berlin and Paris aim to outline proposals for a fiscal union before a European Union summit on December 9 increasingly seen by investors as possibly the last chance to avert a breakdown of the single currency area.
We are working intensively for the creation of a Stability Union, the German Finance Ministry said in a statement. That is what we want to secure through treaty changes, in which we propose that the budgets of member states must observe debt limits.
Moody's Investors Service warned that the rapid escalation of the euro zone sovereign debt and banking crisis threatened all European government bond ratings.
While Moody's central scenario remains that the euro area will be preserved without further widespread defaults, even this 'positive' scenario carries very negative rating implications in the interim period, the ratings agency said in a report.
German Finance Minister Wolfgang Schaeuble acknowledged on Sunday that it may not be possible to get all 27 EU member states to back treaty amendments, saying agreement should be reached among the 17 euro zone members.
That can be done very quickly, he told ARD television.
Sources familiar with the Franco-German negotiations said they were also exploring a deal among a smaller number of countries outside the EU treaty if necessary. But progress toward tighter fiscal rules is unlikely to solve the crisis without an effective firewall to ward off market attacks.
SAVE THE EURO
The leaders of two smaller euro zone countries, Finland and Luxembourg, voiced unease about the Franco-German plans because they appeared to bypass the European Commission, which is seen as a guarantor of equal treatment for all member states.
I am not too sure if it will get wider support. The disadvantage of this proposal is that it would bypass the EU, the Commission would have a very small role, Finnish Prime Minister Jyrki Katainen told reporters.
Luxembourg Prime Minister Jean-Claude Juncker, who chairs euro zone finance ministers, also warned against looking for instruments outside the EU treaty.
In France, Agriculture Minister Bruno Le Maire said euro zone countries would have to give up some budget sovereignty to save the euro from hostile speculators.
We won't be able to save the euro if we don't accept that national budgets will have to be a bit more controlled than in the past, Le Maire told Europe 1 radio.
Giving up any fiscal sovereignty is politically sensitive in France, which has a strong Gaullist, nationalist tradition.
Asked whether the Commission would be granted intrusive powers over national budgets in the euro zone, Le Maire said: Why not? The French people have to realize what is at stake -- the preservation of our common currency and our sovereignty.
What matters is that we ensure that budget discipline is respected within the euro zone. Otherwise the euro itself is threatened.
He acknowledged that France and Germany were still at odds over greater ECB intervention to rescue the euro but said: We will have to find a compromise.
On financial markets, the euro regained ground after slipping below $1.33 in Asia and European shares jumped on hopes of fresh measures to fight the debt crisis. Italian, Spanish, French and Belgian bond yields fell, as did the cost of insuring those countries' debt against default.
But relief may be short-lived as the rally was partly due to an Italian newspaper report that the International Monetary Fund was in talks to lend Italy up to 600 billion euros -- more than its entire war chest -- which the IMF flatly denied.
At this point in time the IMF has not received any request for assistance from, nor are we negotiating with, either Italy or Spain, IMF chief Christine Lagarde said after meeting with Peruvian President Ollanta Humala.
The European Commission also said Italy had not asked for any amount of money and there were no discussions at European level on aid for Rome.
IMF inspectors are due in Rome this week to examine Italy's public finances after former Prime Minister Silvio Berlusconi agreed earlier this month to submit to regular monitoring of his promised austerity measures and economic reforms.
IMF TO THE RESCUE?
EU officials say some sort of IMF program could make sense for both Italy and Spain as part of a multi-pronged response, involving the ECB and the euro zone rescue fund, to supervise reforms and restore investor confidence in their debt.
Reuters reported exclusively last week that Spain's People's party, due to form a government by mid-December, is considering seeking IMF aid as one option for shoring up public finances.
In its world economic outlook, the Organization for Economic Cooperation and Development urged a substantial relaxation of monetary conditions, and said banks would need to be well capitalized and policies put in place for sovereigns to finance themselves at reasonable rates.
This calls for rapid, credible and substantial increases in the capacity of the EFSF together with, or including, greater use of the ECB balance sheet, the OECD said.
OECD chief economist Pier Carlo Padoan said current plans to leverage the euro zone bailout fund were insufficient. Euro zone leaders planned to boost the EFSF up to 1 trillion euros, but the fund's head said it is now unlikely to achieve that.
The fund has yet to attract the pledges it hoped to get from countries with sovereign wealth to invest and Germany refuses to countenance allowing it to draw upon ECB funds.
(Additional reporting by Leigh Thomas in Paris, Emelia Sithole-Matarise in London, Matthias Sobolewski in Berlin, Ian Chua in Singapore,; writing by Paul Taylor and Mike Peacock)
© Copyright Thomson Reuters 2023. All rights reserved.