Glenn Beck May Revive 'Jefferson Lies' After The Book Is Pulled By Publisher For Inaccuracies; Is Publishing Broken?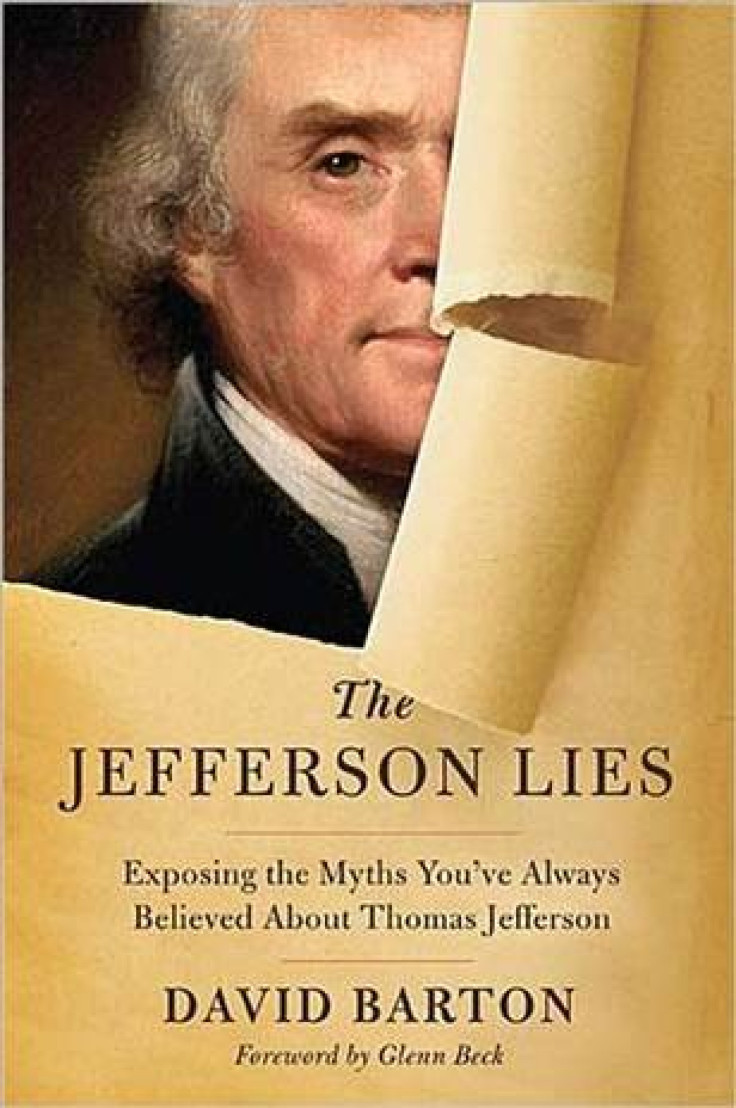 Despite being widely discredited by the academic community and yanked off shelves by its original publisher, David Barton's "The Jefferson Lies" may soon be heading back to a bookstore near you.
In a phone interview with the International Business Times, the evangelical author said he was approached by four publishers to resell the book after Thomas Nelson last month halted shipments and reverted the publishing rights back to him. He said he was close to negotiating a deal with Mercury Ink, the Simon & Schuster imprint launched last year by the conservative talk-show host Glenn Beck. Emboldened by the pending deal and unapologetic toward his detractors, Barton said he was not fazed by the academics, journalists and historians who have criticized "Jefferson Lies" -- or the fact that the History News Network deemed it to be the "least credible history book in print."
"I'm sticking by what I wrote," Barton said. "All the documentation is there, and we'll be putting out a series of articles in the next couple of months to back everything up."
"Jefferson Lies" purports to debunk liberal myths about Thomas Jefferson, identifying our nation's third president as an evangelical Christian and arguing that he intended America to be a Christian nation. Among the book's harshest critics are Warren Throckmorton and Michael Coulter, two professors at Grove City College -- a Christian liberal-arts school -- who wrote their own book, "Getting Jefferson Right," as a retort to Barton's "pseudo-history."
But while the book's details continue stir debates in politics, its sudden recall raises an equally important question about publishing: To what extent should publishers go to ensure the accuracy of the books they publish? Barton said that while he was aware that the credibilty of the book had been challenged and was being reviewed, he was not invited to participate in the review and was given no chance to refute his critics. The author said he learned about the recall in an email message sent to him by the publisher -- which included the press release announcing the recall -- shortly before the public announcement. "I was real shocked," he said. "They never talked to me, never raised a concern."
In a statement, Thomas Nelson said it halted sales of the book after it was contacted by a number of people concerned about its historical accuracy. "We took all of those concerns seriously, tried to sort out matters of opinion or interpretation, and in the course of our review learned that there were some historical details included in the book that were not adequately supported," the statement said.
But Barton did not buy that explanation. He said the recall took place while the internal review was still in progress, and that the decision had more to do with a group of Cincinnati church leaders and pastors who threatened a boycott of Thomas Nelson earlier this month. The pastors charged that Barton's book glosses over Jefferson's views on slavery and race.
Nevertheless, Thomas Nelson presumably knew what it was getting into when it signed Barton, an outspoken if affable conservative activist with a history of courting controversy. Before the book was published, Barton said he even warned the publisher about the Cincinnati pastors. "I told them, look, this group's been after me for 20 years," he said. "They're going to be very loud, but they have a very small constituency. Maybe I've been in the political sphere for too long, but I've been under a lot more heat than that."
In an email message to IBTimes, a spokesperson for Thomas Nelson said the company is no longer commenting on "Jefferson Lies," but both the publisher and Barton have acknowledged that an extensive fact-checking process was part of its development. That acknowledgement is reminiscent of another recent high-profile publishing snafu, in which Houghton Mifflin Harcourt halted shipment of Jonah Lehrer's pop-science book "Imagine" after it was discovered that the author had fabricated quotes from Bob Dylan.
Lehrer's and Barton's books may occupy opposite ends of the ideological spectrum, but their backstories are strikingly similar. Granted, the authors handled the debacles quite differently (Barton defiantly stands by his words, whereas Lehrer humbly apologized and resigned from his staff position at the New Yorker), but the publishers, in both cases, were quick to recall products in which they had invested a great deal of time, money and effort.
Curtis Brainard, a science editor for the Columbia Journalism Review who recently wrote about the Lehrer case, said the recalls are symptomatic of an industry where resources are notoriously scarce, but he said publishers should not be let off the hook completely. "I would imagine they could do better and invest more in fact-checking," he said. "Books are a lot of work to put out, but are they more text than the New Yorker, which puts out a thick issue every week?"
Indeed, the New Yorker, famous for its fact-checking fanaticism, is the gold standard in terms of accuracy, but Brainard acknowledged that the analogy is not a perfect one, as the cost structure in the book publishing world is vastly different than that of periodicals.
There are legal differences, too, according to Bruce Nichols, senior vice president of Houghton Mifflin Harcourt's trade and reference division. "Publishing books is fundamentally different from publishing a newspaper or magazine," he said in a statement to IBTimes. "The copyright is in the name of the author, the author's name is on the cover, and the author grants specified rights to the publisher."
Either way, the issue of publisher accountability did not simply appear with the latest dustups. In February 2011, Publishers Weekly held a panel discussion on the topic entitled "Truth in Nonfiction: What Is the Publisher's Responsibility?" The purpose, as evidenced by the title, was to address the issue of how far publishers can and should go to verify the books they publish.
On the Library Journal archive, Brooklyn journalist Norman Oder recounted some of the panelists' opinions about what book publishing is and is not capable of. According to Oder, it was Harper publisher Jonathan Burnham who drew the sharpest line in the sand. "We have to remind people that publishing is not journalism, and nonfiction is not journalism," he said. "It's a very complex category. In some aspects, it's an art form."
Peter Sims, a friend of Lehrer's whose book "Little Bets" Lehrer endorsed, acknowledged the difficulty of keeping up with the demands of print publishing in the age of online journalism. In an email message to IBTimes, he referenced the plight of authors and publishers -- both of whom must contend with a fast-moving digital world in which mistakes are easy to make and even easier to catch. However, he added that the buck still has to stop somewhere. "I think the ultimate responsibly must fall on the writer," he said. "The reality is that publishers have few to no resources for fact checking. This places a premium on crowd-sourced fact checkers online, pointing out mistakes. I'm not sure that's a bad thing. It's just not hidden anymore."
In an age when software can spot plagiarism and a simple Google search can uncover major fact-checking laxity, instances of publisher recalls will only become more common. How publishers and authors choose to navigate this new reality may ultimately change the nature of publisher-author relationships themselves. As for David Barton, he said is not interested in fighting with Thomas Nelson over its recall of "Jefferson Lies." True to his conservative tenets, he's already cited the business-owner's prerogative in a free-market system. "To be quite frank, I fully support their right to pull the book," he said. "I'm just sorry that they did it the way they did it."
© Copyright IBTimes 2023. All rights reserved.