Global Warming 2016: How Rising Sea Levels Displaced A Native American Tribe In Louisiana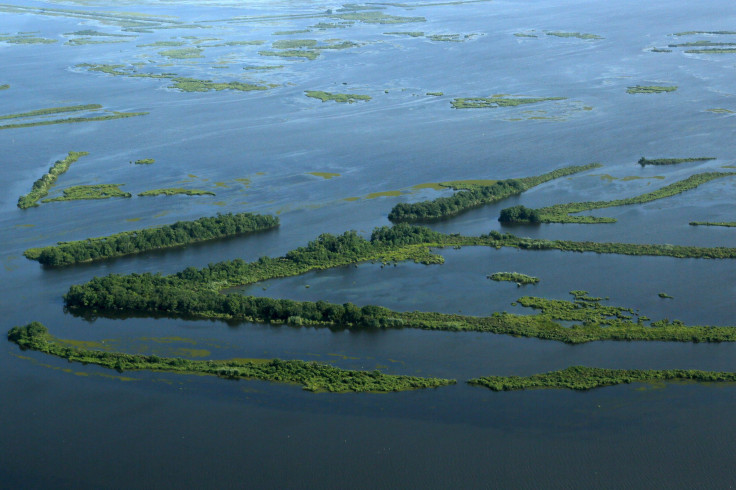 It's not the first time in history that a Native American community will be relocated against its wishes, but a Louisiana tribe is set to become the first in U.S. history to be pushed out because their land is literally disappearing.
The Biloxi-Chitimacha-Choctaw tribe living in Louisiana coastal wetlands has lost 98 percent of its land in the past half century and will receive $48 million in earmarked federal grants from the U. S. Department of Housing and Urban Development, PBS reported Thursday.
The wetlands are victim to both sea level rise driven by global warming and human causes in the area, notably by the mismanagement of sediment from nearby oil and gas operations, according to a 2008 Northern Arizona University study. That study noted that the canals dug to support those fuel extraction operations have flushed the area with salt water, which has steadily eroded what had been freshwater wetlands.
The island that the Biloxi-Chitimacha-Choctaw Indians live on, known as the Isle de Jean Charles, has shrunk from 15,000 acres to a narrow strip just a quarter-mile wide and half-mile long, the NAU study noted. There were just 25 houses and a couple fishing camps on the island in 2008, down from 63 in 2003. All the rest of the houses had been washed away.
"With each hurricane, there's less and less protection," Chief Albert Naquin, told researchers at the time. "Back when I was a child, we used to ride out the hurricane on the island and not worry about flooding. We didn't have to worry about the winds either, because there were a lot of trees... And now it's basically an open field. So when a hurricane comes, it's like, 'Here we are, come and get us.'"
Other communities along the Louisiana coast and Texas coast can expect greater sea level rise in their region than other coastal stretches in the United States, according to a 2014 U.S. government report.
© Copyright IBTimes 2023. All rights reserved.
FOLLOW MORE IBT NEWS ON THE BELOW CHANNELS