Gold Above $1,600, Could Go Higher As Investors Rediscover Safe-Haven Status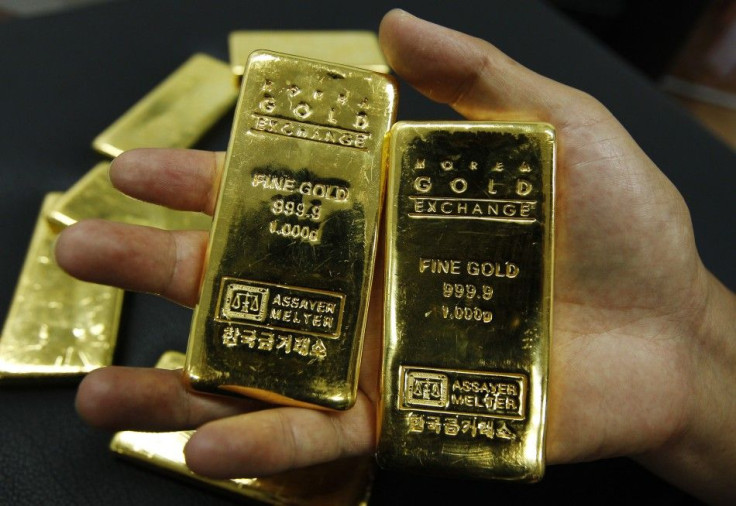 Gold futures steadied over $1,600 per ounce Thursday, breaking above a level the precious metal had not seen since early July, as at least one analyst saw evidence investors were buying gold again on its value as a "safe-haven" asset.
"Gold has been trading more like a risk asset for some time now, but investors might have to reconsider the yellow metal's safe-haven properties further down the line," Edel Tully, a precious metals strategist at Swiss bank UBS, wrote in a note Thursday, "This week's ratings outlook downgrade of Germany, Holland and Luxembourg effectively reduces by 50 percent the global pool of sovereign bonds with AAA ratings and stable outlooks from all three major agencies. This means that there are a lot fewer options for investors seeking to put their money in quality assets."
The comments on gold being snapped up as a quality asset come as the market seems to be reconsidering the value proposition of moving capital from riskier assets like stocks toward commodities in moments of turmoil. Throughout 2011, and especially near the end of the year, markets were characterized by "risk-on, risk-off" rallies that saw investors either dump capital across all asset classes or pull out of the markets completely in response to developments.
But, that trend has ameliorated as 2012 has rolled on. "Risk-off, risk-on behaviour is unlikely to persist and capital flows should benefit undervalued assets that are under-owned and where risk/reward is improving," Robert Parker, a senior adviser at Credit Suisse, wrote in the Financial Times Wednesday.
The fact that correlation has been lower has been noticed first in the equity markets.
"You haven't seen the massive pick-up in correlation in the way you did last summer, where there was indiscriminate selling," Pam Finelli, head of equity derivatives strategy at Deutsche Bank, told Reuters recently. "This time, even in Europe, you saw some differentiation between companies that had more and less exposure to the periphery."
Others, have noted cross-asset correlations are well off their peaks.
© Copyright IBTimes 2023. All rights reserved.
FOLLOW MORE IBT NEWS ON THE BELOW CHANNELS