Google CEO Sundar Pichai Outlines Plan To Capture Indian Market With Free Wi-Fi, Recruitment And Faster Access -- But Not Android One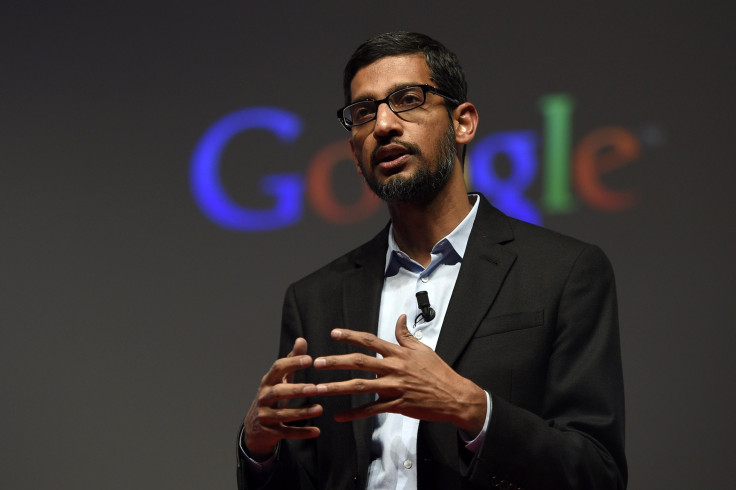 In 2016, there will be more people using Android in India than there will be in the United States. Very few of those however will be using Android One, Google's specially engineered version of its mobile software for emerging markets. On Wednesday Sundar Pichai, the new CEO of Google, addressed a large crowd in New Delhi where he avoided mention of the failed Android One effort and instead focused on Google's new three-pronged approach to get people online and at the same time put Android and Google search right at the heart of India's internet revolution.
The new approach will see Google aggressively increase its recruitment of developers in the region; getting people online with free Wi-Fi and an initiative to get women to use the internet; and by making the experience of using the internet much better -- even for those with limited connectivity.
Pichai arrived in India Wednesday as part of his first visit to his home country since he was named CEO of Google in August in a huge reorganization of the company, which is now known as Alphabet, and he is set to meet Indian Prime Minister Narendra Modi during his two-day visit. Pichai is just the latest high-profile technology chief to visit India in the last 12 months, following in the footsteps of Facebook's Mark Zuckerberg, Alibaba's Jack Ma and Microsoft's Satya Nadella.
Pichai was joined on stage by several members of his executive team for areas like maps, search and Chrome, but all failed to make any significant mention of Android One, focusing instead on the many initiatives Google is rolling out to get the millions of people in India without access to the internet online.
"A lot of what today is about is how we build products for the next billion Indian users yet to come online," Pichai told the audience, according to the Hindustan Times. But it seems that Android One may no longer be one of those tools.
The Google CEO said search should work the same for everyone no matter where they are in the world, and this is what he now wants to deliver. "What inspired me to join Google was the fact that Google search worked the same whether you were a Stanford professor or a poor kid in a small Indian city," adding: "We want to get Indians connected to internet and for this we will take three-pronged approach."
Access
The first strand of this approach is to give people access to the internet. To do this, Pichai announced that its balloon-based Project Loon initiative would be coming to India in 2016. Additionally Pichai announced more details on Google's plan to bring free Wi-Fi to 500 railway stations across the nation, announcing the first station -- Mumbai Central -- would come online next month
Google has also announced a program to get women online with the expansion of its Internet Saathi initiative to visit 3 million villages over the next three years. According to Google, this will "empower women and their communities in rural India by enabling them to use the internet and benefit from it in their daily lives." Google will provide basic training on how to use the internet for women using "specially designed internet cycle carts" that will visit villages to provide easy access to women.
India, with a population of just over 1.2 billion people, has seen a huge spike in the number of people accessing the internet in the last 12 months. According to Live Internet Stats, by the end of the month, 100 million people will have come online in the last year, but with just a quarter of the total population online, there is still huge room for growth in the country.
Marian Croak, vice president of access strategy and emerging markets, said Google was going to do everything it could to accelerate internet adoption adding that the particular challenges posed by India -- extreme weather and huge population density -- really test the limits of the technology Google has today.
Fast And Aggressive
The second strand to Google's new approach to connect India is tailoring the online experience for Indians who may not have access to fast data connections. Among these features are "lighter" search results, web pages automatically loading faster and a Data Saver mode on the Chrome mobile browser, which removes images when it detects users on a slow connection. This, Google claims, will not only help those on limited 2G connections but will also benefit publishers, with the search giant predicting a 50 percent boost in traffic. Google has already launched the ability to download YouTube videos for offline viewing in India but it announced Wednesday the ability to pause those downloads will roll out in 2016.
Internet Penetration Rate by Country (2014) | SoftwareInsider
The final strand of Google's big push into the subcontinent will be an aggressive ramping up of recruitment in the country. As well as a major expansion of its Hyderabad campus the company is planning to train 2 million new Android developers over the next three years by working with more than 30 universities across the country as part of the National Skill Development Corporation. This is in addition to a recent announcement that Google will be giving 1,000 Indian startups $20,000 in credits to run their business on the Google Cloud Platform.
The End Of Android One?
The overall message from Pichai's speech in Delhi was that Google wants to be at the heart of the internet revolution kicking off in India, whether that is through Android, search or Chrome. However Pichai's failure to address the Android One initiative suggests that it may not be part of Google's big push in coming years.
Last September Google launched Android One with the lofty goal of connecting the 5 billion people on the planet without access to the internet. The initiative saw Google work with local manufacturers -- Lava, Micromax, Spice and Karbonn in India -- to produce budget smartphones with a great software experience.
The initiative has failed spectacularly, however, with just 1.2 million Android One devices sold in the subcontinent between September 2014 and September 2015, according to figures from CounterPoint Research. The failure is made all the worse by reports that Google spent $10 million on marketing and promotion of the phone.
The major failure of the Android One devices was the absence of 4G support, a feature driving a lot of smartphone sales in the country at the moment. Google rebooted Android One earlier this year with a pricier Pixel V1 model from local manufacturer Lava, which once again lacked 4G support. CounterPoint's Tarun Pathak told the Economic Times: "The Pixel V1 started off well on account of aggressive marketing push, but lost to the competition in late Q3 of 2015 due to new LTE launches in the same segment targeted at the festive season."
© Copyright IBTimes 2022. All rights reserved.
FOLLOW MORE IBT NEWS ON THE BELOW CHANNELS