Google Chromecast Now Supports HBO Go: Top 5 Apps For The HDMI Dongle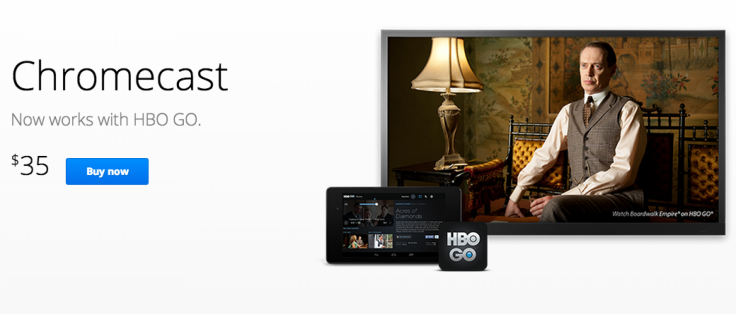 HBO (NYSE:TWX) is now streaming through Google's (NASDAQ:GOOG) Chromecast, the $35 HDMI dongle that allows users to cast apps from iPhone and Android devices. Chromecast owners can now watch every HBO show, as well as selections from the cable giant's specials and film database using the device, which sold out in less than 24 hours when it was released in July.
When International Business Times reviewed the Chromecast this summer, we recommended that some consumers wait to purchase the dongle until more apps began to support it. Since then, several streaming companies have updated their apps to allow casting from the Chromecast, which supports iPad and desktop versions of Chrome for Windows and Mac, in addition to iPhone and Android devices.
HBO Go is only available to subscribers of the premium cable network. Here are the top five apps previously available for the Chromecast:
5.) Hulu Plus
Members of the premium TV show streaming service can cast their shows to the Chromecast; however, free users of the service are left in the dust. There is one way for free Hulu members to watch their shows on the Chromecast. Read on to find out!
4) Pandora Internet Radio
Chromecast would get a little boring if owners were only able to stream video with device. Luckily, Pandora (NYSE:P) Internet Radio users have been able to listen to their favorite playlists through Chromecast since an update on Oct. 31. The app allows both free and premium Pandora users to cast their tunes.
However, some users have complained to Pandora that since their Chromecast support lacks a screensaver option, they worry about potential burn-in on their screen. Plasma TV owners should be careful about streaming content, lest their display get permanently distorted. Pandora offers a screensaver for several of its apps for Smart TVs and other devices, but has offered no word on whether it plans to ever support the feature on Chromecast.
3) YouTube
YouTube, a Google-owned company, updated its app to support the Chromecast as soon as it launched. YouTube videos look great through Chromecast, which uses a house's WiFi connection directly to stream web video, avoiding any broadband bottleneck from a PC or smartphone.
The best part about streaming through YouTube is the wide selection of content available, including viral videos, original shorts as well as lots of music and music videos. YouTube is one of the best ways to listen to songs on demand using Chromecast, as opposed to radio-style.
2) Netflix
The Chromecast also had support from Netflix (NASDAQ:NFLX) at launch. Members can use their smartphone app (or visit Netflix.com through the Google Chrome browser) to cast TV shows, films and originals to their HDTVs.
As with most Chromecast-supporting apps, Netflix playback as well as volume can be controlled from a smartphone (play, pause, jump), in lieu of a standard remote.
1) Chrome Tab-Casting
The most versatile feature of the Chromecast is streaming from the Chrome browser. Users can view webpages containing text, but browser casting truly shines as a workaround for those users looking to enjoy video and audio content that is not officially supported by a Chromecast-friendly app.
This includes Hulu users who are not paying members of the Plus program – simply open a tab in Chrome, browse to Hulu.com and click the "cast" button in the top right-hand corner of your browser. Chrome tab-casting is also great for fans of streaming music apps like Songza and Spotify, which do not offer app-based Chromecast support.
Tab-casting is currently only supported by desktop versions of Chrome.
Google also offers Chromecast connectivity for its "Play Music" and "Play Movies & TV" apps, the former capable of playing purchased tunes as well as Google's premium "All Access" streaming service. iPhone users do not have a "Play Movies & TV" app; however, their content can be viewed in the "Purchases" section of their YouTube app.
What apps do you hope will get Chromecast support in the future? What other features do you want Google to incorporate into their inexpensive TV dongle? Let us know in the comments below.
© Copyright IBTimes 2023. All rights reserved.
FOLLOW MORE IBT NEWS ON THE BELOW CHANNELS