Google Pixel 4 Vs. iPhone 11: Google Is Packing Four Innovations On A Single Device
Google has finally revealed to the world its latest smartphone, the Google Pixel 4. The new Pixel device stands out from the rest of the competition by featuring a 90Hz refresh rate display, an improved Face Unlock feature, a Soli-powered Gesture Control System and a faster Google Assistant.
Measuring 5.97 x 2.7 x 0.32 inches and weighing 0.36 pounds, the Google Pixel 4 smartphone is almost the same size as the latest iPhone model. However, it is slightly lighter when compared with the iPhone 11 Pro and iPhone 11 Max since it does not offer an especially large battery.
The 5.7-inch screen offers a fast 90Hz refresh rate display that makes scrolling and playing games more enjoyable. Like the latest iPhone 11 Pro and iPhone 11 Max, Google Pixel 4 also comes with a standard 12-megapixel camera system along with a 16-megapixel telephoto. But, it comes short in the front-facing second camera as it only offers an 8-megapixel camera setup. There are two major improvements made: 1) the new Live HDR+, which shows how photos will look in real-time; and 2) the Night Scope mode, which can be used to capture shots of all the stars in the night sky with astrophotography mode.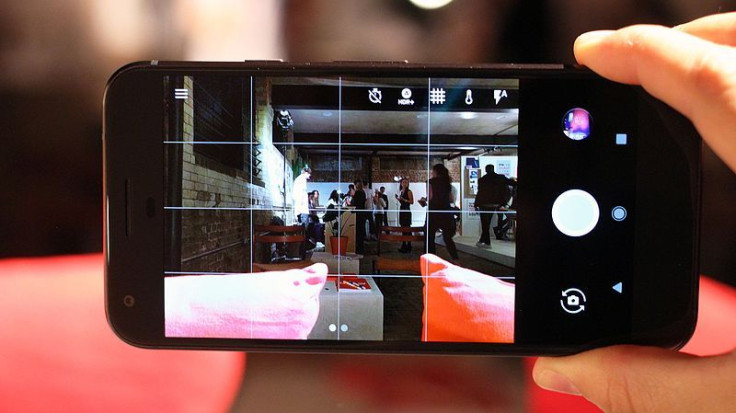 The device is powered by Qualcomm Snapdragon 855 mobile processor and comes with the latest version of the Android operating system called Android 10. Both the Google Pixel 4 and Google Pixel 4 XL variants provide 4GB of RAM, along with 64GB and 128 GB of storage options.
Like iPhone smartphones, the new Google Pixel 4 also supports wireless charging and an IP68-certified, which means it can withstand dust, dirt, and sand, and survive even when submerged in the water. The new device provides a USB-C port but doesn't support the headphone jack.
There are a few things about this new Google Pixel 4 device that differentiates it from the competition. But, the biggest additions and, perhaps, the two innovative features that set it apart from others is the Soli-powered Gesture Control System Motion Sense, which can precisely sense hand movements and recognize swipe gestures, and the improved Face Unlock feature, which now using the Soli technology.
However, unlike Apple, which uses fingerprint sensor technology for things like password and banking apps, Google has decided to work differently on the technical side. Instead, it uses biometric authentication -- the first biometric authentication on the phone.
Overall, the new Google Pixel 4 smartphone is one of the most powerful smartphones to debut this year. The new device packs enough connectivity and features to provide users the best mobile experience there is. More importantly, it comes at a very reachable price, $799, which is pretty much lower compared to the iPhone 11 Pro's $999 price tag.
© Copyright IBTimes 2022. All rights reserved.
FOLLOW MORE IBT NEWS ON THE BELOW CHANNELS