Google Targets Spotify Users With $3 Trial To Google Play Music All Access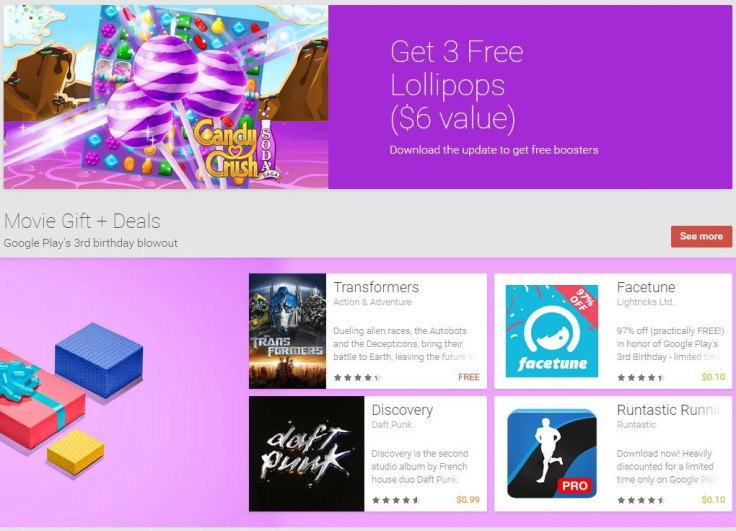 Google is celebrating the Play Store's third birthday by going on offense against its streaming music rivals. Emails sent to Google Play customers this week presented an assortment of offers, some more closely pegged to the occasion than others, including $3.00 dollar e-books, a free copy of "Transformers" and, notably, a three-month, $3.00 trial of Google Play Music All Access.
Google's subscription streaming service has mostly been left out of discussions about the battle for the streaming music market, but the search giant is hoping to change that.
The awkwardly titled service is not new. It has been around since May 2013, and despite positive reviews and a price point lower than Spotify's, it has had trouble elbowing into a market dominated by Spotify, Rdio, Pandora and even Google's own YouTube Music Key. Late last year, the service unveiled a number of upgrades, including the integration of YouTube's library and a deep suite of playlists built by Songza, which Google acquired in late June 2014 for $39 million.
Measuring All Access' progress has been difficult. Most Android devices come pre-loaded with Google Play Music, an app that allows users to purchase songs and albums individually, and Google has not shared any information about how many people have signed up for its All Access offering. The closest it has gotten has been to reveal that about one-third of the Play Store's music revenues come from subscriptions.
The implications of the promotion are significant for more than just consumers. It may have the effect of nudging many Google customers to consider streaming rather than buying their digital music, a move that artist advocates worry could significantly depress income from recordings. It is worth noting that neither Taylor Swift's nor Bjork's most recent albums are available on this service. Both artists recently drew headlines for pulling new albums off Spotify, citing low revenues and the lack of respect implied by the meager payouts.
© Copyright IBTimes 2023. All rights reserved.