Grammys Becomes a Houston Tribute: 'We've Had a Death in Our Family'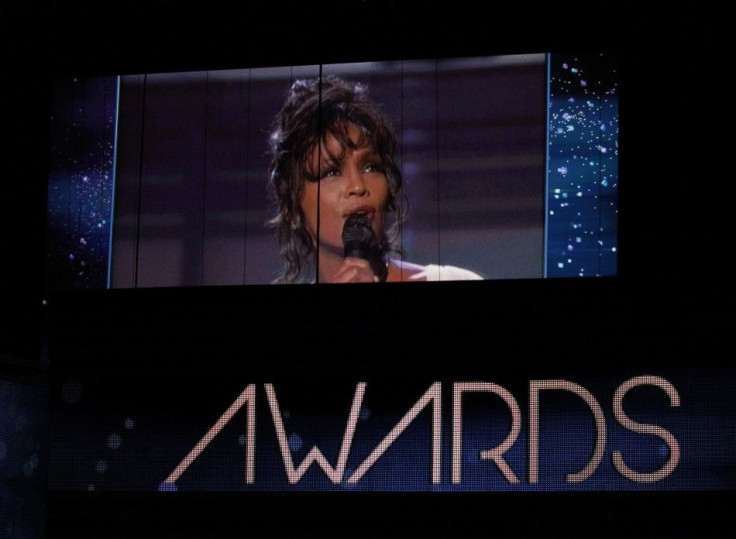 The Grammy Awards must have had no idea how lucky they were to choose LL Cool J as their host -- the rapper-actor struck exactly the right tone as the ceremony tried to honor Whitney Houston without letting her death completely overshadow the ceremony.
The show began with Bruce Springsteen and the E Street Band performing the new single We Take Care of Our Own -- as the ceremony had planned before her shocking death. And then Cool J took the stage and immediately addressed the elephant in the Staples Center.
There is no way around this. We've had a death in our family, he said. And so at least for me, for me, the only thing that feels right is to begin with a prayer for a woman we loved -- for our fallen sister, Whitney Houston.
He then began what seemed like an award show first -- a prayer. Stars from Katy Perry to Blake Shelton bowed their heads as he thanked God for sharing Whitney with us.
Atheists may not have been happy. But the moment felt right.
And then Cool J -- one of the many rappers who Grammy voters saw not-quite three decades ago as a new and confusing force in music -- subtly lightened the mood. After playing one of Houston's memorable Grammy performances, he promised new ones. He said one would come from Sir O.G. [Original Gangster] Paul McCartney, my homie.
O.G. Original Gangster is an Ice-T song from around his Cop Killer days. McCartney is one of the most universally beloved figures in music. Never have hard-core hip-hop and popular culture blended together so seamlessly.
Cool J then he saluted Adele, his around the way girl (a reference to one of his own hits) Taylor Swift, and other artists.
Cool J's hosting at first seemed a marriage of convenience -- he stars on NCIS: LA, which airs on CBS, which also aired the Grammys. But his ability to honor Houston while tactfully keeping the ceremony moving proved a huge asset. He honed his considerable charisma by eventually transitioning from awe-inspiring battle rhymes to winning turns on-screen.
There was no forgetting Houston's death -- and no one wanted to. The intro to a long-planned planned tribute to Etta James by Bonnie Raitt and Alicia Keys was quickly rewritten to honor Houston as well.
But the show soon settled into a familiar rhythym. The Foo Fighters -- the band that has agreed to gamely fill many a boring ceremony's indie and edgy quota -- continued to push the envelope without pushing the envelope at all by performing outside. Dave Grohl wore a Slayer shirt. It was fine.
Moments later, the band won the Best Rock Performance award for Walk. Grohl noted that the band's latest album was recorded in his garage and said, It's not about what goes on in a computer. It's about what goes on in here [pointing to his heart] and it's about what goes on in here [pointing to his heart]. Then an LMFAO song played.
And then Ryan Seacrest took the stage to introduce a Beach Boys tribute and performance. If not for Houston's death, a Beach Boys reunion might have been the biggest moment of the night. Long overshadowed by the Beatles and Rolling Stones, the band has become a major influence on such acclaimed and experimental bands as Fleet Foxes and Animal Collective.
Maroon 5 and Foster the People turned in credible covers of Beach Boys songs before the group -- finally featuring Brian Wilson after decades of division -- performed a medley of their harmony-filled hits.
Potentially incendiary moments passed uneventfully. Chris Brown and Rihanna performed -- separately -- three years after Brown brutalized his then-girlfriend after a 2009 Grammy party hosted by Clive Davis. (Davis' party is becoming incredibly storied -- after Houston's death Saturday, it became a tribute to her.) Rihanna called on the crowd to make some noise for Houston, then performed with Coldplay. That transitioned into the band doing its Radiohead-lite routine.
Brown went on to win the Best R&B Album award for F.A.M.E.
Other memorable performances included one by Taylor Swift, who sang Mean against a rambling shack backdrop. She wore a long, simple dress and held a banjo she didn't seem to be actually playing. Nice song, though.
© Copyright Thomson Reuters 2023. All rights reserved.