Is Greek Bailout Deal Viable? IMF President Christine Lagarde Gives Unequivocal 'No'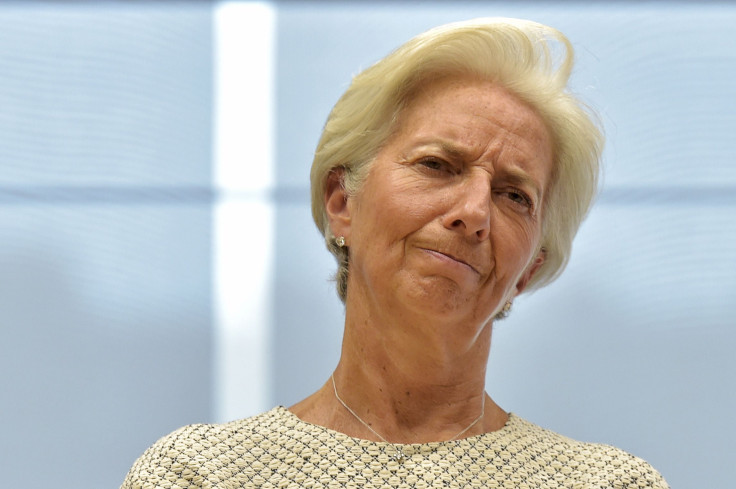 Christine Lagarde, head of the International Monetary Fund, made the clearest statement to date on the organization's attitude toward the Greek bailout plan unveiled Monday by eurozone finance ministers. Asked if the proposed bailout deal was viable, Lagarde told an interviewer, "The response is quite categorical: No."
The IMF, whose approval is necessary for a final bailout package, has long supported debt relief or restructuring as part of any deal to extend further emergency financing to Greece. In the interview with France's Europe1 Radio, Lagarde doubled down on the point, saying it was necessary to "restructure the debt to ease the burden."
"We have no choice but to take a firm line," she said.
Lagarde's conviction on the point opens up a potential rift with a hard-line bloc of creditor governments led by Germany, whose finance minister Wolfgang Schäuble has unequivocally rejected the possibility of anything but very minor debt adjustments for Greece.
Athens faces a 7.1 billion euro ($7.7 million) repayment deadline Monday, including 3 billion euros due to the European Central Bank. Eurozone finance ministers have approved a bridge loan from an EU-wide fund to make those payments.
Greece Overview | FindTheData
Lagarde's contention that debt relief must be included in the 86 billion euro ($94 billion) deal, shared by the French government, has also been a central demand of Greece's ruling Syriza government since the party rose to power in January. An IMF analysis made public Tuesday called Greece's current debts "highly unsustainable" and raised the prospect of "deep upfront haircuts" to reduce the debt.
In the interview, Lagarde proposed other measures that might lower the heat on Greece. A grace period may be extended for Greece's immediate liabilities, she said, or maturities might be elongated.
The most recent bailout proposal leaves a potential debt reprofiling on the table, but makes no firm promises either way.
Lagarde echoed other European creditors in saying a bailout deal is unlikely to be finalized for at least four weeks as the EU, the European Central Bank and the IMF -- together known as the Troika -- struggle to avoid a costly Greek exit from the eurozone.
"It is the beginning of an adventure," Lagarde said.
© Copyright IBTimes 2022. All rights reserved.
FOLLOW MORE IBT NEWS ON THE BELOW CHANNELS