Greek Debt Crisis 2015: European Central Bank To Increase Emergency Funding To Greece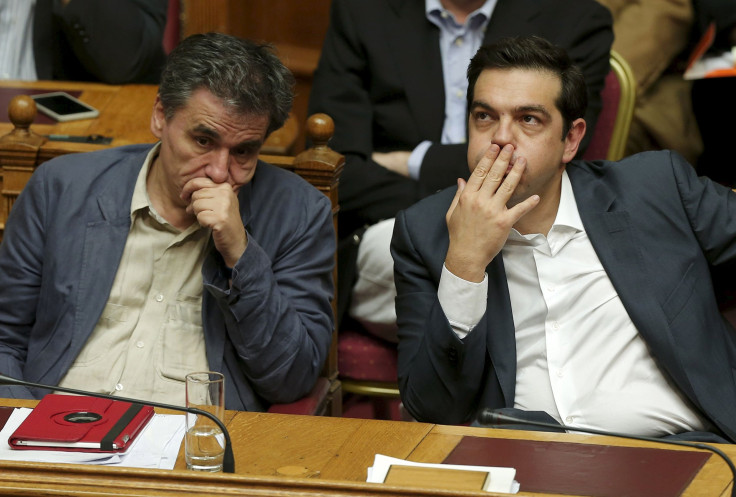 European stocks closed higher Thursday amid news European Central Bank President Mario Draghi increased emergency funding to Greece. Greek banks will reopen Monday with restrictions easing "gradually," the Associated Press reported. Following the announcement, the pan-European Stoxx 600 closed up nearly 1.3 percent higher.
The ECB will increase its emergency funding for Greece's banks by 900 million euros ($979 million) over one week, Draghi said during a press conference Thursday. Meanwhile, Eurogroup finance ministers agreed to a new 3-year bailout package for Greece worth 86 billion euros ($93.6 billion) after the Greek parliament voted to accept austerity measures in return for aid.
The Greek parliament pushed through the austerity bill in the early hours of Thursday morning requiring Greece to legislate a range of specific policy changes, including streamlining its VAT system and improving its pension system. Under the bailout proposal approved by Greek lawmakers, the tax on restaurants meals jumped this week from 13 percent to 23 percent, while the levy on hotel rooms doubled to 13 percent.
The bill was approved with 229 votes in the 300-seat chamber, but there were 64 votes against it and six abstentions.
However, the new pledges for Greek aid are clouded by uncertainty. Additional measures must pass in Greek's parliament by July 22, including a major overhaul of procedures for Greece's civil justice system.
Greece imposed so-called capital controls two weeks ago on fears Greek citizens would withdraw all of their cash and stash it under mattresses. The controls include daily limits on cash withdrawals and restrictions on monetary transfers and overseas credit card payments to prevent euros from flowing out of Greek banks. ATM withdrawals are limited to 60 euros ($65) a day for this period and Greeks cannot transfer money to accounts abroad.
"Even with additional support for Greek banks, capital controls are likely to remain in place and the additional austerity needed to achieve the primary surpluses demanded by Greece's partners will weaken the economy further," Jonathan Loynes, chief European economist at Capital Economics, said in a research note this week.
Meanwhile, other European parliaments need to approve the reforms. If the Greek Parliament approves the agreement and makes the policy changes, several other eurozone parliaments will need to approve it in the coming weeks. The Greek reforms are expected to easily pass in the German parliament, but approval from other countries such as Slovakia is less certain. Finland's parliament has given the green light to bailout negotiations.
However, a majority clause in the deal means that rejection by small countries cannot derail the agreement, Loynes said.
There also is a possibility that the government will collapse, Loynes says. A scenario could arise where Prime Minister Alexis Tsipras would have to step down and a new technocratic government, similar to that of former Prime Minister Lucas Papademos in 2012, would be installed to implement the measures.
Greece also still needs to push for long-term debt restructuring. The Eurogroup's summit statement touched on "possible" measures to keep Greece's financing needs sustainable. Many experts -- and even the IMF -- agree that Greece needs some kind of forbearance on its massive 300 billion euro ($330 billion) debt.
Tspiras will need to convince the Eurogroup that Greece needs some form of debt restructuring, which is an element of the deal that Greece's creditors have yet to fully elaborate.
The cash-strapped country is dealing with a debt that's 177 percent of its gross domestic product, more than any of the 19 nations using the euro.
© Copyright IBTimes 2023. All rights reserved.
FOLLOW MORE IBT NEWS ON THE BELOW CHANNELS