Greek Debt Crisis: Government To Aid Bank Recapitalization Through Purchase Of Bonds, Shares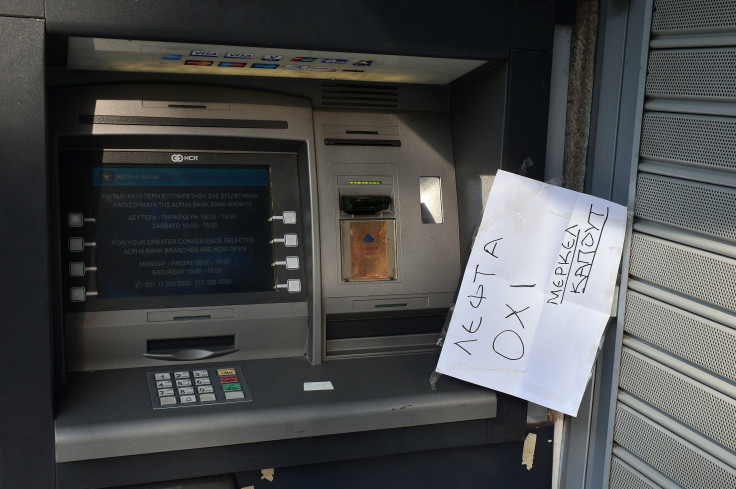 A day after a health check of Greece's four main banks -- Alpha Bank, Eurobank, NBG and Piraeus Bank -- revealed a 14.4 billion euro ($15.9 billion) shortfall in their reserves, the Greek government revealed plans to recapitalize the ailing lenders. The Hellenic Financial Stability Fund -- Greece's state-owned bailout fund -- will provide monetary aid to the banks by purchasing a mix of new shares and contingent convertible bonds, which are designed to convert into share in the event a pre-set trigger is activated, the Greek government reportedly said Sunday.
Seventy-five percent of the aid would be provided through the convertible bonds, while 25 percent would be injected in exchange for new common shares the banks will issue. This aid would amount to a total of 10 billion euros ($11 billion).
According to the European Central Bank (ECB), which conducted an asset quality review and stress tests of the banks under baseline and adverse scenarios, the remaining 4.4 billion euros ($4.9 billion) are expected to be raised from private investors.
The ECB, in its report released Saturday, identified a capital shortfall of 4.4 billion euros under a best-case scenario and 14.4 billion euros in a worst-case situation for the four banks that are currently struggling under a pile of swelling bad loans.
If private investors' funds fail to cover the baseline capital gap, the state-owned bailout fund would inject capital through purchase common shares to cover the shortfall.
In order to shore up Greece's banking sector, eurozone finance ministers released $28.7 billion of the agreed $94.9 billion in bailout funds in August. The banks have also stepped up the sale of shares in order to boost capital after six years of recession. Additionally, the limits on withdrawals and transfers that were first implemented in June still remain in place to prevent the banks from collapsing.
"The four banks will have to submit capital plans explaining how they intend to cover their shortfalls by 6 November," the ECB said, in its report. "This will start a recapitalization process under the economic adjustment program that must conclude before the end of the year."
© Copyright IBTimes 2023. All rights reserved.
FOLLOW MORE IBT NEWS ON THE BELOW CHANNELS