Greek Political Parties Ignore Appeal for Rapid Compromise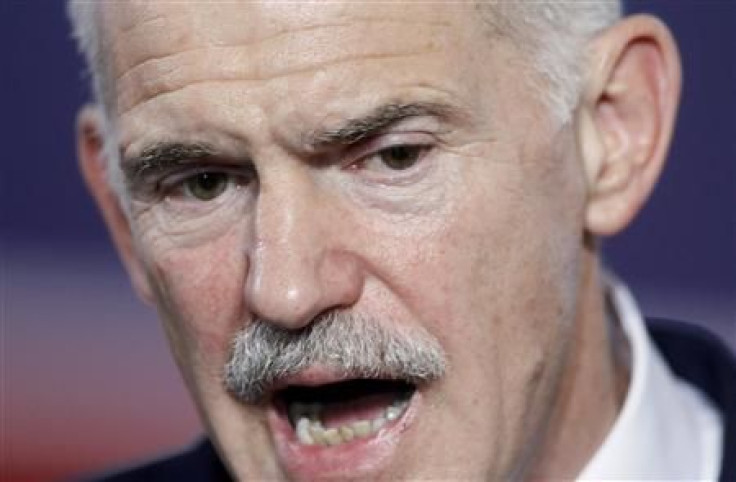 Greece's ruling socialists and opposition conservatives offered rival plans for saving the nation from bankruptcy and safeguarding its Eurozone membership, ignoring an appeal from the president to cooperate now on tackling the mess.
For Prime Minister George Papandreou, only a coalition government ruling for at least several months can set Greece on the road to national salvation and secure a financial lifeline from international lenders before the money runs out.
But the conservative opposition flatly rejected the idea, offering its competing vision of snap elections -- and demanding Papandreou's resignation after two years of grappling with economic, political, and social crises.
All this disregarded an appeal by President Karolos Papoulias for the opposing sides of Greek politics to overcome their differences and get to work solving a crisis which risks wrecking international faith in the entire euro project.
Consensus is the one and only way, Papoulias told the prime minister when he went to the presidential palace to launch his drive for a coalition government.
At immediate stake is the fate of Greece's 130 billion euro bailout, agreed by Eurozone leaders to keep Athens afloat, and restore confidence on global financial markets that the Eurozone nations can handle a crisis that could afflict much bigger economies such as Italy and Spain.
Not Good at Compromise
On Sunday, the president will meet Antonis Samaras, who heads the conservative New Democracy party, as he tries to nudge the party politicians into something they are not good at -- compromise.
Papandreou's socialist cabinet is also due to meet informally on Sunday, as his PASOK party searches for support among the smaller parties, with Finance Minister Evangelos Venizelos playing a leading role.
Only a week ago, the bailout deal seemed in the bag, but then Papandreou dropped a bombshell by announcing he would hold a referendum on the package -- which demands yet another wave of austerity be imposed on the long-suffering Greek population.
With the deal threatening to unravel, Germany and France told Papandreou that Greece would not receive one cent more in aid unless it fulfilled its side of the bargain.
Papandreou retreated on the referendum, but only after German Chancellor Angela Merkel and French President Nicolas Sarkozy said Greece must make up its mind whether it wanted to stay in the Eurozone or not.
A Chastened Papandreou
Chastened, Papandreou was forced to signal that he was willing to stand down. He himself raised the specter of Greece's future in the Eurozone.
My aim is to immediately create a government of cooperation, he said at the presidential palace. A lack of consensus would worry our European partners over our country's will to stay in the Eurozone.
Here he hit a raw nerve. Greeks have fought tooth and nail against the spending cuts and tax rises demanded by their international lenders in the Eurozone and International Monetary Fund, with some protests turning violent on the streets of Athens.
But there is also a widespread fear that Greece might be forced out of the Eurozone and have to go it alone with a revived national currency.
Europeans don't trust us anymore; they will throw us out, said Tassos Pagonis, a 48-year-old Athens taxi driver. I hope we don't return to the drachma.
The opposition showed little sign of giving ground.
We ask for a short-term transitional government in order to restore a sense of stability and then the country goes to the polls, said Samaras. We did not seek a role in this government, only that Mr. Papandreou, who has become dangerous for the country, resigns.
Opinion polls suggested Greeks favor Papandreou's model of a longer-serving unity government.
One survey commissioned by Proto Thema newspaper showed 52 percent of the public back the idea of a national unity government while 36 percent wanted snap elections. Another poll commissioned by Ethnos newspaper put support for the rival ideas at 45 percent and 41.7 percent, respectively.
A government source said Papandreou's deputy, Finance Minister Venizelos, was already negotiating behind the scenes to win support from the smaller parties for a government that Venizelos himself wants to lead.
Venizelos is having contacts with party leaders to secure their agreement, said a government official who requested anonymity.
In snubbing Papandreou, who survived a parliamentary confidence vote in the early hours of Saturday, Samaras acknowledged the leading role being played by Venizelos in the maneuvering for power.
Whenever we try to find a way out, the Papandreou-Venizelos government invents new obstacles to block it, he complained.
(Writing by David Stamp; Editing by Peter Graff)
© Copyright Thomson Reuters 2023. All rights reserved.