Guatemala: Will President Molina's Crackdown on Drug Cartels Work?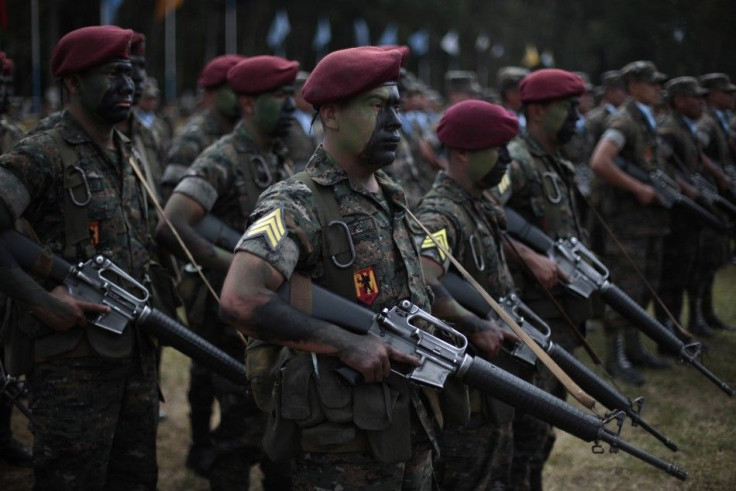 On the day after his inauguration, Guatemala's new president Otto Perez Molina announced that he is going to use the military to neutralize organized crime.
The promise of cracking down on the country's crime and violence with an iron fist propelled the ex-general to victory during the November presidential elections. Part of this task will include the overhaul of the criminal justice system and part will rely on using the army to fight drug cartels.
For the latter, Molina is taking a page from Mexican President Felipe Calderon's book. After his election in 2006, Calderon consolidated the armed forces and sent tens of thousands of troops into the country's most dangerous regions. The effort has led to a number of important arrests and seizures, but has also coincided with an escalation of territorial battles between cartels and therefore death.
Mexico and Guatemala are connected by drugs. Not only is Molina looking at Calderon's controversial system for guidance, but Mexico's powerful cartels have a significant presence in the country's southeastern neighbor, using Guatemala as a transit hub for the movement of narcotics from South America into Mexico and the United States. In fact, the Los Zetas cartel, which was founded by former members of the Kaibiles, Guatemala's elite Special Forces unit, is especially active south of the Mexican border.
Cocaine (and now ingredients for synthetic drugs) flows in by air, land and sea and from there into Mexico en route to the U.S., the International Crisis Group said in a report on Guatemala's drug violence.
Cool highlands are an ideal climate for poppy cultivation. Weapons, given lenient gun laws and a long history of arms smuggling, are plentiful. An impoverished, under-employed population is a ready source of recruits.
While Mexico's cartels have become some of the richest and most powerful paramilitary organizations in the world, Calderon's crackdown instantly exacerbated violence at home. After five years, 50,000 people have been killed from drug-related violence and many Mexicans are fed up with the carnage. Calderon's program has become the source of significant public ire -- manifested by large protests -- and is the main political discussion in the 2012 presidential elections in the country.
But the murder rate in Guatemala already surpasses Mexico, and at seventh in the world it sits behind only other Latin American countries like Honduras, El Salvador and Venezuela. There are about 40 homicides per 100,000 people in Guatemala per year, as of 2010. That figure is double what it was ten years ago, thanks largely to the drug cartels, but also to the general state of political and institutional degradation of the country.
In a nation that is already in crisis, a concerted push against drug violence may be exactly what's needed.
(The murder rate in Mexico, even in the years since Calderon's war on drugs started, is about 20th in the world with 18 murders per 100,000 people. However, in Mexico's most dangerous states, the homicide rates exceed 100 murders per 100,000 people.)
But more troubling, the proposed militarization of the battle against drug trafficking in Guatemala has already brought back nightmarish memories for some of those who lived through the country's civil war. With a former general at the helm, Guatemalans are wary of a re-militarization of a country where 200,000 civilians were killed over three decades of ceaseless, government-sponsored violence agianst leftist guerrillas.
In an article titled Guatemala's Legacy of Violence Follows New Leader to Power, NPR's The Two Way blog explains that Molina carries the burden of a complicated history into a new struggle against violence.
This kind of confirmed -- or gives reason to be concerned -- that this marks a return to a kind of militarization strategy that characterized the wartime period, Anita Isaacs, a Latin American studies professor at Haverford College in Philadelphia, who specializes in Guatemala, told the news site.
This is a new war. And it's being perceived as a new war that necessitates a military response.
Still, a real, comprehensive effort to combat drug violence may be what Guatemala needs, at least for restoring ties with the United States. Twenty-one years after the U.S. stopped sending military aid to Guatemala, Molina would like to re-establish a relationship that was damaged by the civil war.
The U.S. already helped Guatemala purchase helicopters in 2007 because they were to be used to fight drug trafficking, but any other military aid has yet to flow again and won't until six conditions are met, including significant drug arrests and the release of files and documents on possible human rights violations committed during the civil war.
Again, Molina is taking a page from his northern neighbors in Mexico. Although the results have been unpredictable at times, the United States has been supporting Mexico in combating cartels and has been providing resources, intelligence and funding to Calderon.
Using a system that could be adopted by Molina, Calderon is responsible for dismantling the cartels by force while the U.S. works on trafficking prevention. If the U.S. is willing to put some funding behind him, Molina will probably not have a problem sending troops where they are needed.
© Copyright IBTimes 2023. All rights reserved.