GymKit App For Apple Watch: How To Sync With Workout Machines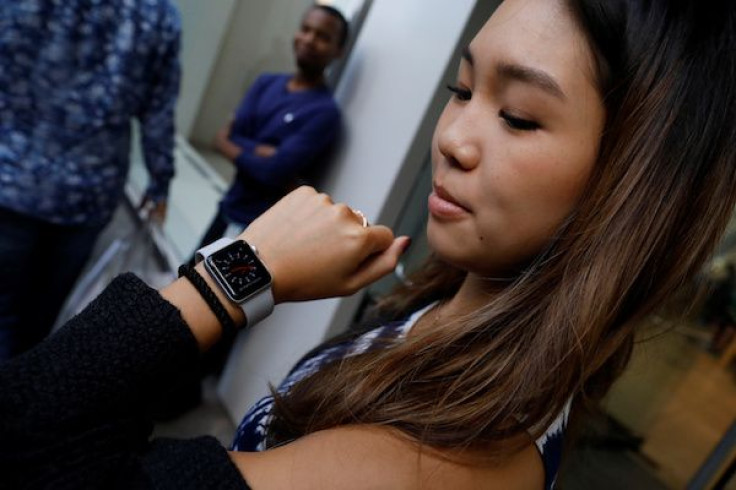 Apple has finally launched its health-centric, two-way sync platform for the Apple Watch and fitness machines called GymKit. The app is already usable at a New York City gym, so users can go there to take advantage of GymKit's syncing feature.
On Monday, CNET revealed that Apple's GymKit app for the Apple Watch can now be used with connected fitness machines at Life Time Athletic at Sky, a gym located at 605 West 42nd Street. While the new app is only supported by this lone gym at present, users should anticipate more North American gyms to update their equipment with ones that can connect to GymKit starting next year. Equinox is said to be adding machines with GymKit support in 2018.
For users who frequent Life Time Athletic at Sky, here's a guide on pairing your Apple Watch's GymKit with the facility's connected workout equipment:
GymKit has a simple tap-to-pair process, so you can connect your smartwatch by launching the app and simply tapping the nearby device that's available for syncing via NFC or Bluetooth.
To start the sync, you should agree with the confirmation screen that will be shown on the Apple Watch's display.
Once connected, you will see all the data you can gather from the paired gym equipment on your smartwatch. On the other hand, the fitness machine will transform into an extension of the Apple Watch by displaying the same workout stats.
Since everything on the Apple Watch and the connected workout machine's readout are synced, you can pause either of the two and the other one will do the same.
Apart from heart rate, pace and machine-specified data like elevation and flights of stairs climbed, GymKit enables the connected machines to show calorie estimates based on your height and weight data stored on Apple Health.
GymKit has this retroactive pairing feature that will let you retrieve all of your data from a machine even if you forgot to connect Apple Watch before you started your workout.
GymKit already works with various equipment and machines from Life Fitness, Stair Master, Technogym, Matrix, Schwinn, Star Trac and Cybex.
When a connection between your Apple Watch and a gym equipment is established, your personal workout data is sent to the equipment but it will be erased after your workout session with it. The same data will also be sent to the Apple Watch and iPhone, so you can keep track of your progress.
Apple actually debuted GymKit this past October with the rollout of watchOS 4.1. Unfortunately, there wasn't any gym with connected fitness equipment that could work with the app at the time, as pointed out by Apple Insider.
Before New York's Life Time Athletic at Sky, support for GymKit first arrived at a Fitness First gym in Australia last month. Then, earlier this month, a Virgin Active gym in London received support for the watchOS app.
© Copyright IBTimes 2023. All rights reserved.