Hague Calls for Release of All Burmese Political Prisoners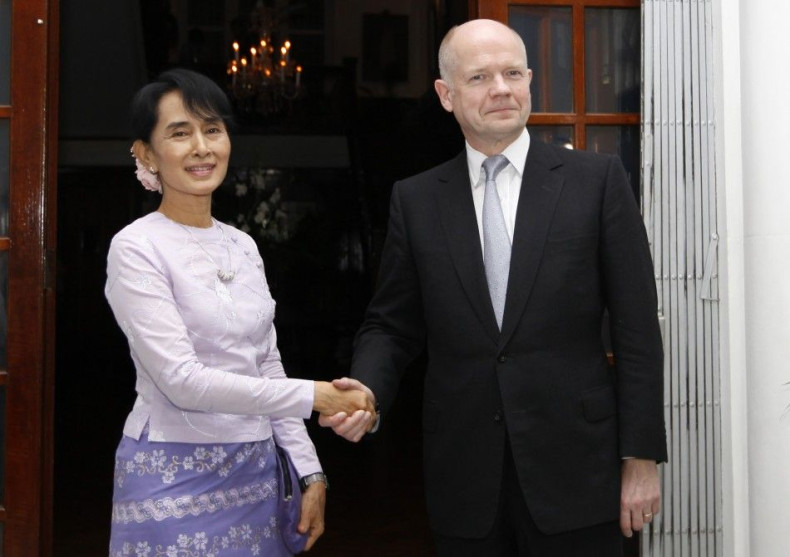 British Foreign Secretary William Hague visited Burma this week to show that the UK and other world powers were serious about the country's slow move toward democracy.
Hague is the highest ranking Briton to visit the country since 1955. The repressive military junta that ran the country from 1962 to 2011 kept many foreign dignitaries away from Burma, a country where opposition voices were silenced with brutality.
Burma's elected president, Thein Sein, has begun to make significant social changes in the country. Since taking office in March, some 200 political prisoners have been released, unions decriminalized, and he has also made some progress in the realm of freedom of speech.
However, Burma has been slow to shed itself of the type of rule it had for 50 years, and there are still serious reforms that need to be made. Some 1,500 political prisoners are still in detention, and Hague told Sein that the UK will not lift its economic sanctions on Burma until they are released.
My message is, if you want those sanctions - those restrictive measures as we call them - lifted, then it is very important to show that you are completing this process of reform, Hague told Lwi.
We believe now that you are sincere about it, so now get ahead quickly and complete it by releasing the remaining political prisoners and by showing that the upcoming elections are free and fair.
Hague also met with Burmese political activist Aung San Suu Kyi, a Nobel Peace Prize laureate who led the country's democratic movement.
In December, U.S. Secretary of State Hillary Clinton visited Burma, where she also met with Suu Kyi. The two met at Suu Kyi's home -- the home where she was kept prisoner during her years as an activist -- and discussed Burma's future.
If we go forward together, I am confident there will be no turning back on the road to democracy, Suu Kyi said.
We are not on that road yet, but we hope to get there as soon as possible with the hope and understanding of friends.
Clinton pledged $1.2 million in new aid that would go toward micro-lending schemes and health care, but added that the Obama administration would not lift sanctions until human rights abuses no longer occur.
Military abuses continue with impunity in ethnic areas, Human Rights Watch said in a report. The government continues to suppress dissent through a raft of repressive laws and the lack of an independent judiciary.
Additionally, rape, a tactic once used to control poor villagers, is still a serious issue in the country. There have been 81 reported rapes since March, according to The Washington Post.