Hallmark Channel Christmas In July Schedule: 'Switched For Christmas' And More Films Airing This Weekend
The holiday season is officially in full swing over on Hallmark Channel, with the premiere of the annual "Christmas in July" movie event.
Starting today, the network is doing a marathon of holiday movies for just over two weeks, replaying some of their classic romance films from the last few years for fans who may need a little extra cheer this year. Check out the full schedule of movies airing this weekend, as well as a refresher on the casts and synopsis.
Friday, July 10:
12:00 p.m.: "Christmas at Dollywood"
Synopsis: Event planner Rachel lands her biggest job yet—Dollywood's 30th Smoky Mountain Christmas celebration, where she's teamed with operations director Luke to plan an event as glamorous as Dolly Parton herself. Sparks fly, but it takes matchmaking by Dolly to help them find their way.
Starring: Danica McKellar, Niall Matter, Dolly Parton
2:00 p.m.: "Merry & Bright"
Synopsis: Cate and Gabe work together to make a candy cane company profitable and find love during the holiday.
Starring: Jodie Sweetin, Andrew Walker, Sharon Lawrence
4:00 p.m.: "Switched for Christmas"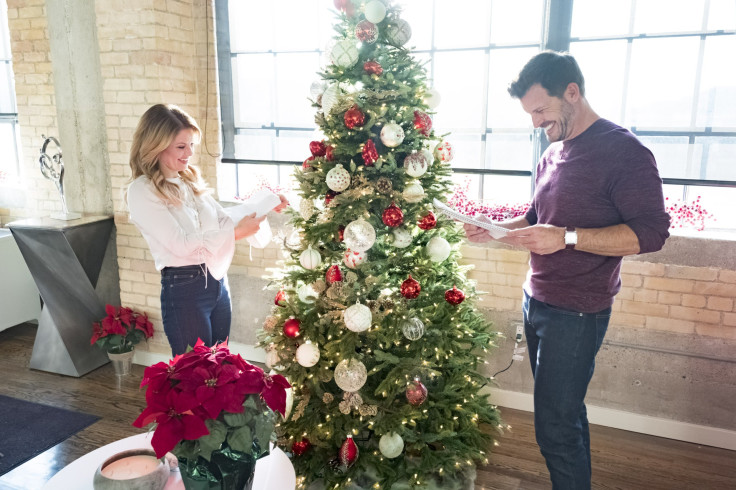 Synopsis: Identical twins Kate and Chris Lockhart plot to be the other sister—at Kate's office and Chris' school—and take on planning their sister's Christmas events. One rule, though: no romance.
Starring: Candace Cameron Bure, Eion Bailey, Cooper Johnson, Natasha Bure, Mark Deklin
6:00 p.m.: "Write Before Christmas"
Synopsis: Jessica sends Christmas cards to five people who impacted her—the aunt who raised her, her brother in the military, a former pop star whose music helped her through hard times, the music teacher who inspired her and her best friend who always tells the truth.
Starring: Torrey Devitto, Chad Michael Murray, Lolita Davidovich, Grant Show, Drew Seeley
8:00 p.m.: "Christmas Under Wraps"
Synopsis: When a driven doctor doesn't get the prestigious position she planned for, she unexpectedly finds herself moving to a remote Alaskan town.
Starring: Candace Cameron Bure, Bryan Doyle-Murray, Robert Pine
10:00 p.m.: "Crown for Christmas"
Synopsis: After getting fired from her job as a maid at a ritzy New York City hotel, Allie reluctantly accepts a temp gig as the governess to a young girl who is part of a powerful family in Europe that lives in an actual castle. After arriving, Allie learns the girl is named Princess Theodora and her father is Maximillion, the King of Winshire. The King informs Allie that the Princess has a tendency to terrorize authority figures, a predilection that has grown worse since her mother's death. Yet governess and Princess wind up hitting it off while at the same time a spark forms between Allie and Max. However, Countess Celia is expecting to wed the King. Will Max take a stand for his feelings for Allie and make it truly a merry Christmas for all (or at least, most?)
Starring: Danica McKellar, Rupert Penry-Jones
Saturday, July 11:
12:00 a.m.: "The Nine Lives of Christmas"
Synopsis: With Christmas approaching, a handsome fireman afraid of commitment adopts a stray cat and meets a beautiful veterinary student who challenges his decision to remain a confirmed bachelor.
Starring: Brandon Routh, Kimberley Sustad, Gregory Harrison
2:00 a.m.: "The Sweetest Christmas"
Synopsis: After breaking up with her long-term boyfriend just before the holidays, passionate baker Kylie reconnects with her high school sweetheart, Nick. Thanks to their newly rekindled friendship, Kylie uses Nick's restaurant to prepare for a gingerbread baking competition with a large cash prize that would help her open her own bakery.
Starring: Lacey Chabert, Lea Coco, Jonathan Adams
4:00 a.m.: "Christmas Wishes & Mistletoe Kisses"
Synopsis: Weeks before Christmas, Abbey is hired to decorate the estate of business Nick. She must break down the wall between her and Nick, all while keeping the holiday spirit alive.
Starring: Jill Wagner, Matthew Davis, Donna Mills
6:00 a.m.: "It's Beginning to Look a Lot Like Christmas"
Synopsis: When a New England Christmas decorating competition searches for the town with the most Christmas spirit, the Mayors of East and West Riverton go all out to get their towns to the top of the holiday heap.
Starring: Eric Mabius, Tricia Helfer
8:00 a.m.: "Christmas Next Door"
Synopsis: A confirmed bachelor's life is turned upside down when he takes in his young niece and nephew a week before Christmas, his absolutely least favorite time of year. As he struggles to "make Christmas" for the kids, with a little help from his lovely next-door neighbor, he learns some valuable lessons about the value of family, love, and the joy of Christmas, as seen through the eyes of children.
Starring: Jesse Metcalfe, Fiona Gubelmann
10:00 a.m.: "Welcome to Christmas"
Synopsis: Sheriff Gage McBride and the residents of tiny Christmas, Colorado work to convince resort developer Madison Lane to build her company's newest resort nearby, which will save the struggling town, Workaholic Madison finds herself falling for the charming town, as well as the kind and handsome widowed sheriff.
Starring: Eric Mabius, Jennifer Finnigan
12:00 p.m.: "Miss Christmas"
Synopsis: Holly Khun, known to Chicago as "Miss Christmas," always finds a beautiful tree for the plaza, but this years was damaged, and the lighting ceremony is in 10 days. Hoping for a miracle, she combs through fan mail and finds Joey Mcnary of Klaus, Wisconsin, has the perfect tree. Off she goes to Klaus, where she meets Joey's handsome dad Sam.
Starring: Brooke D'Orsay, Marc Blucas
2:00 p.m.: "Double Holiday"
Synopsis: Rebecca must throw the company holiday party with office rival Chris. It coincides with Hanukkah, so she must juggle her work, family traditions and nemesis to make the party a success.
Starring: Carly Pope, Kristoffer Polaha
4:00 p.m.: "Picture a Perfect Christmas"
Synopsis: A successful, busy photographer takes a few days off around the holidays to visit and care for her grandmother. While there, she temporarily fills in as a nanny for the young boy next door and discovers unlikely romance with his uncle.
Starring: Merritt Patterson, Jon Cor
6:00 p.m.: "Christmas Town"
Synopsis: Lauren leaves everything behind in Boston to embark on a new chapter in her life and career. On an unforeseen detour to the town of Grandon Falls, she discovers love and family, helping her to embrace the magic of Christmas.
Starring: Candace Cameron Bure, Tim Rozon
8:00 p.m.: "Christmas at the Plaza"
Synopsis: When historian Jessica is hired to create The Plaza's Christmas display, she finds more than facts while teaming up with handsome decorator Nick to bring the display to life.
Starring: Elizabeth Henstridge, Ryan Paevey, Bruce Davison, Julia Duffy
10:00 p.m.: "Check Inn to Christmas"
Synopsis: Julia Crawley and Ryan Mason must unite their families during Crestridge's Centennial Christmas celebration in order to save their family inns from a chain resort.
Starring: Rachel Boston, Wes Brown, Richard Karn
Sunday, July 12:
12:00 a.m.: "A Royal Christmas"
Synopsis: A humble commoner fights for acceptance from an icy queen who just happens to be her future mother-in-law.
Starring: Lacey Chabert, Stephen Hagan, Jane Seymour, Katherine Flynn
2:00 a.m.: "My Christmas Dream"
Synopsis: Christina Masters, the manager of McDougal's flagship department store, is determined to land the manager position for their new Paris location. She sets out to impress Victoria, the store's owner, by creating the best holiday display in McDougal's history. Fresh out of inspiration despite assuring Victoria otherwise, Christina turns to a recently-fired store employee for help.
Starring: Danica McKellar, David Haydn-Jones, Deidre Hall
4:00 a.m.: "A Wish for Christmas"
Synopsis: Sara is the type of woman who prefers to sit on the sidelines at work, but when her big idea for a Christmas initiative is stolen, she makes a wish to Santa that she'll finally have the courage to stand p for herself. Santa grants her wish but only gives her 48 hours.
Starring: Lacey Chabert, Paul Greene
6:00 a.m.: "A Very Merry Mix-Up"
Synopsis: Shop owner Alice Chapman is nervous to meet her future in-laws at Christmas, especially because she is arriving ahead of her new fiancé, Will Mitchum. Alice's trip becomes more stressful when her luggage is lost and her phone is damaged, leaving her no way to find Will's family.
Starring: Alicia Witt
8:00 a.m.: "Jingle Around the Clock"
Synopsis: Elle is an ambitious executive looking forward to her annual Christmas party with friends. However, difficulties at work threaten her plans when executive, max, who she's also attracted to, decides to apply for the same promotion. They decide to let the better person win, leaving Elle heartbroken, but ultimately making the best Christmas ever.
Starring: Brooke Nevins, Michael Cassidy
10:00 a.m.: "The Christmas Cottage"
Synopsis: When Lacey takes a rare break from work for her friend Ava's Christmas Eve wedding, she reconnects with her flame, Ean. The two decorate the cottage where the newlyweds will spend their honeymoon—a cottage said to bring true love to anyone who stays there—and feel their chemistry return.
Starring: Merritt Patterson, Steve Lund
12:00 p.m.: "The Christmas Club"
Synopsis: Two busy strangers meet when they help an elderly woman find her lost Christmas savings. Thanks to fate and Christmas magic, they also find something they were both missing...true love.
Starring: Elizabeth Mitchell, Cameron Mathison
2:00 p.m.: "Christmas at Pemberley Manor"
Synopsis: As Christmas approaches, a New York event planner is sent to a small town to organize a holiday festival. When she arrives, she finds a high-profile billionaire, who lacks holiday spirit, in the process of selling the charming estate she hoped to use as a venue. Before long, the unlikely pair begins falling for each other.
Starring: Jessica Lowndes, Michael Rady
4:00 p.m.: "Snow Bride"
Synopsis: With the promise of a promotion hanging in the balance, a tabloid reporter races to find juicy gossip about an influential political family. Her cynical opinion of them changes, however, when she inadvertently ends up spending the week leading up to Christmas with them and starts falling for one of them.
Starring: Patricia Richardson, Katrina Law, Jordan Belfi
6:00 p.m.: "Christmas Getaway"
Synopsis: When a reservation mix-up at a mountain resort forces a newly-single travel writer to share a cabin with a handsome widower and his precocious daughter over the holidays, their lives are transformed by the magic of Christmas and the unexpected power of love.
Starring: Bridget Regan, Travis Van Winkle
8:00 p.m.: "A Christmas Detour"
Synopsis: Two NYC bound travelers find themselves inextricably linked when a snowstorm waylays their flight to an airport hotel in Buffalo. Eternal optimist and hopeless romantic Paige Summers desperately needs to find a way to the city to meet her fiancé's parents before her wedding—and It's up to a guy she can't stand, fellow passenger and total stranger, Dylan MacKenzie.
Starring: Candace Cameron Bure, Paul Greene, Sarah Strange, David Lewis, Marcus Rosner
10:00 p.m.: "Christmas Under the Stars"
Synopsis: Nick loses his high finance job right before Christmas. Lost, he takes a gig at a tree lot where he meets Julie and her son, Matt. Julie is dealing with the recent death of her father which has caused significant changes for her.
Starring: Jesse Metcalfe, Autumn Reeser, Clarke Peters
FOR FREE to continue reading
✔️ Unlock the full content of International Business Times UK for free
offer available for a limited time only
✔️ Easily manage your Newsletters subscriptions and save your favourite articles
✔️ No payment method required
Already have an account?
Log in
© Copyright IBTimes 2023. All rights reserved.