Hamas Rallies In West Bank, Stirring Rumors Of Renewed Partnership With Fatah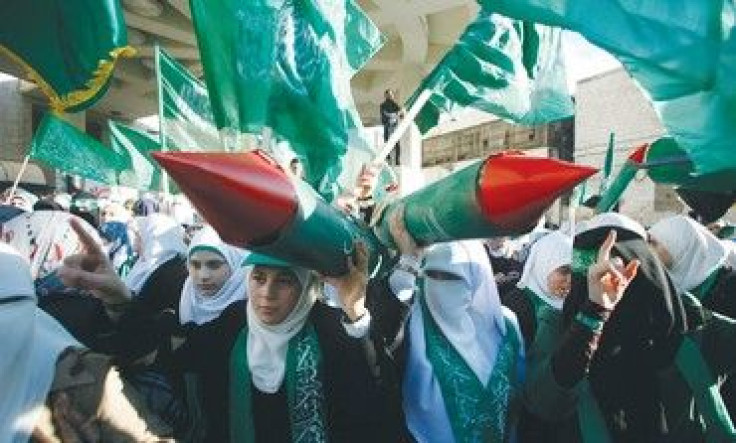 Less than a week after Hamas held its 25th anniversary rally and welcomed its exiled political leader Khaled Meshaal to Gaza, Hamas held another 25th Anniversary rally in Nablus, The West Bank on Thursday. Riding high on what Hamas claimed was a victory over Israel's Operation Pillar of Defense, and Palestinian President Mahmoud Abbas' acquiring upgraded member status at the U.N. a week later, the rally is widely being touted as a sign of reconciliation between the two rival Palestinian parties.
An estimated 5,000 people attended the rally, which had been approved days earlier by Fatah. Speaking at the rally, the Governor of Nablus and member of Fatah, Amin Makboul, called for an end to the Hamas-Fatah rivalry, saying that, "Hamas has given thousands of martyrs, prisoners, and wounded for Palestine," the Iranian outlet PressTV reported.
Makboul also announced that Abbas would be meeting with Meshaal in Cairo "soon," to discuss reconciliation and a possible new Hamas-Fatah partnership, the Jerusalem Post said.
Fatah also announced it would be holding its own anniversary rally in Gaza on January 1, 2013.
The animosity between the two groups began in 2007 when Hamas won an election in Gaza and violently ousted Fatah supporters from the Strip. At least one Fatah supporter was thrown from a balcony of a high building in a demonstration of Hamas' authority at the time. Armed battles between the two groups also broke out, Al-Jazeera said.
A reunion of the parties, which is being played up by officials in both Palestinian territories, might actually make the political situation easier for Israel, who will now have only one entity to deal with, instead of two. However the Israeli government is not taking this possible reconciliation lightly. Israeli Prime Minister Benjamin Netanyahu spat vitriol at Abbas earlier this week for failing to denounce Meshaal's visit to Gaza.
"This weekend the leader of Hamas, sitting next to the Hamas leader of Gaza, a man who praised Osama bin Laden, this weekend openly called for the destruction of Israel. Where was the outrage? Where were the U.N. resolutions? Where was President Abbas?" Netanyahu told the AP.
"Why weren't Palestinian diplomats summoned to European and other capitals to explain why the PA president not only refused to condemn this but actually declared his intention to unite with Hamas? There was nothing, there was silence and it was deafening silence," he added.
In a speech on Sunday, Netanyahu also reiterated his position that he will not concede "a single inch of Palestine."
A few rallies are not going to erase five years of spite between Hamas and Fatah, however. Over the weekend Fatah security forces continued to arrest suspected Hamas operatives, Times of Israel reported.
© Copyright IBTimes 2023. All rights reserved.