Hamas Rockets Hit Israel As It Continues Heavy Airstrikes In Gaza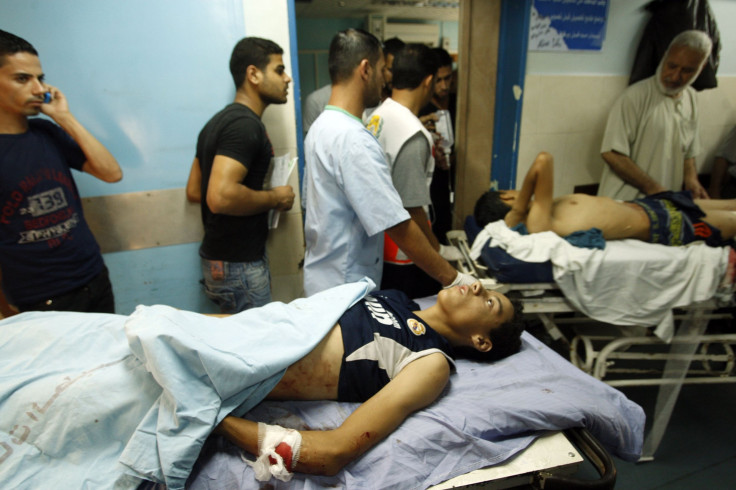 Israel's "Operation Protective Edge" continued Tuesday, marked by continued clashes between Israel and Gaza, leaving at least 25 people in Gaza dead and two Israelis hurt, according to Palestinian officials.
Rockets hitting Israel from Gaza prompted the United States Embassy in Tel Aviv to publish a statement saying it will operate with minimal staffing until further notice.
The Israeli military launched a series of airstrikes on more than 50 targets in the Gaza Strip; among the targets was "a terror command center embedded within civilian infrastructure," according to the Israel Defense Forces Twitter account.
The airstrikes are a response to earlier rocket fire from Gaza. The IDF says more than 100 rockets have been fired into Israel since Monday.
The level of hostility between Israel and Hamas, an Islamic resistance movement that currently governs the Gaza Strip, rose after three Israeli teens were kidnapped and murdered in the West Bank in June. Blaming Hamas for the kidnappings, Israel began arresting the group's members and civilians. Hamas, in turn, turned to rocket power. After the three Israelis were confirmed dead, a Palestinian teenager in Jerusalem was burned to death in what is believed to have been a revenge attack.
The back and forth between Israel and Hamas continued to escalate.
Air raid sirens went off several times throughout the day in Tel Aviv and Jerusalem for the first time since 2012, signaling a potential rocket attack. According to the Associated Press, two rockets were fired into Tel Aviv and both were intercepted by the Iron Dome, Israel's rocket-defense system.
Hamas said it fired four rockets toward Jerusalem, three of which officials say landed in the Jerusalem area.
Haaretz reported a rocket exploded in Hadera, north of Tel Aviv and 105 kilometers from Gaza. This is the furthest a rocket has reached into Israel and suggests the Palestinians were using long-range missiles. Hamas said it used a new rocket called the R-160, according to the Associated Press.
Meanwhile, the Israeli army began targeting key locations in the Gaza strip. One airstrike flattened an apartment building in Gaza, killing six people. According to Haaretz, one of the six was Hafez Hamad, a top member of the military wing of the Islamic Jihad, a Palestinian militant organization. The rest were likely his family members.
Hamas gunmen also attempted to infiltrate an Israeli military base with grenades and automatic rifles near Zikim, adjacent to the Gaza border. They were all killed.
Israeli Prime Minister Benjamin Netanyahu threatened a possible ground invasion if rocket attacks from Gaza continue. "I have ordered the military to significantly broaden its operation against Hamas terrorists and against the other terrorist groups inside Gaza," he said on national TV. "I call on you to display patience because this operation could take time." Earlier, he approved calling up to 40,000 reserves to the IDF.
© Copyright IBTimes 2023. All rights reserved.