Hands Up, Don't Speak? Arrests For Facebook Threats Against NYPD Test Free Speech Limits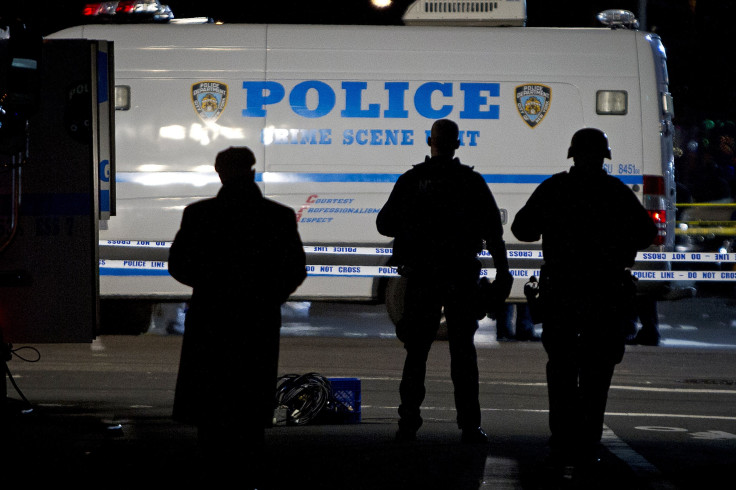 The arrests this week of three New Yorkers on charges of using Facebook to convey threats against the NYPD will test how far authorities can go to curtail speech in an atmosphere charged with racial tensions and simmering with distrust between police forces across the nation and minority communities. A case currently before the Supreme Court, in which a man was convicted for using the social network to threaten a Sandy Hook-style mass murder, could play a part in determining whether the charges stick.
Jose Maldonado, 26, and Devon Coley, 18, both of Brooklyn, and Yasin Shearin, 16, of Staten Island, were arrested and charged with uttering terroristic threats after posting Facebook messages aimed at members of the New York Police Department. The posts were made in the days following the execution-style shooting in Brooklyn last Saturday of two cops by a mentally ill man. Before taking his own life, gunman Ismaaiyl Brinsley indicated on social media that the murders were meant to avenge Eric Garner, the Staten Island man who died during a struggle with police in July, and Michael Brown of Ferguson, Missouri. A grand jury cleared the white police officer who allegedly used an illegal chokehold to subdue Garner, who was African-American.
"Might just go out and kill two cops myself," said Maldonado, on his Facebook page. The post appears to have been removed, and Maldonado told investigators he was drunk when he made the threat. "I'm sorry that I wrote it. Wouldn't of did that on my own I was drunk and apologize for my action," he told police, according to the criminal complaint against him.
Coley was booked after posting an image on his Facebook page that showed a man pointing a gun inside a police cruiser with the caption, "73NEXT" (possibly a reference to the 73rd Precinct). Shearin's post said, "Let's kill the cops." Four other individuals have also been arrested for allegedly threatening the NYPD since Officers Wenjian Liu and Rafael Ramos were gunned down while sitting in their parked patrol car in Brooklyn's Bedford-Stuyvesant neighborhood. "They were, quite simply, assassinated," said NYPD Commissioner Bill Bratton.
Given the nationwide wave of protests against police since the killing of Brown on Aug. 9, experts said the courts may view the Facebook posts as political. As such, they may be considered a form of speech protected by the First Amendment to the U.S. Constitution. "The courts will no doubt look at the backdrop against which these posts were made," said Clay Clavert, director of the Marion B. Brechner First Amendment Project. "Given the rhetoric that's going on in New York right now, people are going to say things that are over the top. The question is whether they have real intent."
But if the courts interpret the law narrowly, the charges could stick. Section 490.20 of New York's penal code makes it a felony to attempt to "influence the policy of a unit of government by intimidation or coercion."
The cases against the defendants could be affected by a case in which the Supreme Court heard oral arguments Dec. 1. Anthony Elonis, of Allentown, Pennsylvania, was charged and convicted in lower courts of issuing terroristic threats after he included, in a series of Facebook rants against his ex-wife, a threat to "initiate the most heinous school shooting ever imagined."
The justices will decide what standards should be applied to online threats. In cases of traditional harassment, say through telephone calls, state courts are split on whether prosecutors must prove defendants subjectively intended their words to be taken as a true threat or that it's sufficient to show a reasonable person would feel threatened.
If the court rejects the latter and rules that prosecutors must prove that defendants truly intended their posts to be taken as real threats, as opposed to just venting, then Shearin, Maldonado and Coley could walk. "The Supreme Court is going to define what is a true threat for First Amendment purposes," said Calvert.
© Copyright IBTimes 2023. All rights reserved.