'Hank Johnson, Agent Of Hydra': 'Veep' Showrunner David Mandel Previews His New Marvel's 'Secret Wars' Tie-In Comic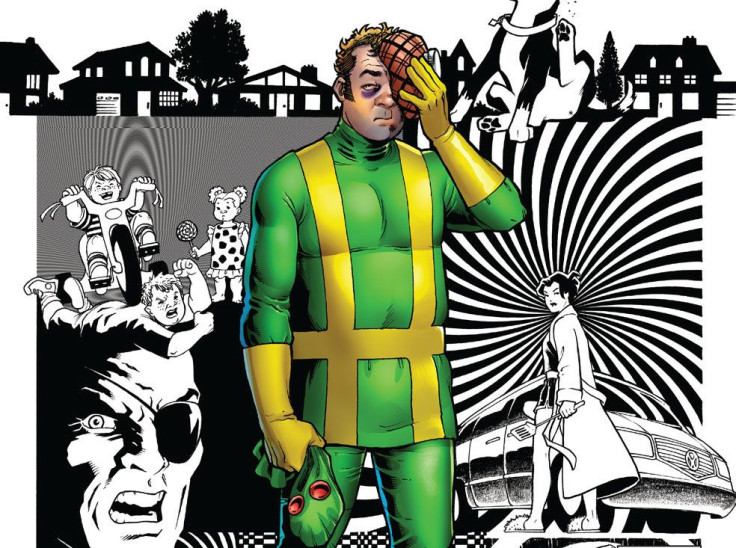 When Nick Fury or Captain America fight a member of Hydra, do you ever wonder about the identity of the terrorist being punched in the face? Well, Marvel Comics' latest "Secret Wars" tie-in, written by the new showrunner of HBO's "Veep," finally puts a human face on the terrorist organization that has been part of the Marvel Universe for years and has even popped up in movies such as "Captain America: The Winter Soldier" and ABC's "Marvel's Agents of S.H.I.E.L.D."
Written by veteran television executive producer David Mandel ("Curb Your Enthusiasm," "Seinfeld") with art by Michael Walsh ("Secret Avengers"), "Hank Johnson, Agent of Hydra" #1 pulls back the curtain on the mundane life of its eponymous henchman. This "Secret Wars" one-shot, which hits retail outlets on Wednesday, shows what Hank Johnson does in between the big fights with superheroes.
"Hank, to me, is kind of an everyman," Mandel, who recently replaced Armando Iannucci as the showrunner of "Veep," told International Business Times. "Hank has a busy job, he has a busy life, and there just don't seem to be enough hours in the day to get it all done."
The intersection of domestic sphere and spy life makes this book sound like a comedic take on FX's "The Americans," which is about two married undercover KGB spies living in suburban Washington, D.C., during the Reagan era. However, unlike the Jennings on "The Americans," Hank's family knows what he does, which we find out in the first few pages of the issue, previewed below.
Mandel says that someone like Hank doesn't work for Hydra because of ideology (read: seeking world domination). He's there because, like most people, he needs steady employment and the job allows him to provide for his family.
"I imagine Hank went to college, majored in something that seemed fun at the time like anthropology, and then went to look for a job only to find out that his major was useless," Mandel said. "At some point, he had to decide between a sales job at Procter & Gamble or Hydra, and he chose Hydra because their offices were close to New York City and he didn't want to spend the rest of his life talking about shampoo."
In "Hank Johnson," Hydra has come a long way from its "nefarious" origins. It's actually an okay place to work because there's a lot of upward mobility since members are constantly being killed, which creates job openings. However, nothing compares to working for A.I.M. (Advance Idea Mechanics), a scientific offshoot of Hydra, which pays better and employees receive a company flying car.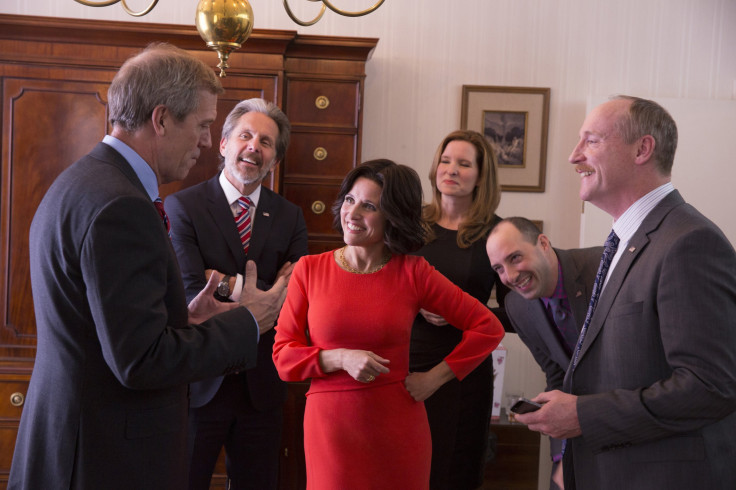 While this comic is premiering in 2015, the concept is almost two decades old. One of the inspirations for the comic was HBO's critically acclaimed drama "The Sopranos," which presented a matter-of-fact look at the life of someone in the mob and was on the air when Mandel came up with the idea.
"I thought it would be funny to apply that same microscope to the life of a Hydra agent," Mandel said. "So, we would meet an agent and find out where he lived, meet his wife and kids ... and even see him playing little league with kids of some S.H.I.E.L.D agents."
Mandel conceived the idea in 1998 and pitched it to Marvel, which had just begun the new imprint Marvel Knights, but nothing ever came of it. Current Marvel editor-in-chief Axel Alonso remembered the pitch and approached Mandel about doing the comic as a tie-in to this summer's crossover event series "Secret Wars."
This was the perfect time to do this project because Earth, and the entire Marvel Universe, was destroyed in "Secret Wars." All that's left is Battleworld, a hodgepodge planet composed of different parts, eras and realities of the Marvel Universe. This means that creators can pick a part of Battleworld and tell almost any story they want there, free from the constraints of continuity and using almost any characters they want. This is why "Hank Johnson, Agent of Hydra" features the original, Caucasian Nick Fury instead of the Samuel L. Jackson-inspired version, with whom most Marvel movie fans are familiar.
This is Mandel's comic book writing debut. He says his partner, Michael Walsh, was "instrumental" in helping him make the transition from screen to page and bringing the sense of realism he was going for.
"Michael took my 'talk' and made it feel lively," Mandel said of his "very talky" comic book script. "Michael brought that realism, which also gave the book a wonderful, almost mundane day in the life feel."
Although it was inspired by "The Sopranos," Mandel intends for it to be a comedy. He says he tried to take the comedic lens on shows like "Curb Your Enthusiasm" and "Veep," and turn it on this small corner of the Marvel Universe. He approached the book like he was writing a half hour comedy episode.
"If you read it and feel like you just watched an episode of 'Curb' in the Marvel Universe, I will not complain," he said.
Here's a preview of "Hank Johnson, Agent of Hydra" #1, which hits stands on Wednesday: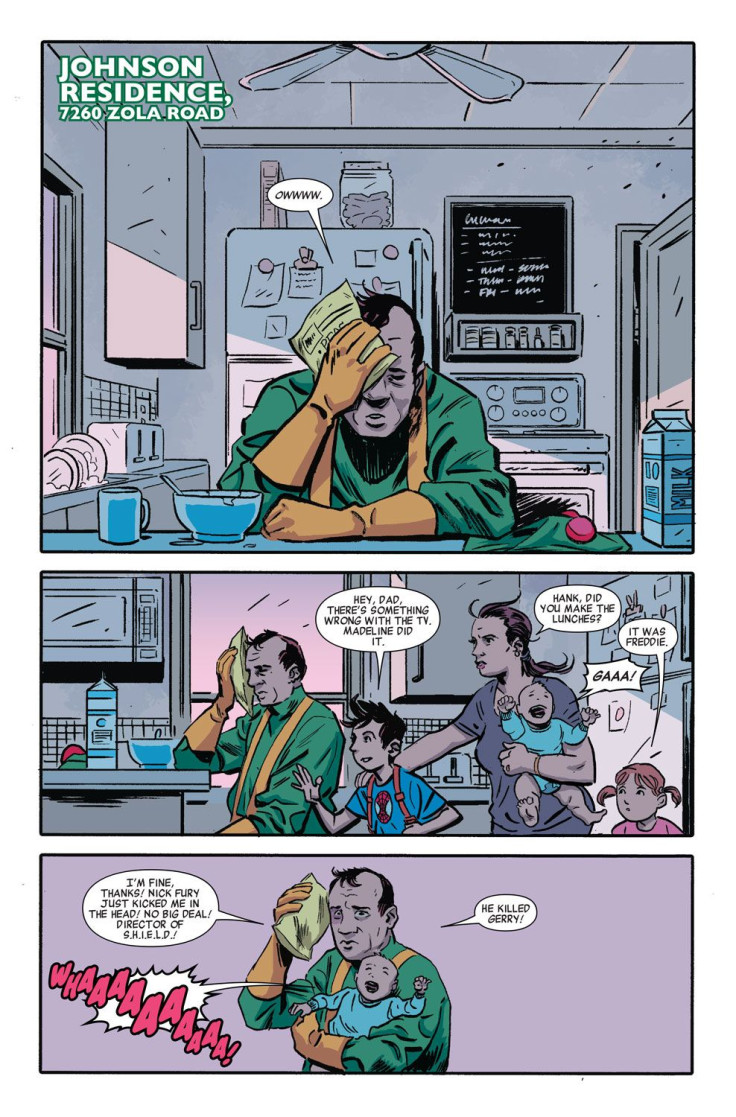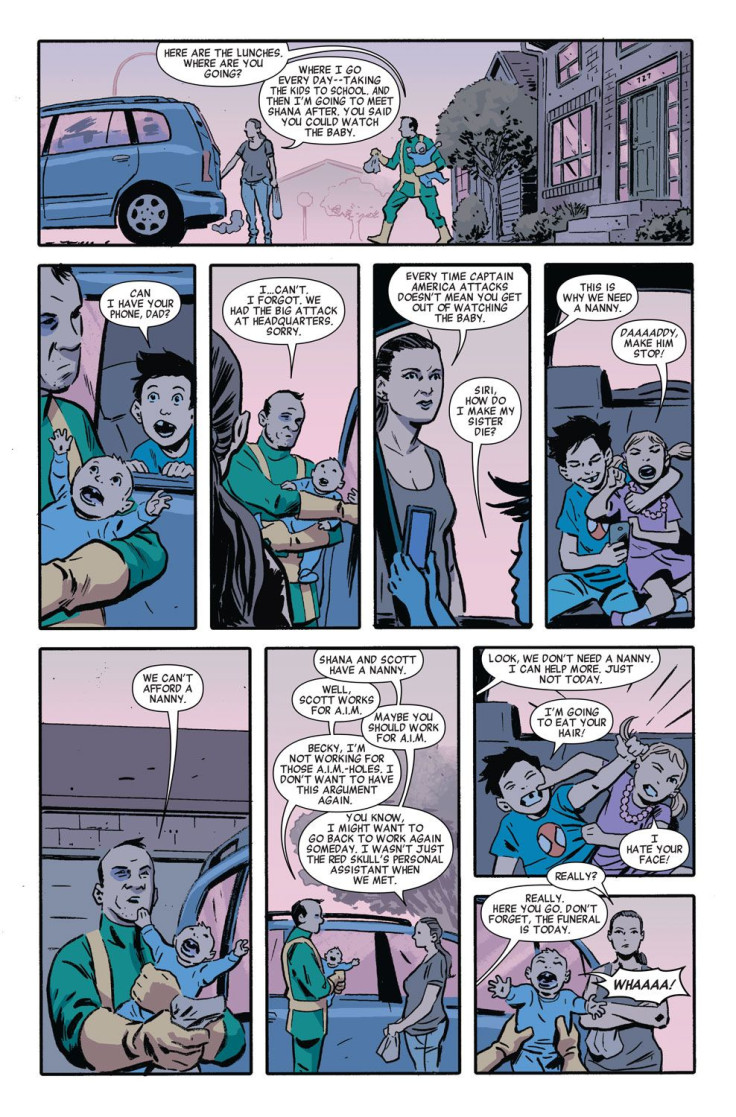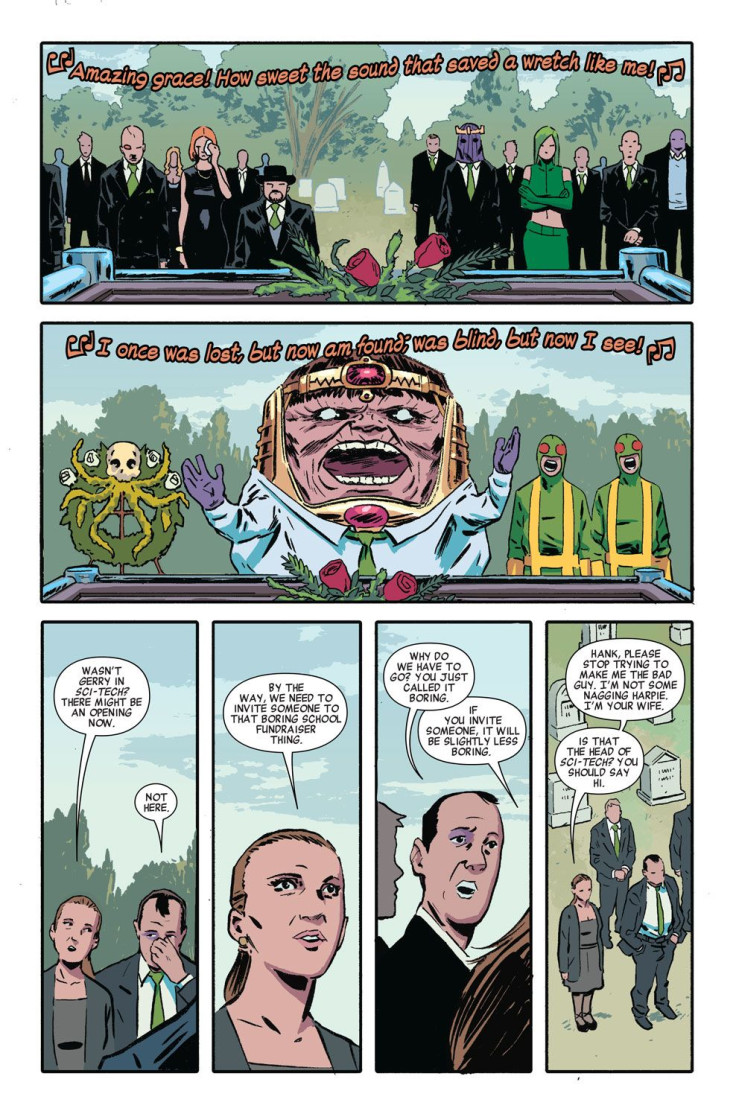 FOR FREE to continue reading
✔️ Unlock the full content of International Business Times UK for free
offer available for a limited time only
✔️ Easily manage your Newsletters subscriptions and save your favourite articles
✔️ No payment method required
Already have an account? Log in
© Copyright IBTimes 2023. All rights reserved.