Here's Why Farmers Love Bitcoin, Cryptocurrency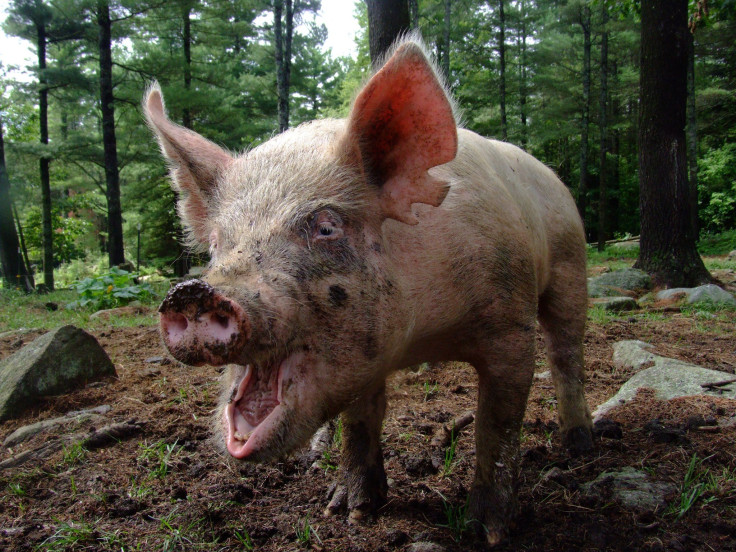 Some stereotypes are true and family farms are often plagued with Steinbeck-worthy hardship from the field to the bank. As cryptocurrency gains broader recognition, farmers around the world are leveraging bitcoin to stay competitive in markets dominated by gatekeepers and industrial farms.
Even though licensed hemp farming is perfectly legal in Colorado, Grow Hemp Colorado co-founder Veronica Carpio told International Business Times banks and fintech companies like PayPal and Square are still treating farmers like drug dealers.
"They were shutting down my account and holding all my money," Carpio said. "It seemed like once I got flagged on one processor, I would get shut down or flagged on all the other processors."
Read: Cryptocurrency Shopping Guide: How To Shop With Bitcoin
Carpio isn't alone. Bloomberg reported credit card companies and banks avoid working with the flourishing cannabis industry, a market that pulled in around $6 billion in 2016. So many cannabis farmers are turning to bitcoin. Carpio helped a few dozen local hemp farmers implement bitcoin in their businesses and is working on broader community education resources.
But it's not just stigmatized industries like cannabis that benefit from using bitcoin. Rural produce and livestock farmers from Africa to Latin America also see the advantages of using bitcoin for business. In Zimbabwe, the startup BitMari has a tech industry-style accelerator program providing women farmers with bitcoin loans.
Many people in Zimbabwe don't have bank accounts. According to the World Bank, mobile wallets are proving more popular and accessible than traditional accounts with financial institutions. "Prior to the Zimbabwe land reforms, women had no access to land. ... After gaining access to land, the next headache was getting funds in order not to be stuck in peasant farming," Phides Mazhawidza, president of the Women Farmers Land and Agriculture Trust, told CryptoCoinNews. "This initiative [BitMari] is life changing for the 100 women, who are currently benefiting from the project."
Across the ocean in Argentina, an organization called Tierra Buena is helping farmers sell their produce online to bitcoin shoppers. Organic farmer Santiago Zaz told NPR bitcoin accounted for around 10 percent of sales in 2013. In the years that followed, bitcoin became increasingly popular with similar sustainable farms in the United States.
Cryptocurrency solves several issues for small, rural farms. It's easy to transport and allows producers to sell directly to shoppers without relying on stores. "With bitcoin, you can take it anywhere with no risk. If I ever need my money, I don't need to find an ATM machine," Utah farmer Clinton Felsted told NPR. "You can use your phone to transfer payment right there on site," Carpio added.
Carpio has even used bitcoin like an investment, which solves the notorious cash flow problem farmers face between harvests. "I actually have earned money a few times by letting bitcoin sit in my wallet and the value goes up," she told IBT. "I'm making more money sometimes with bitcoin."
New Hampshire, in particular, is home to a thriving cryptocurrency community. Emily Smith, who runs Bardo Farm with her family in rural New Hampshire, said cryptocurrencies like dash and bitcoin helped them reach a wider audience.
"You just have a lot more options for your business," Smith told IBT. "I feel like we're starting to make it, and people said you'll never make a living as farmers."
Read: How Blockchain Could Help Protect The Environment
Bardo farm offers organic produce, including a Community Supported Agriculture delivery service, and sustainably raised meat, including pork, turkey and beef. Smith estimates a third to half of her customers pay in cryptocurrency. Some customers told her they chose Bardo over other eco-friendly farms because they wanted to buy food with bitcoin, everything from bok choy to tomatoes, kale, carrots and garlic.
"A lot of our customers have been paying us in bitcoin, dash and Ethereum as well," Smith said. "As far as cryptocurrency, I actually find it to be the easiest way to deal with payments. You just get on your phone and boop, it's done. It's instant." She uses a BitPay Visa card whenever the farm needs cash.
Smith sometimes buys farm supplies with cryptocurrency, but there is still a long way to go until bitcoin becomes farmers' primary currency. Carpio said education is the biggest barrier to widespread bitcoin adoption. A lot of suppliers and customers still aren't familiar with how to use bitcoin.
"Bitcoin, having electronic wallets and cryptocurrency, is the future," Carpio said. "It's just a matter of education."
© Copyright IBTimes 2023. All rights reserved.
FOLLOW MORE IBT NEWS ON THE BELOW CHANNELS