Hillary 2016: Clinton Had Her Campaign Voice On, And The Beginnings Of A Stump Speech, At Women In The World Summit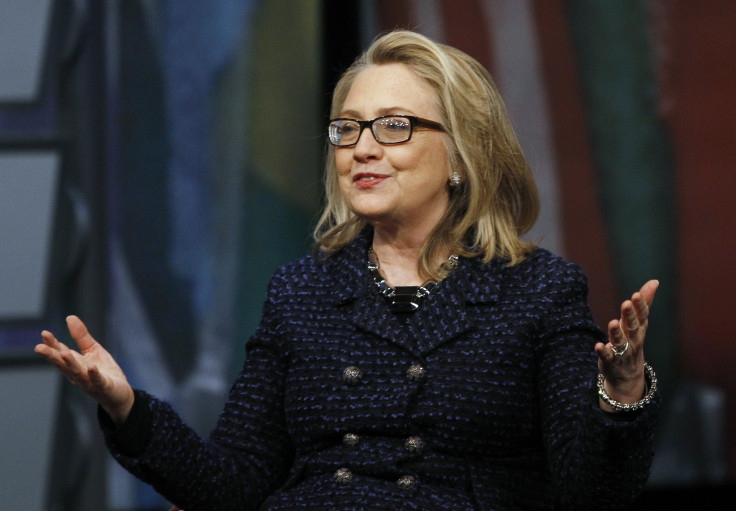 Hillary Clinton strolled out onto the stage at the David Koch Theater at Lincoln Center, arm in arm with Tina Brown and dressed in a bright fuchsia but still-fabulous jacket that coordinated in a mysteriously perfect way with the theme colors of the Women in the World Summit. Her speech received no less than three standing ovations, her tone of voice was riveting and her daring drop of the words "equal pay" struck a suspiciously progressive and left-wing tone for an event that didn't have an official political affiliation.
In short, the only items missing from Clinton's speech Friday morning were the Hillary 2016 campaign signs. But the former secretary of State, true to form, remained elusive, even when host and Daily Beast editor Tina Brown pointedly asked her, "What's next?"
The next presidential election may be three and a half years away, but any American political animal knows it's never too early to start campaigning. Several former Clinton staffers and aides have already formed a Ready For Hillary Super PAC. Ready For Hillary did not immediately respond to a request for comment, but the group has been faithfully dogging its chosen candidate's steps since she removed herself from the professional political scene in February.
Is it possible Clinton just really likes giving speeches about women's issues? Sure, it's possible. Women's empowerment have always been one of her priorities. "When I became secretary of state, I was determined to include this [women's empowerment] in the agenda," she said. But even from her place atop American diplomacy, Clinton said she was often met with politely nodding heads and glazed looks from men and women who were "otherwise thoughtful people," she said. And yet, "they continue to see these issues as somehow secondary."
"Giving women and girls a fighting chance isn't a 'nice thing to do,'" Clinton said. "It's not a luxury. It's a core imperative for every people and every society. Creating opportunity for women and girls advances security and prosperity for everyone."
Clinton spent part of her farewell speech when she stepped down from her previous post as Secretary of State addressing the need for stronger women's education and business initiatives in developing countries, a topic she also hammered home on Friday at the Daily Beast summit. Calling women's empowerment "the great unfinished business of the 21st century," Clinton did not, in fact, spend most of her speech just talking about American women. She also touched on the remarkable economic progress made in Latin America as women-owned businesses prospered, and the tragedy of India's rape culture and the struggles of the men and woman working to fight it. And of course, she talked about Malala Yousafzai.
"The Taliban recognized that this girl was a serious threat," Clinton said. "And you know what? They were right."
Bringing the debate back home, Clinton spoke about how "elusive" the American dream still remained for many women, as illustrated by the fact that the average American woman will live a shorter life than her female counterparts in other developed countries.
"We need to empower women here at home to participate fully in our economy and our society," Clinton said. "We need to make equal pay a reality."
Well, Hillary, what's next?
© Copyright IBTimes 2023. All rights reserved.