House Majority Leader Eric Cantor Defeated By Tea Party Challenger David Brat In Virginia GOP Primary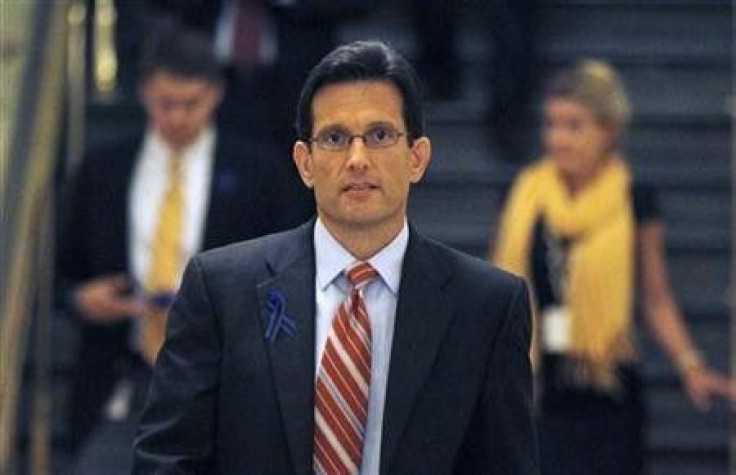 Update 11:55 p.m. EDT: House Speaker John Boehner, R-Ohio, Cantor's superior in the leadership and partner/rival, issued a statement late Tuesday night:
"Eric Cantor and I have been through a lot together. He's a good friend and a great leader, and someone I've come to rely upon on a daily basis as we make the tough choices that come with governing."
Original story:
In a startling upset of the House GOP leadership that showed a resurgent Tea Party, Majority Leader Eric Cantor lost his Republican primary in Virginia to challenger David Brat Tuesday night.
With 99 percent of the vote in, Brat had 55.6 percent and Cantor 44.4 percent, the Associated Press reported.
It's hard to overstate what a shock the results were to observers and old political hands. Just days ago, Cantor's own internal polling had him ahead of his challenger by 34 points. Other polls also had Cantor, considered a rising star in the GOP, ahead. No sitting House majority leader has been rejected by his own party's voters since 1899.
Cantor had spent more than $5 million to head off the challenge from Brat, who spent about $122,000, according to the Center for Responsive Politics.
"It came out of nowhere," Stuart Rothenberg of the nonpartisan Rothenberg Political Reporter, told the Los Angeles Times. "It was a stunning, unimaginable, impossible defeat."
The stunning results upends Virginia politics, where Cantor was the prominent Republican in office, and Capitol Hill, where the ambitious Cantor was assumed to be next in line to lead House Republicans after Speaker John Boehner of Ohio eventually leaves the scene.
At the Richmond hotel where the Cantor victory party was to occur, the crowd was stunned — at one point, a large projector screen showing the results was turned off. Cantor was whisked upstairs, Politico reported.
"I know there's a lot of long faces here tonight and it's disappointing, sure," Cantor continued. "But I believe in this country, I believe there's opportunity around the next corner for all of us. So I look forward to continue to fight with all of you for the things that we believe in for the conservative cause because those solutions of ours are the answers to the problems that so many people are facing today."
In victory, Brat quoted Scripture: "I went to my family and this little note is hanging on my door every day and I read this every day. It's Luke 18:27. Jesus replied, 'What is impossible with man is possible with God.'"
Recent primaries in North Carolina and Kentucky had seemed to indicate that the GOP's far right had lost momentum and was no longer a danger to establishment Republicans like Senate Minority Leader Mitch McConnell. And in South Carolina's primary Tuesday, Sen. Lindsey Graham survived without a runoff; he took more than the 50 percent threshold over six Tea Party challengers.
But longtime Sen. Thad Cochran of Mississippi was forced into a runoff last week by state Sen. Chris McDaniel, who ran to his right.
Brat is an economics professor at Randolph-Macon College, outside Richmond.
Cantor has been a reliable conservative--but not hardline enough for the Tea Party, apparently. Brat made an issue of Cantor's somewhat moderate views on immigration reform, describing them as support for "amnesty"--an idea that is anathema to the right. Brat also assailed Cantor for voting to raise the national debt ceiling.
Brat also ran on the argument that Cantor was more interested in his national profile than in serving Virginians back home.
"While he's got an eye on the speaker job, he's turned his back on his constituents," Brat told CNN.
Cantor's defeat — the most unexpected of a congressional leader in memory — could have major implications for an immigration overhaul, the New York Times notes.
Cantor, who is in his sixth term, had sought to rebut Brat's charges on immigration, sending out fliers and airing television ads in which he claimed to oppose an "amnesty" policy. But with significant help from conservative talk radio figures like Laura Ingraham, Brat was able to galvanize opposition to Cantor in one of Virginia's most conservative congressional districts, the 7th.
Matt Kibbe, president of FreedomWorks, a Tea Party-aligned group, quickly released a statement congratulating Brat, Talking Points Memo reported.
"Congratulations to Dave Brat on his huge upset. The statement from the grassroots could not be any clearer. It doesn't matter what office you hold or how powerful you are. If you lose touch with activists on the ground, then your seat is in danger.
"The grassroots are taking their seat back at the table and returning accountability to Washington. Votes on Capitol Hill will be heard back in the district. If you stop representing your voters, they will hold you accountable at the voting booth."
The last House leadership member to lose in a re-election fight was Speaker Tom Foley, D-Wash., who lost in the Republican wave of 1994. Prior to that, the last sitting speaker to be defeated while running for re-election was Galusha A. Grow in 1862.
Cantor is the second House incumbent to lose this primary season — Texan Ralph Hall, 91, was defeated by a Tea-Party backed challenger in May.
FOLLOW MORE IBT NEWS ON THE BELOW CHANNELS