Hoverboards Can Now Be Seized Over Explosion Risk, US Govt Warns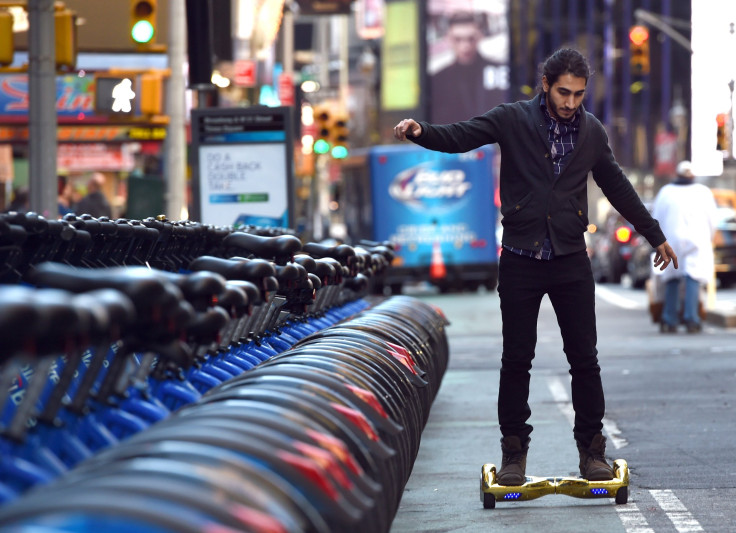 Get your hoverboards while they're hot. The U.S. government has called on retailers and manufacturers to stop selling versions of the self-balancing, two-wheel electric toys that don't meet safety standards.
The U.S. Consumer Product Safety Commission, known as the CPSC, issued a notice to stores and importers asking them to voluntarily take hoverboards off the shelves unless they meet government standards.
YouTube, Twitter and other internet channels are full of images and video of hoverboards that have exploded or erupted in flames. The advisory stops short of demanding a recall but does warn that hoverboards that have not passed safety tests will be subject to seizure.
None of the popular models on the market currently meet the necessary standard as laid out by the Underwriters Laboratory (UL), the government said. Underwriters Laboratory, an independent safety consulting company, announced in January it would begin accepting self-balancing scooters for "construction evaluation, testing and/or UL certification." That came after Swagway, the maker of a popular hoverboard, allegedly put counterfeit UL safety marks on its hoverboards.
"From December 1, 2015 through February 17, 2016, CPSC received reports, from consumers in 24 states, of 52 self-balancing scooter fires resulting in over $2 million in property damage, including the destruction of two homes and an automobile," the government said in a letter dated February 18. We believe that many of the reported incidents, and the related unreasonable risk of injuries and deaths associated with fires in these products, would be prevented if all such products were manufactured in compliance with the reference voluntary safety standards."
© Copyright IBTimes 2023. All rights reserved.