How 'Call Of Duty: Infinite Warfare' Used Facebook Bots To Reveal Details, First Trailer To Gamers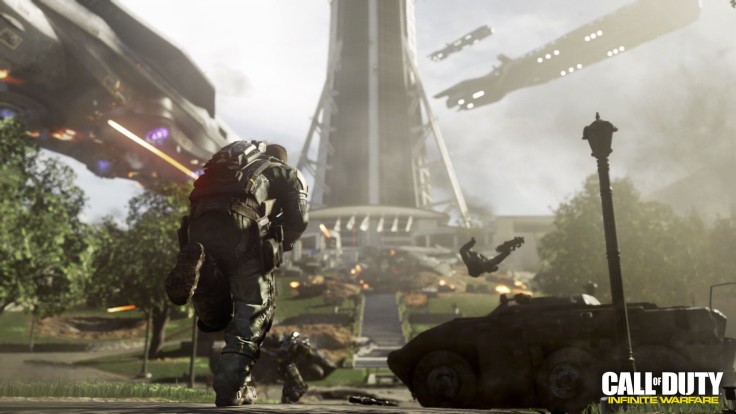 Activision Blizzard has revealed that "Call of Duty" will be going to space in the latest entry in the hit first-person-shooter franchise. The "Call of Duty: Infinite Warfare" trailer included the first details most fans had seen, but dedicated "Call of Duty" players were able to chat with a Facebook Messenger bot to gain access to the preview ahead of Monday's reveal.
The "Call of Duty: Infinite Warfare" takeover began within the Nuk3town map in "Call of Duty: Black Ops III" over the weekend. Characters and airships appeared within the game, which led to a scavenger hunt to figure out what was going on. By Sunday, Lt. Reyes, the main character in "Infinite Warfare," instructed players to head to Facebook Messenger to chat.
Activision Blizzard created a Lt. Reyes bot on Facebook Messenger in partnership with digital agency AKQA and the PullString AI platform. "We wanted to give our fans playing 'Call of Duty' the first peek at the next game and a unique way to interact with one of the characters from the upcoming 'Call of Duty: Infinite Warfare,'" Tim Ellis, chief marketing officer of Activision Publishing, said in a statement. Facebook revealed its lineup of bots at F8, its annual developers' conference. The software acts as a conversational helper that can help users order pizza or, in this case, promote a game.
Players could chat with Lt. Reyes to learn more details of the "Call of Duty: Infinite Warfare" storyline. Lt. Reyes would also provide clues for players to find a 12-digit code scattered throughout social media channels and "Call of Duty" maps. Entering the code led to a link to the "Infinite Warfare" trailer along with a player card that will be unlocked in the game.
"Call of Duty: Infinite Warfare" involves an invasion by the Settlement Defense Front. Lt. Reyes is among the figures fighting to keep Earth from falling under the control of SetDef, as they are called in "Infinite Warfare." Players can expect expansive battle sequences with some free-floating combat sequences set in space. The Limited Edition and Deluxe Digital Edition of "Infinite Warfare" includes the remastered "Call of Duty: Modern Warfare."
© Copyright IBTimes 2022. All rights reserved.
FOLLOW MORE IBT NEWS ON THE BELOW CHANNELS