How China's Singles' Day Festival Became The World's Largest Online Shopping Phenomenon -- And How It May Withstand China's Slowdown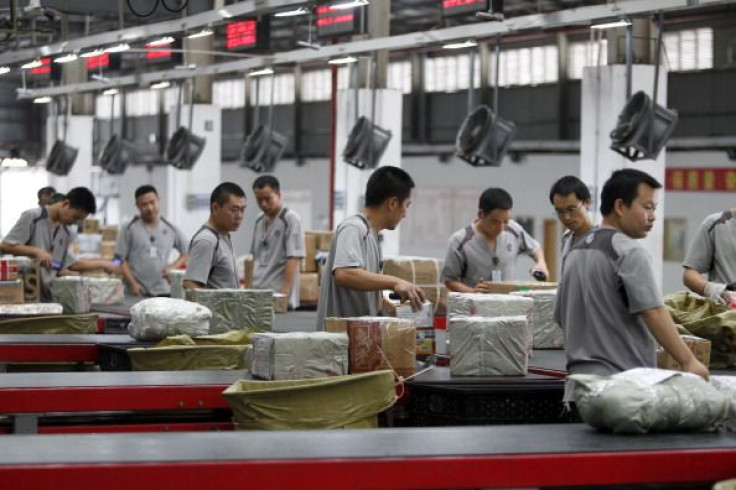 SHANGHAI -- A Chinese festival that few people, even in China, had heard of until just a few years ago has become a shopping extravaganza to rival Black Friday, the Christmas rush or the January sales. China's Singles' Day, which falls on Wednesday, has established itself as the world's biggest e-commerce festival. On that day last year, China's biggest online retail platform operator, Alibaba, alone sold more than $9 billion worth of goods. This year, with China's exports slumping and gross domestic product growth slowing, the sales figures are eagerly awaited as a sign of whether consumption, seen as key to keeping the economy moving, is holding up. Some figures suggest consumer confidence is at its lowest level in many years.
The festival's roots lie in the date itself: Singles' Day is a reference to the four ones in the date (11/11). It's said to have been invented by Chinese university students in the 1990s as a way to cheer up those who were single -- and to provide an excuse to invite others on a date. But six years ago Alibaba, the Chinese e-commerce pioneer now listed on the New York Stock Exchange, began to offer special promotions on Nov. 11 -- and within four years it had become an online sensation, with TV showing live coverage of the sales figures as they stacked up on Alibaba's giant computer screens.
This year, online retailers are pulling out all the stops to ensure sales continue to boom. The walls of Chinese subways and metro trains are plastered with 11/11-themed advertising. JD.com, Alibaba's main e-commerce competitor, has signed up celebrities who are pictured saying: "Meet me on JD on the 11th," its slogans offering 50 percent off. Not to be outdone, Alibaba's B2C platform Tmall's ads proclaim: "Not just 50 percent off." And Alibaba has gone so far as to organize an all-day gala event at Beijing's Water Cube (the venue for the swimming events at the 2008 Olympics), broadcast live online and directed by Feng Xiaogang, China's most commercially successful movie director.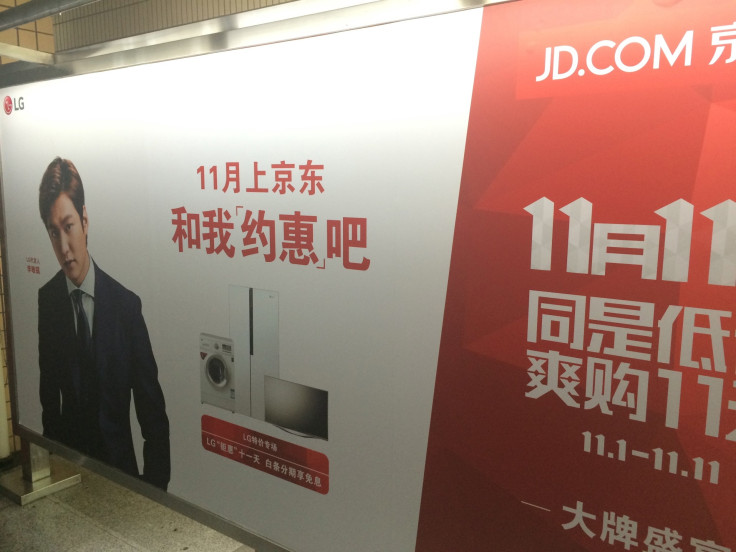 Alibaba has also added a new theme, imported goods -- a logical step in a year when tariffs on many imports have been cut (and the value of China's exports has shrunk dramatically). Goods from around the world star in Tmall ads featuring the top 25 brands, including Germany's Metro and the U.K.'s Sainsbury's, as well as exotic imported foodstuffs like kiwi fruit and fresh lobsters. Another advertisement lures customers with the tagline "6 million quality products waiting for you," over images of shoes, bags, watches and other accessories.
Will it work? The growing tension in the relationship between JD.com and Alibaba may be a sign of current economic anxieties: JD recently filed a complaint against Alibaba to industry regulators, accusing it of "disturbing market order" by not allowing companies taking part in Tmall promotions to participate in events organized by other websites. But market research firm Nielsen is predicting that sales will continue to rise, and recent sales figures from Alibaba have defied pessimistic market predictions, growing by more than 30 percent year over year. The company also sees great potential in rural areas and is setting up trading offices in many Chinese villages. Analysts say the continuing growth in the number of smartphones in China is boosting e-commerce demand, as is the fact that for the moment, retail sales -- and wages -- continue to grow faster than GDP, although this growth is slowing too.
"If we look at the economy, we see companies closing their factories, and the anti-corruption campaign also hitting some sectors, including restaurants and property, and car sales are slowing too. But we're not yet seeing much influence on a lot of retail shopping behavior," Xiaojing Huang, a consumer behavior expert at Yang Design in Shanghai, says.
One factor, Huang suggests, is that many Chinese people -- especially the young -- say they just love shopping: "When we interview consumers, many young people say that one of their favorite hobbies is shopping," she says. "People born in the 1980s and '90s are the main consumers in China now. And when they talk about shopping, they mostly mean online. They grew up with the mobile phone and the Internet, so they trust it more than the older generation."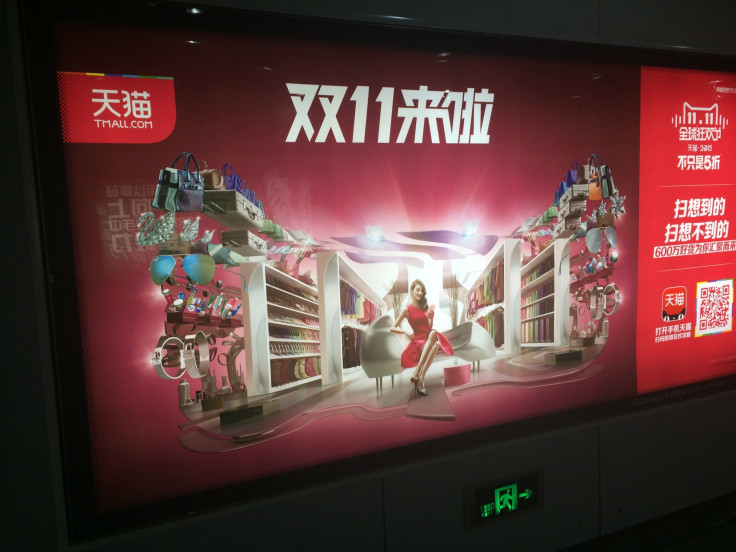 In a luxury mall on one of Shanghai's main shopping streets, Janice Tang and Shirley Zheng , office workers and colleagues, bear Huang's theory out. The 20-somethings say they'd been saving up for several months ahead of Nov. 11 and are planning to go online as soon as sales open at midnight to be sure of getting a bargain. "There are lots of things I want to grab as soon as possible," Tang says. "Lots of things that are normally quite expensive will be discounted. I normally buy makeup, maybe some home electronics."
The young women tell International Business Times their own sense of well-being hasn't been affected by the economic slowdown, and they still expect to buy more goods this year. They say all their friends are chatting online about what to buy on the big day. Other shoppers also say they're not so worried about the economy. Li Hua, a musician in her late 20s, says she's just installed Alibaba's Alipay function on her smartphone, making online purchases much easier than before.
"I'll definitely buy more this year," she says. "I want things like sportswear that I don't normally buy."
The target consumers of Singles' Day aren't just the young. According to Huang, the event attracts people of all ages, married or not: "I've seen ads for clothes targeting middle-aged people -- saying it will help cover up your belly!"
The increased purchasing convenience appears to be inducing older shoppers to take the plunge. A female chemical engineer in her 40s says she was attracted by a new function allowing people to place orders and make a down payments in advance of Nov. 11. "That way you don't need to fight with others to get what you want on the day," she says. "I'm old now; I don't have the energy to get up early in the morning to try to catch things before they sell out!"
Others are looking for savings: "I feel that lots of things I want to buy have got more expensive in the past year," Lily Wu, who works in an export trading company in Shanghai, says. "So if you can get a discount, it's better. This is a good chance for me to buy imported makeup and other daily necessities."
But it's not just about essentials; it's about treating oneself that makes the day so successful, Huang says.
"At festivals like Christmas or Valentine's Day, people are usually buying things for their family or their partners," she says. "But the 'Double 11' is about satisfying yourself -- and a lot of young people are very focused on themselves, so it reflects this mindset."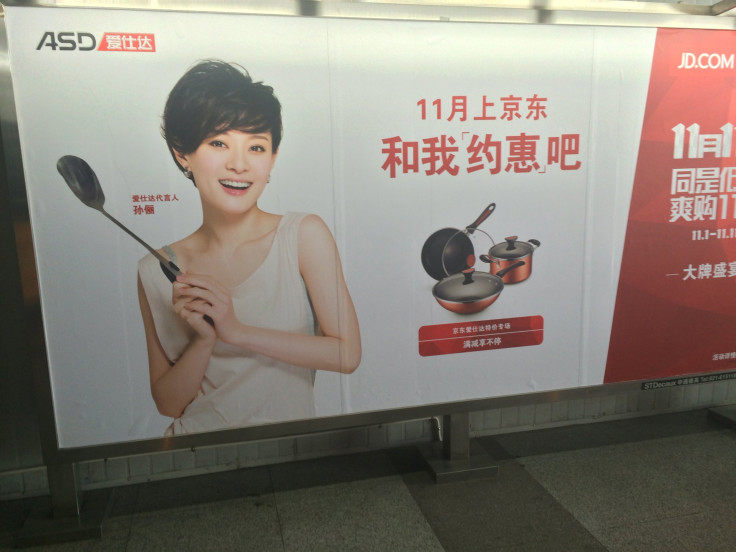 Huang adds that a time of economic slowdown may sometimes actually encourage people to make purchases for themselves -- even if they have to cut down on big-ticket expenditures such as travel.
"This is something we've seen in Japan," she says. "Young people who don't have a job, who feel stress, will find some kind of release for this tension online. This is also happening in China now."
But not everyone seems quite so enamored of the growth of the Double 11 festival.
"For women it's a joy; for men it's a tragedy," one male shopper tells IBT, suggesting that he will be the one paying the bills.
Huang says there's been plenty of debate on Chinese social media among men about "how to stop your wife buying too much." She adds that shoppers themselves sometime regret their Double 11 impulse purchases afterward. "One consumer I spoke to told me: "What you buy on Nov. 11 is what you don't want in your daily life," she says. "Sometimes people start behaving irrationally during an event like this."
Yet some people say that the novelty is part of the appeal of Singles' Day. "It becomes like a carnival, something a bit crazy, and it's fun -- so you just want to join in," William Cheng, an IT professional in his late 20s, says. "You buy some things you wouldn't normally buy. They're cheap -- you're not too worried about the money you've spent. I think it's a good thing!"
Huang acknowledges that some in China, particularly older people and intellectuals, have criticized Singles' Day as an orgy of mindless consumerism. However, she says most people feel no embarrassment about participating in the event.
"It makes many Internet users feel empowered -- to buy something they wouldn't normally buy in everyday life, to have something they want. It's a release," Huang says. "And they like to show that they can act fast, that maybe they know more about the goods on sale than other people -- and to show off the nice things they buy."
It's this attitude, Huang suggests, that has turned what she says was originally a "fake festival" into a "brand itself," and one that has given online shopping, once seen as cheap and unreliable, a much more positive image in China.
For conventional stores, the wave of online shopping is a challenge, and some observers say even a rise in sales during this year's Singles' Day won't make up for the slowing growth in retail sales. But Huang says there's no doubt that e-commerce remains an ever-expanding force in China: More men are shopping online, she says, "because they're too lazy to go out," and many people are using it to buy things they cannot find in their local shops. But there's a deeper attraction, she adds, that China's Internet giants are becoming increasingly adept at channeling.
"These companies are using big-data technology quite effectively now," she says, pulling out her smartphone. "For example, Taobao (Alibaba's biggest online retail platform) gives you interesting labels based on your shopping history. You see, it says I'm a young woman, I'm good at organizing, I love my home, I love design -- and if you click on a label, it gives you shopping recommendations, and many of them make sense."
"It's very different from just hanging around a shopping mall," Huang says. "You feel that someone understands you."
FOR FREE to continue reading
✔️ Unlock the full content of International Business Times UK for free
offer available for a limited time only
✔️ Easily manage your Newsletters subscriptions and save your favourite articles
✔️ No payment method required
Already have an account?
Log in
© Copyright IBTimes 2023. All rights reserved.