How To Go Live On Instagram: Update Includes New Disappearing Videos, Messages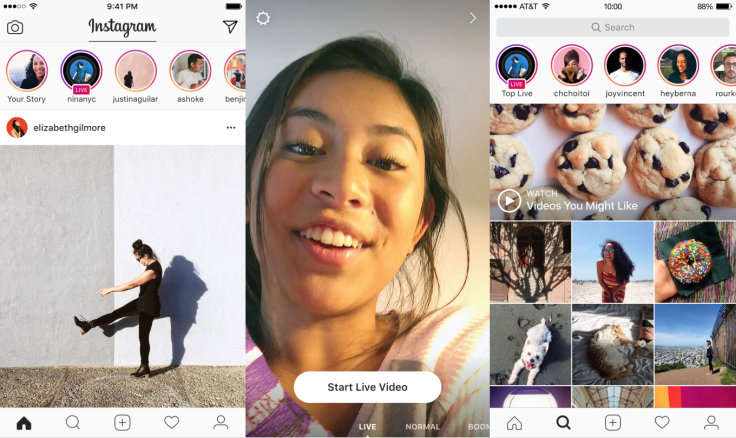 Back in August, Instagram introduced Instagram Stories as a way for users to share all of the big moments of their day.
On Monday Instagram announced two big updates: live video on Instagram Stories and disappearing photos and videos for friends in Instagram Direct.
How To Do Live Video on Instagram Stories
Live video on Instagram Stories will help you connect with your followers. When you're done, your live story disappears from the app so you can share anything, anytime. To go live, simply swipe right from the feed to open the camera, tap the "Start Live Video" button and you can start sharing your video, which can only last up to an hour. Your friends will get a notification when you go live so they can tune in. When you're live, you can pin comments for your friends to see or turn off comments. While there are no replays, you'll be able to browse through a curated Explore the best of Instagram Live videos that are currently happening.
If you don't want to share a doodle on Instagram Stories post to your followers, you can send it as a Direct message to a few of your closest friends. They'll be the only ones who can watch it twice before it disappears.
How to send disappearing photos and videos directly to groups or friends
Since launching Instagram Direct last year, the number of people using Direct each month has grown from 80 million to 300 million people. Today's update keeps direct messages the same but adds a better way to connect with your friends - all in the same place.
To use the new feature, swipe right into the camera to take a photo or video, then tap the arrow to send it privately. You can choose to create a group - and you can send to individuals at the same time. Unlike other messages in Direct, these new photos and videos will disappear from your friends' inboxes after they have seen them. You'll even get to see if they replayed it or took a screenshot. According to a blog post, Instagram said "whether your account is set to public or private, you can only send disappearing photos and videos to people who follow you."
Disappearing photos and videos in Instagram Direct will be rolling out globally starting Monday.
© Copyright IBTimes 2023. All rights reserved.