How Golden Krust Popularized Jamaican Cuisine in America
Even through Covid, tourism to the Caribbean has soared over the course of the last few years. Galvanized by the boom of platforms like VRBO and AIRBNB as well as a general lifestyle shift amongst Americans focused on the remote work economy, travel to these sought-after destinations has become more accessible and commonplace. With accretive growth in the all-inclusive resort industry, travel to the Caribbean across both upper, middle, and even lower middle-class lines in the U.S. has increased.
Illustrating this trend, the U.S. Government has begun to back measures to foster and enhance the countries' overall alliance. Led by Senators such as Marco Rubio, the U.S. has begun cultivating stronger economic and trading ties with key English-speaking countries in the Caribbean such as Jamaica. This is a natural fit as Jamaica's exportation trade to the U.S. (which accounts for 42% of Jamaica's international trade) provides the U.S. with many of its key household products such as coffee, cane sugar, and ethanol.
Now, other aspects of Jamaican culture have begun to take hold in the U.S., in addition to the commodities – mainly the hospitality industry. The 20th century saw numerous waves of Jamaican migrations to the United States. As Jamaicans relocated, hundreds of Jamaican mom-and-pop shops began surfacing in Jamaican dense areas such as Metro New York, and South Florida. With them, came the flow of diversified Jamaican cuisine and food staples such as jerk chicken, oxtail, and beef patties. Despite this tremendous growth, until the 1990s, this movement lacked a central flag bearer, a brand entity that encapsulated authentic Jamaican cuisine in the U.S.
Having spent his childhood in his grandparent's Hawthorne & Sons Bakery, in the hills of Border, Jamaica, entrepreneur Lowell Hawthorne saw the opportunity to bring over the family's proven recipes to the United States. This idea would eventually evolve into the Golden Krust Caribbean Restaurant brand, which packages authentic Jamaican cuisine to be shopped for direct access to the country at large, becoming the official taste of home to a growing market of Jamaican ex-pats and the official taste of Jamaica to the American public.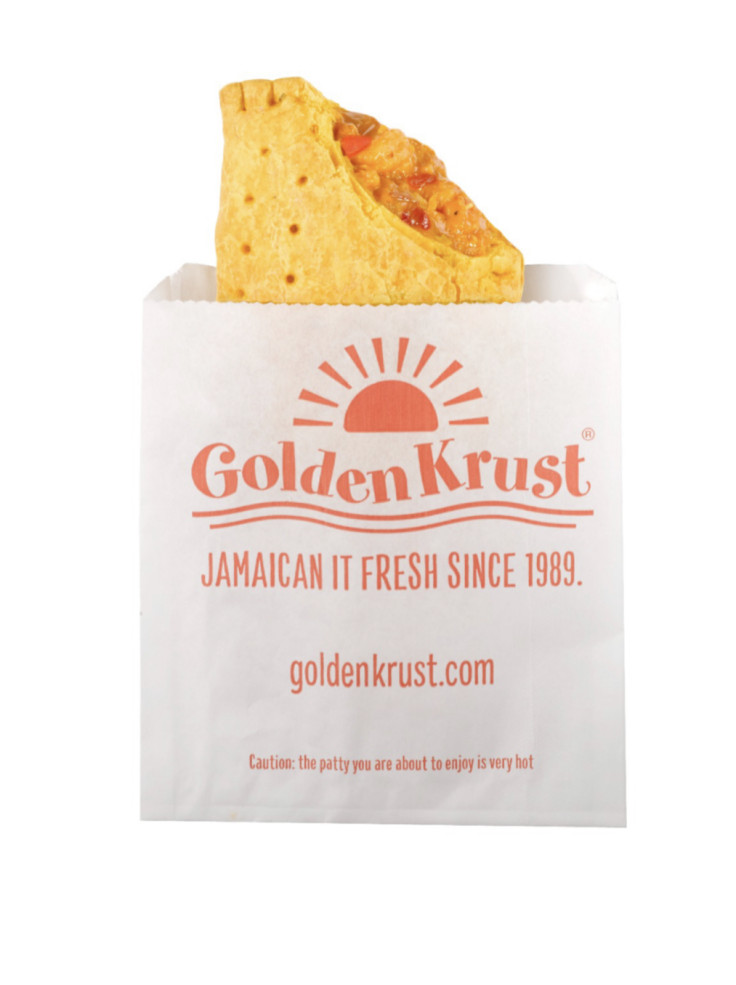 In 1989, Lowell and his siblings pooled together their savings and launched the first Golden Krust Caribbean Bakery in the Bronx. It offered quick, authentic Caribbean cuisine in a casual format but it did not compromise its standards when it came to the uniqueness of its recipes or their arduous preparation.
The concept quickly proved successful in the Bronx, and within only 7 years Lowell Hawthorne and his family set up 17 family-owned restaurants. As the Golden Krust business scaled to serve dozens of Jamaican and Caribbean communities, native favorites such as the beef patties and stews soon re-emerged as staples in the lives of these consumers in New York.
By the late 1990s, it was clear that Golden Krust would expand their family business to new heights. Towards the beginning of 1997, Golden Krust launched its first franchised restaurant with investors Earl Chin and David O'Brien in Brooklyn, New York. Hawthorne and his team made plans to expand the family business across the Eastern seaboard, largely following the U.S. travel destinations of Air Jamaica, like Florida and Atlanta. Between 1997 and 2005, more than 100 franchises were opened all across the United States including in many non-Caribbean American communities. The group's pillar menu items – such as chicken and beef patties – even made their way into retail stores with the launch of Golden Krust's microwavable patties.
Soon it became clear, Golden Krust was becoming the defacto brand face of Jamaican cuisine in the United States - across all touchpoints from restaurants to retail to K-12 schools. To this point, Hawthorne appeared on the Emmy-winning CBS Show Undercover Boss in 2016. Still, even as the brand grew, Hawthorne and the family set firm quality controls to protect the fundamental authenticity of the brand and ensure that its value proposition would never be diluted.
By carrying what was true, authentic, and rich about Jamaican cuisine to U.S. markets at scale, and using its proceeds to support its local communities (through food donations, school and church initiatives, and entrepreneur franchising opportunities), Golden Krust has been a driving force of growth for Jamaican cultural preservation and expansion in the United States. With 120 restaurants and over $125 million in annual sales, it also represents one of the largest Jamaican umbrella businesses in the world.
Yet, just because it has been a preserver and purveyor of Jamaica's cultural heritage, its spirit of innovation has not been stifled. Always seeking to enrich and enhance its offerings and customer experience, Golden Krust is constantly iterating and optimizing its menu to bring the American market new Jamaican-inspired products. Its latest chef oeuvre is its new Blazin' Shrimp Pepper Patty. The Peppered Shrimp patty is a creative reimagining of famous Jamaican street food. Golden Krust is the first and only brand to take this classic recipe and wrap the filling into the signature flakey crust of a Jamaican patty. As tens of thousands of patties are served monthly across Golden Krust locations, not only are these endemic Jamaican recipes brought to culture but the vernacular of what is a patty (formerly associated with purely a hamburger patty), is starting to shift and take on a broader range.
Golden Krust's New Blazin' Pepper Shrimp Patty
As Golden Krust continues to expand, so too invariably will the influence, staple foods, and vernacular of Jamaican culture. Not to say that there aren't other manifestations of Jamaica's rich heritage in the United States (that topic would certainly set off a new op-ed), but for a primary, authentic meeting point with Jamaican food right here at home, no umbrella brand has come to represent the true Jamaican food experience better than Golden Krust.
As the 60th (Jubilee) anniversary of Jamaican Independence just passed, the Golden Krust team took the opportunity to uplift and salute the Jamaican community on this momentous day. As fate would have it, the Jubilee fell on the same day as Jamaican Patty Day. As pioneers for Jamaican cuisine in the United States, the Golden Krust team are behind the annual holiday, creating a day to venerate Jamaican Patties. In fact, the winners of Golden Krust's "Two Jamaica With Love: Patty Day Getaway Contest" winners will be announced on August 18th. While the Annual Jamaican Patty Day fell on Jamaican independence day, the Jamaican community celebrated with all of their favorite dishes. Those celebrating surely started the day off right with the National Dish, and famous Jamaican breakfast, Ackee and Saltfish.
© Copyright IBTimes 2023. All rights reserved.
FOLLOW MORE IBT NEWS ON THE BELOW CHANNELS