How To Keep Your Job Regardless Of AI
Nvidia deep learning consultant Michelle Gill never imagined herself working in California's robot-crazed tech industry. When she left Nebraska and got a PhD in biochemistry and biophysics at Yale University, she saw herself as more of a scientist who studied life than a technologist prepared to build new creations. It wasn't until she started working at the National Cancer Institute that she first became interested in machine learning. Analyzing medical images with data science opened the door to a whole new world.
"A lot of the concepts I had learned in science applied in some way to machine learning," Gill told Newsweek at the Artificial Intelligence & Data Science conference in New York City. These days, her Nvidia team works on AI projects with clients such as Capital One and IBM.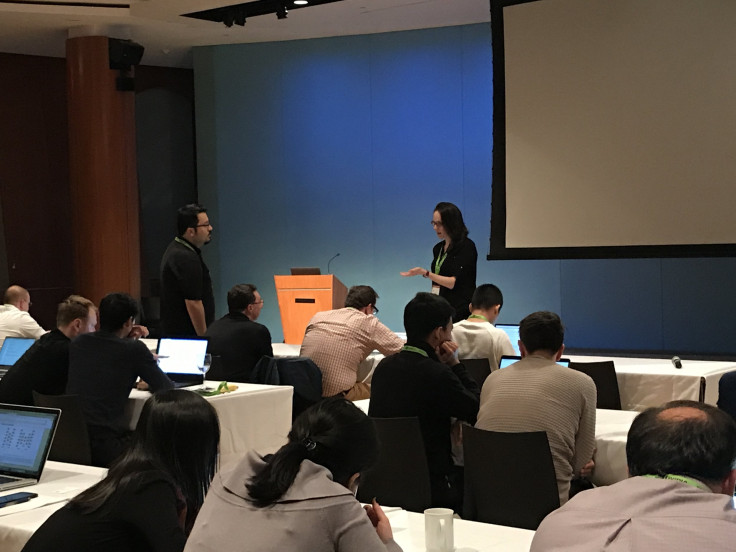 Gill is now one of the women leading the charge in enterprise-level machine learning experiments. A recent Tech Emergence survey of 287 companies in AI and machine learning found women make up between 13 and 28 percent of C-level jobs, plus to 13 to 36 percent of top-level positions in the field. It may seem like a niche industry, but the AI revolution is already impacting the whole economy.
Machines are expected to completely replace 7 percent of American jobs by 2025, according to a report by the market research company Forrester. Many jobs will change even if they don't disappear. Mckinsey research suggests 45 percent of tasks employees perform today could soon be automated, with around 60 percent of jobs losing 30 percent of their current responsibilities to machines. This includes everything from cooking to managing teams. And yet, Gill doesn't fear the rise of robots. To the contrary, she believes machine learning can help people do their jobs better.
"For the immediate future, we will always need a human in the loop somewhere," she said. "Don't discount knowledge that you have from other fields, because data science applies to all fields. That knowledge will be useful." AI technologies have already proven to be better than doctors at detecting cancer and other abnormalities. In a study by Dr. Yuichi Mori of Showa University, one such AI algorithm was able to find cancerous cells in seconds with around 86 percent accuracy. However, machine learning is only as powerful as the data used to train these algorithms. That's where humans come in.
"How do we get underrepresented data from underrepresented populations?" Gill asked. "We have to think about that as we build these models...to have that view of humanity. That's why they [robots] are not going to completely replace something like a diagnostician or someone making decisions for a company. I think they help you make smarter choices."
So how can we stay employed if machine learning will conquer the job market?
Her first piece of advice is to find a niche, then work on your storytelling skills. The real trick to surfing this new wave of deep learning technologies is translating data into tangible insights. Even if the machine executes decisions on its own, explaining how and why to regulators is crucial in fields like finance, law and healthcare. "Ultimately, when you are digging for needles in haystacks, what deep learning models do is remove some of the hay," Gill said. "The ability to display the information that comes from these deep learning models is itself an art."
Gill's second recommendation for anyone who wants to outlast the data science revolution in their field, or people who want to work in machine learning specifically, is to learn how to code. She suggests developing a routine for constant learning. Technology is accelerating at such a fast pace that it's important for employees to grow along with their changing fields. "Learning is a marathon," she said. "Find time and find what works for you. Don't give up. It's hard for everyone. Don't think that you are alone in this."
Editor's Note: Newsweek Media Group and International Business Times partnered with Structure to host this week's Artificial Intelligence & Data Science event.
© Copyright IBTimes 2023. All rights reserved.
FOLLOW MORE IBT NEWS ON THE BELOW CHANNELS