How Marco Rubio's Campaign Follows People On The Internet, Creates Its Own Viral Buzz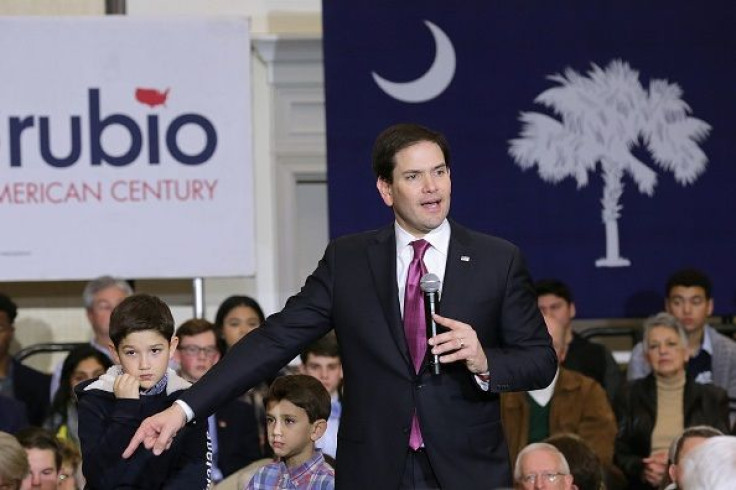 South Carolina means more to Marco Rubio than just Saturday's Republican primary. Push Digital, a 5-year-old digital Charleston agency, has been handling the Rubio campaign's presence online, everything from day-to-day social media to online advertisements.
Campaign filings show Rubio has paid more than $700,000 to Push Digital, the campaign's biggest expense thus far, Bloomberg reported. Agency director Wesley Donehue has been working with Rubio for a couple years, tied to his super PACs and supporters.
"Marco's leaders have really been, for lack of a better word, my career mentors as I grew up in politics," Donehue told International Business Times in a phone interview. Prior to that, he worked for former U.S. Sen. Jim DeMint, R-S.C., and the state's Republican Party.
Donehue wants Rubio in office for both his age and his platform. He said he sees Rubio as a "young conservative for a new generation." At 36, Donehue is not categorized as a millennial, but it's important for him to have someone younger running the country and following his conservative beliefs, he said.
And so, Donehue and his staff have been working to spread Rubio's message virtually. Eric Wilson is Rubio's head digital strategy inside the campaign who is seen as the daily manager, Donehue said, and then Donehue and his team of 25 implement.
Donehue runs his shop for Rubio like a newsroom, one in which they produce as much daily content as possible, thinking about the same clickbait headlines popularized by online media sites. Take a look at Jeb Bush's website and you'll see a post from Jan. 19 and Feb. 16. On Rubio's site, the team is churning out blog post after blog post. By midday Saturday, there were already three posts dated Feb. 20, 2016.
"Honestly our strategy is bottle the lightning," Doneheu said. "We produce more daily content than all the other presidential candidates combined, whether it's blog content or video content … a lot of that is because Marco is awesome and gives us a lot of good stuff to pump out."
Like any newspaper or magazine, Push Digital has planned content week by week. But, they leave flexibility, especially given it's inching closer to primary season, and follow whatever topics or issues are generating the most buzz day by day. For example, his team followed the #CruzPhotoshop meme where Ted Cruz's campaign photoshopped a picture of Rubio shaking hands with President Obama. They wrote their own story and aggregated tweets, not unlike what was seen in the Wall Street Journal and Politico.
Why does Rubio's campaign invest so much in the written word?
"We call that flooding the zone, where you're trying to put out favorable content to push down unfavorable content," said Colin Delany, a political-tech consultant and the founder and editor of epolitics.com.
Indeed, Rubio has been the victim of internet trolling. In February 2013, Rubio reached for a bottle of water during a response to Obama's State of the Union address, which then was dubbed "Watergate" and generated meme after uncomfortable meme.
More recently, Rubio was criticized for repeating the same line during a confrontation with former Republican contender Chris Christie at a debate in New Hampshire. The internet turned Rubio into a robot. Even Huffington Post founder Arianna Huffington chimed in:
But Rubio's team continued to push positivity. One strategy Push Digital has deployed is pushing the content to internet users, not just on Facebook and Twitter. The first time someone goes to marcorubio.com on Google Chrome or with an Android device, the website will ask the user to allow or block push notifications.
If someone chooses allow, the website will notify the user whenever a new blog is posted. Rubio's site is the only one this campaign season that has that system.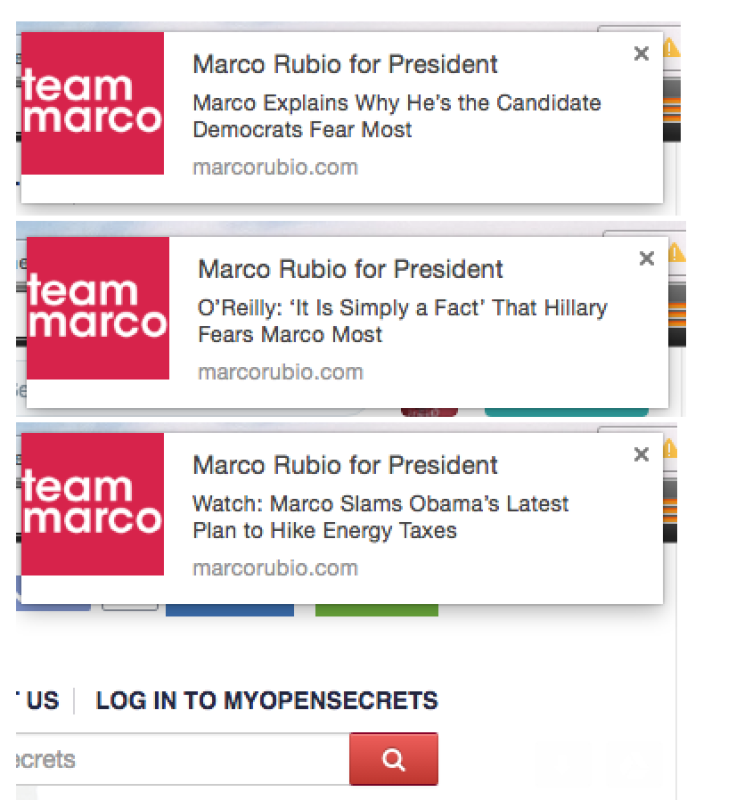 The notifications inspired a thread on Reddit titled, "I visited Marco Rubio's website just ONE time, and now I have these endless updates on my computer. HELP!" The process is a bit burdensome: Open Chrome, go to Settings, click "show advanced settings," scroll down to privacy, click content settings, scroll down to notifications and then click manage exceptions.
Thinking like your own viral newsroom isn't anything new to politics. Indeed, President Obama was dubbed the "social media president" by the Washington Post. Now, each candidate has an account on nearly every social network, including Facebook, Twitter and Snapchat — the latest shiny object of the GOP.
The Trump and the Cruz campaigns have invested money in ads on Snapchat. But Rubio has not and has no plans to do so. "I'm not convinced that it matters yet. I like Snapchat, but when it comes to the allocation of resources, you don't have unlimited dollars," Donehue said.
Donehue's biggest issue with Snapchat is that users can't introduce call-to-actions that are clickable, such as subscribe to an email list or donate to the campaign. "It's like a TV ad," Donehue said.
When it comes down to ensuring the votes, Delany noted data-driven approaches are most important. "Obama mastered the intersection of politics organizing and the internet. Trump has mastered mass media and the internet. Cruz is spending money on data-driven," Delany said.
Cruz hired Cambridge Analytica to use psychological data based on its research of Facebook users pulled without permission, the Guardian reported. The Cruz campaign has paid the firm at least $750,000 in 2015.
Comparing the digital spending of each of the campaigns, Carson is outspending the other contenders. He spent more than $4.5 million for digital media/web service and a separate nearly $1.3 million in web service, according to his year-end filings with the Federal Election Commission. The next highest spender in digital, Ted Cruz, directed more than $3 million to digital media service/survey research/donor modeling.
Rubio spent $447,859.50 on web service, $500 on web consulting and $1,788.97 on web ads.
Rubio's campaign has accused Cruz of foul play on Facebook for circulating a post claiming to be from South Carolina Rep. Trey Gowdy, one of Rubio's loudest supporters, denouncing the Rubio campaign.
Meanwhile, Donehue and his team have been pulling together the content shared on social media that is supportive of a Rubio presidency. The latest article from the campaign reads: "South Carolina: Watch This Awesome Get Out The Vote Video."
Another one reads, "SC Voters: Beware Primary Day Tricks By Cruz."
"We let Marco go be Marco. We let him crush debates … and we bottle the lightning. When Marco's out there, we make sure those videos get everywhere," Donehue said. "We want people to come out to see Marco, but you can also now see Marco on your mobile phone, or desktop."
FOR FREE to continue reading
✔️ Unlock the full content of International Business Times UK for free
offer available for a limited time only
✔️ Easily manage your Newsletters subscriptions and save your favourite articles
✔️ No payment method required
Already have an account?
Log in
© Copyright IBTimes 2023. All rights reserved.