How To Open Champagne Bottle For New Year's Eve Like A Boss With 6 Easy Steps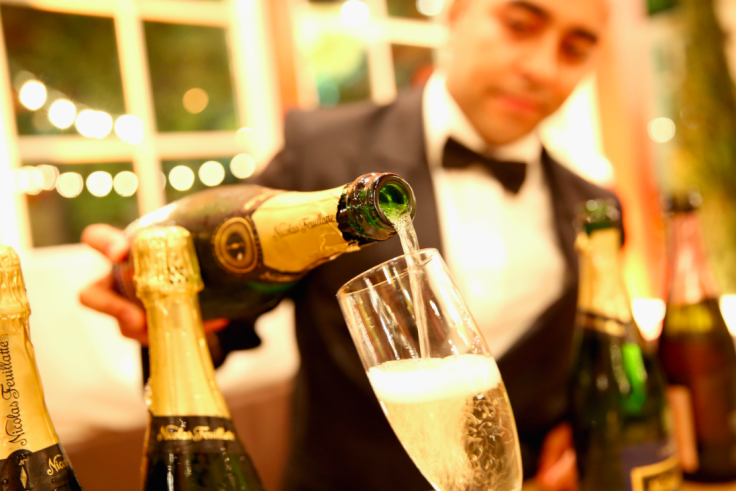 It's time to say good riddance to 2015 and welcome 2016. As "Auld Lang Syne" plays in the background when the clock strikes 12 on New Year's Day, it's tradition to pop open a bottle of bubbly. While opening a bottle of wine may be commonplace for most people, uncorking the fizzy stuff can sometimes be difficult. To ensure you open sparkling wine at the stroke of midnight like a pro, follow the easy steps posted below:
1. Make sure it's chilled. Keep the bottle in the refrigerator before it's opened. If you're bringing sparkling wine straight from the liquor store, make sure you grab a bottle that's already chilled. Stores usually have bottles that are refrigerated.
2. Take off the foil. Whether you cut the foil with a knife, or rip it off with your bare hands, make sure it's completely gone before you begin the uncorking process.
3. Remove the wire cage. There will be wire placed on top of the cork. Twist it off; it should come off with five turns. At this point, place a cloth napkin over the cork and don't remove your hand. The bottle might have been shaken before you got it, and could explode earlier than you want it to.
4. Tilt the bottle at a 45-degree angle. Make sure the cork isn't facing you — or anyone else.
5. Twist the bottle, not the cork. Keep one hand firmly on the cork and then twist the bottle slowly. There will a little "pop" nose and a small cloud of gas when it opens.
6. When it's time to pour, don't fill the glass. Only pour about an inch of bubbly into the glass. This way, the bubbles will settle and the glass won't overfill. Slowly top off the glass.
Note: Technically, sparkling wine can be called "Champagne" only if it comes from the Champagne wine region in France.
Happy New Year, everyone!
Follow me on Twitter @mariamzzarella
© Copyright IBTimes 2023. All rights reserved.