How Will China's Dispute With Japan Affect Carmakers?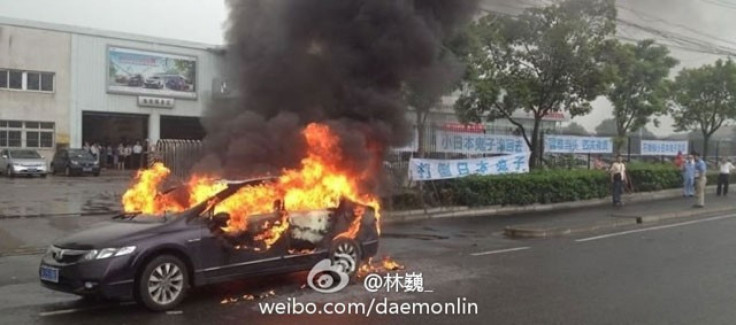 Japan's top automakers seem to be heading in different directions, with Honda Motor Co Ltd. (TYO: 7267) slashing its earnings forecast for the year but rival Toyota Motor Corporation (NYSE: TM) maintaining its forecast for record global sales.
Both companies, as well as Nissan Motor Co., Ltd. (PINK: NSANY), have been hit with a Chinese boycott linked to the territorial dispute over the Senkaku/Diaoyu Islands to the north of Taipei.
The question is whether Honda's poor results are a bellwether of future performance for either the global auto industry or Japan's auto industry. The answer will lie in the coming days as American automakers issue their quarterly earnings and forecasts.
"Our earnings outlook has been affected by lower sales due to the situation in China," Honda's Chief Finanical Officer Fumihiko Ike told a news conference on Monday when the company released its fiscal second-quarter report, according to the Wall Street Journal.
Net profit was up 36 percent to ¥82.23 billion ($13.1 billion), but Honda, maker of the popular CR-V crossover vehicle, failed to meet analysts' consensus by a considerable margin; FactSet's consensus forecast was ¥109.66 billion, according to Dow Jones Newswire. The company also cut its earnings forecast to ¥375 billion from ¥470 billion, a considerable 20.2 percent reduction.
Honda had earlier announced a 41 percent decline in China sales in September; Toyota's sales fell by nearly half while Nissan's declined 35 percent.
Honda said it expected profitability to rise in the latter half of its fiscal year due largely to the Sept. 19 introduction of its redesigned Accord.
The answer to whether Honda's poor performance is unique to its problems with China may come when Ford Motor Company (NYSE: F) announces its earnings report on Tuesday, followed by General Motors Company (NYSE:GM) the following day. Toyota and Nissan are scheduled to release their reports next week.
Last week, German automaker Volkswagen AG (PINK:VLKAY) announced a 1.9 percent drop in sales for the first nine months of the year but maintained that it would meet last year's operating income of $14.9 billion.
"Volkswagen's performance from a sales perspective is certainly the best worldwide," Juergen Pieper, an analyst with Bankhaus Metzler in Frankfurt, told Businessweek. "No other carmaker can keep up with its growth level."
Meanwhile, Toyota, the world's largest car company, says it's on track to meet its goal of selling 9.76 million vehicles this year -- despite the Chinese boycott, according to Yukitoshi Funo, the company's executive vice president for Asian operations.
"Toyota's operation is well-balanced," he told the Associated Press, meaning the company has spread its risk geographically and is therefore less exposed to the political row between Beijing and Tokyo.
Honda's share price fell by ¥117, or 4.65 percent, in trading in Tokyo. Toyota's share price fell ¥50, or 1.62 percent, in the middle of the day when Honda's earning report was accidentally released before markets closed in Tokyo due to an accidental posting of the report on Honda's website.

Trading in New York was shuttered Monday due to Hurricane Sandy.
© Copyright IBTimes 2023. All rights reserved.
FOLLOW MORE IBT NEWS ON THE BELOW CHANNELS