HTC In 2015: Taiwanese Electronics Firm To Move Beyond Smartphones To Connected Devices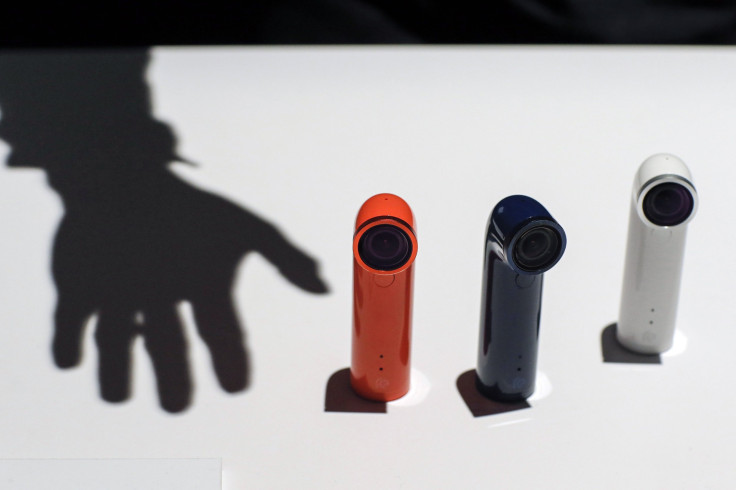 There's more to life than smartphones. HTC Corp. is known for its high-end Android-based phones, many of which feature streamlined metal designs, but the manufacturer has been unable to break 2 percent of the global market, or cause trouble for the likes of Apple Inc., Samsung Electronics Co. or Xiaomi Inc.
So now it's branching out: HTC isn't abandoning smartphones but is expanding into a host of new connected devices in hopes of revolutionizing new markets the way smartphones revolutionized the lives of billions globally. The company's Re Camera is one of its first connected devices HTC has on the market, a bid to introduce a new form factor to cameras.
The periscope-shaped, high-definition camera is intended to allow users to record without having to have all of their attention on their recording device, like a smartphone. A user can take Re to a basketball game, for example, and hold the camera up to record while still enjoying the game live.
Jeff Gattis, HTC's executive director of global marketing, says companies can get stuck in the framework of their most established products. "As a public company, quarter to quarter, you want to start things up on the side, but inevitably everybody gets pulled back into the core business," he said in an interview with International Business Times. "All those things end up winning in terms of mind share and a lot of the new ideas just fall by the wayside."
Gattis says HTC recognized it was too dependent on smartphones years ago and started to lay groundwork that will yield results in 2015. The company created a division called the Connected Products Business Unit last summer, a team of about 100 people dedicated to the connected devices project. HTC plans to have its new brands of connected products on the market in 2015. Two devices will launch in the first half of the year and two will launch in the second half, encompassing categories including "connected life," "connected self," "connected entertainment" and "connected home," he said.
One category is related to imaging, of which the Re Camera is an example. Another category is health and fitness. HTC has collaborated with activewear brand Under Armour to develop this category, envisioning products that can not only track data, but help fitness users implement solutions to improve their performance. Gattis declined to give details about the final two categories, but says it won't mimic what already has been done by other companies. He reiterated that HTC won't be building a smartwatch until it has something unique to bring to the table.
HTC wants to play to its strengths in the connected product space: quality design and user experience. "We're not going to build a hub. We're not building dimming light bulbs; we're not building a thermostat either," he said. "We really want to be mindful about avoiding those 'me too' categories."
In particular, the manufacturer looks at home automation company Nest as an example of a connected device done right, adding that it hopes to follow a similar strategy with the first connected product it brings to market in 2015. "Nest didn't go out and say, 'This is a thermostat that's ultimately going to control your lights and locks, and it's going make breakfast for you, it'll order milk when it spoils,' " Gattis said.
HTC doesn't want to create an overall platform or device ecosystem, similar to what other major players like Google Inc. or Samsung have done. Google has ingrained itself into a considerable amount of consumers' lives -- from how devices operate, to how computers operate, to how homes operate -- apparent in its acquisition of Nest. Samsung also plans to delve into the Internet of Things concept, which aims to have all electronic devices connected and able to communicate with one another.
What HTC wants to do is tackle one unsolved technology problem at a time. Ease of use and user experience is paramount to the success of such products, as is figuring out whether consumers really need or even want them, Michael Stiller, technology analyst at Nasdaq Advisory Services, noted.
"[Nest] just said, Every house has a thermostat. They're really ugly, they're really difficult to use and they waste a lot of money because they're not smart and you can't program them," Gattis said. "Ours is beautiful, it's easy to use. Oh, by the way, you can control it from your phone and it'll save you lots of money because it'll be aware and you can learn as you go along. Would you like to buy one?"
The $124 billion company has enjoyed three consecutive quarters of profit, including a profit of $14.73 million in its fourth quarter, exceeding estimates by Bloomberg analysts. But sales have been stagnant. It had its first increase in sales since 2011 in the fourth quarter, with $1.5 billion in sales, up from $1.34 billion the prior year.
Connected products don't mean the end of HTC as a smartphone manufacturer, but rather is an extensive addition to its repertoire. HTC sees its evolution from a company making devices for other brands, to a company establishing itself as a brand in the smartphone category to becoming an overall consumer technology brand, an umbrella that includes smartphones.
HTC insists its goal is not to use connected products as a tactic to sell more phones. "We believe the connected product business could stand on its own if we needed to. Think of it as broadening HTC, definitely not changing the focus of HTC whatsoever," Gattis said.
So, when will HTC officially get the ball rolling on connected products? "Mobile World Congress is a big show for us. That would probably be a decent venue if we wanted to start talking more about these connected products," he said.
HTC sent out invites to its March 1 press event at WMC Friday.
© Copyright IBTimes 2023. All rights reserved.