Hulu Streaming: How To Evade The Ban On VPNs And Continue Watching Online TV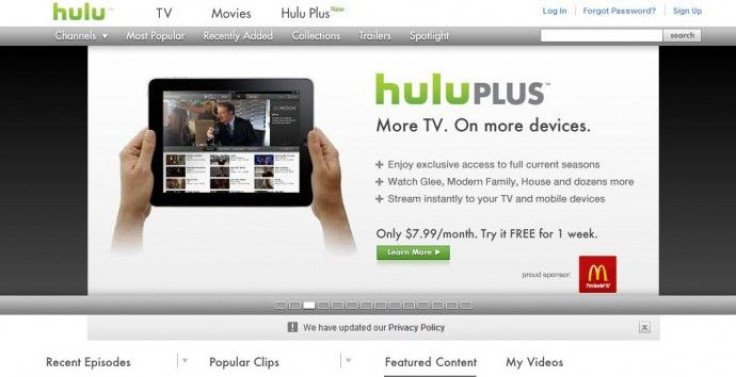 Months after Hulu attempted to block international pirates by enacting a blockade on virtual-private networks, frustrated U.S. customers have figured out how to sidestep the ban and watch the selection of popular TV shows and movies without any restrictions.
Hulu announced in April it would no longer be available to customers found watching on a VPN connection, which enables users to connect to a public Internet connection through a proxy service that allows them to protect their privacy, security and functionality.
Hulu, which has an estimated 6 million customers for its paid Hulu Plus service in the United States, is not available in any other countries except Japan. As such, many foreign customers accessed the TV and movie streaming service by connecting through a proxy service that made it appear to Hulu as if they were watching from inside the United States. Working to stop this workaround, Hulu cut access to all VPN providers.
"A proxy server works as sort of a middleman between a personal computer and the Internet. In practice, anonymous proxies are used to hide information about a person's personal computer so they can browse the web anonymously – and sometimes access a site that is restricted to a certain geography," Hulu explained on its Web site.
"Due to contractual limitations, Hulu is unable to stream videos to users of anonymous Proxy servers because of possible geographical limitations). If our system determines that your computer is behind an Anonymous Proxy, you will need to disable it before you can access videos on Hulu again."
The problem is that for American Hulu subscribers, using a VPN is completely legal and provides a host of benefits that make it worthwhile to investigate how to subvert the policy change. Also snagged in the VPN dragnet are U.S. servicemen and women who have come to rely on comfort-TV while stationed throughout the world. The company has made it possible for military personnel from their bases, though the mere notion that soldiers were cut off because of a company policy has helped inspire a groundswell of strategies that subvert the VPN blackout.
A TorrentFreak report published at the time the block went into place estimated "hundreds of thousands" of users watching legally would be affected. Hulu did not respond to request for comment Monday from the International Tusiness Times.
The good news for blacklisted users is Americans in similar situations have spent the last few months wisely, figuring out how to outsmart Hulu's blockade and stream shows as if their service was never interrupted.
Often when a person signs up for VPN service they're given the same IP address as any number of other users, and that IP may correspond to an address inside or outside the United States. Hulu, it seems, has only blacklisted IP addresses known to be used by popular VPN providers and is not actually checking to make sure from where individual IPs are connecting.
The most popular way to get around the prohibition, if conversations on the Hacker News are any indication, is to enlist in any of the trusted but little known VPN services that charge $5 to $12 and have avoided Hulu's gaze. These so-called dedicated IP addresses give a user an exclusive fixed IP inside the United States and are often available via an add-on to someone's VPN subscription.
While TorGuard and OpenVPN have reportedly been able to stay ahead of the curve for this purpose for months, users also described finding success with simple browser extensions like Media Hint and Hola Unblocker. Both say they work in a way similar to VPN services, but according to a Hola Unblocker review, "the difference is that that it uses peer-to-peer technology to distribute content between members."
© Copyright IBTimes 2023. All rights reserved.