The Human Zoo: Artists Challenge Norway's 'Racial Amnesia' With Re-creation Of 1914 'Congo Village'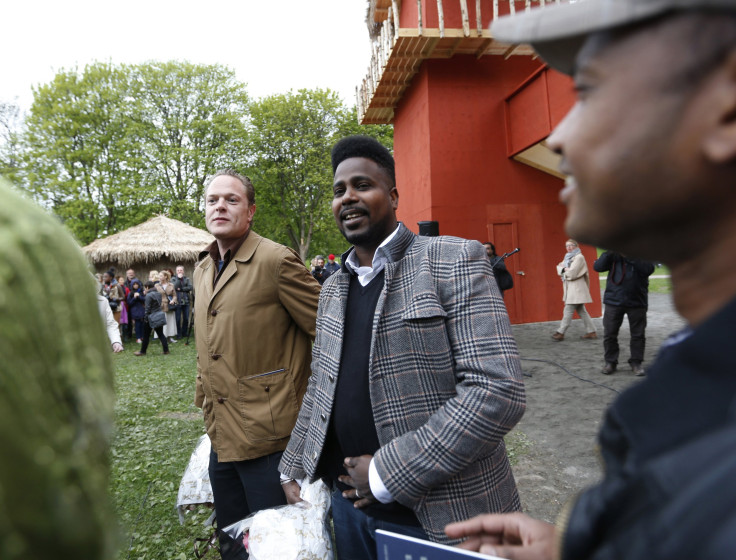 In 1976, the United States celebrated its Bicentennial. Not surprisingly, there wasn't much interest in revisiting the tragedy of slavery in America that year. Instead, most of the country celebrated the good things in American history on the Fourth of July that year and left the bad things for the history books.
Should confront the tragedies of history, or should we let go of them and allow them to be be forgotten? Two artists in Norway think are currently addressing this very question in their work.
On Saturday, Norway begins its Bicentennial celebration of its constitution, and while there will be plenty of dancing, smiles and fireworks to go around, there will also be an exhibit that challenges Norwegians to face a racial blemish on their country's history that occurred 100 years ago at Norway's last centennial anniversary.
Norwegian-Sudanese artist Mohamed Ali Fadlabi and Swedish artist Lars Cuznor are re-creating the Congo Village, an "exhibit" at the 1914 Jubilee Exhibition that involved 80 Senegalese people who lived in a simulated "fantastic African village" for the public to ogle at. It was enormously popular, drawing 1.4 million visitors over the course of its four-month stay at Frogner Park in Oslo.
Today, Fadlabi and Cuznor are calling their project "European Attraction Limited."
By today's standards, the Congo Village is immensely offensive and exploitative. The village and exhibits like it are now known as "human zoos." Most Norwegians would prefer rather forget it happened and move on, but that's exactly what the artists want to challenge.
"We are rebuilding the village in order to address issues around historical amnesia, misrepresentations, the evolution of racism and the architecture behind the nation-building process," Fadlabi and Cuzner said at the European Attraction Limited's opening.
Instead of forgetting the mistakes of the past, Fadlabi and Cuzner want Norwegians to acknowledge and discuss them. They say European Attraction Limited challenges what they call the continuing feeling of superiority Norwegians have. Instead of racial superiority, the artists say Norwegians feel superior because the country has a "self-image of goodness," built up because it is a leading progressive country on the world stage.
"Norwegians have been propagating this self-image of a post-racial society and it's been internalized that it's a good, tolerant society," Swedish-Canadian Cuznor told Reuters. "It's great branding and it's self-perpetuating but it's a false image."
They invited people from all around the world to participate and live in the fake village they've set up. Anyone (of any race) who "believes in the importance of the discussion about colonialism, the evolution of racism, equality… etc.," was encouraged to apply.
Like any politically challenging art installation, Congo Village has sparked opposition. Some Norwegians refute the artists' assertion that racism is a major problem in Norway today and decry the Congo Village as crude and unnecessary. Many "anti-racist" scholars say the project falls short of its intended goals and instead perpetuates the racism it seeks to end.
There's also a good number of folks on Twitter using the hashtag #someonetellnorway who think the project is an entirely self-unaware exhibit exactly like the original Congo Village.
As its name suggests, European Attraction Limited isn't aimed at just the institutional racism of 1914 Norway. It's aimed at Europe's dark history of colonialism and assumed racial superiority. Human zoos like the Congo Village were part of fairs across Europe in the 19th and early 20th century. Fadlabi and Cuznor have brought the issue to the table, but ultimately it's up to the people of Norway and beyond to decide what to do with their history.
Hear what art curator and historian Elvira Dyangani Ose has to say about European Attraction Limited and the use of re-enactments as a means of re-examining history.
FOR FREE to continue reading
✔️ Unlock the full content of International Business Times UK for free
offer available for a limited time only
✔️ Easily manage your Newsletters subscriptions and save your favourite articles
✔️ No payment method required
Already have an account?
Log in
© Copyright IBTimes 2023. All rights reserved.