Hurricane Irene Update: Florida Strike Threat Medium to High; Hurricane Intensifies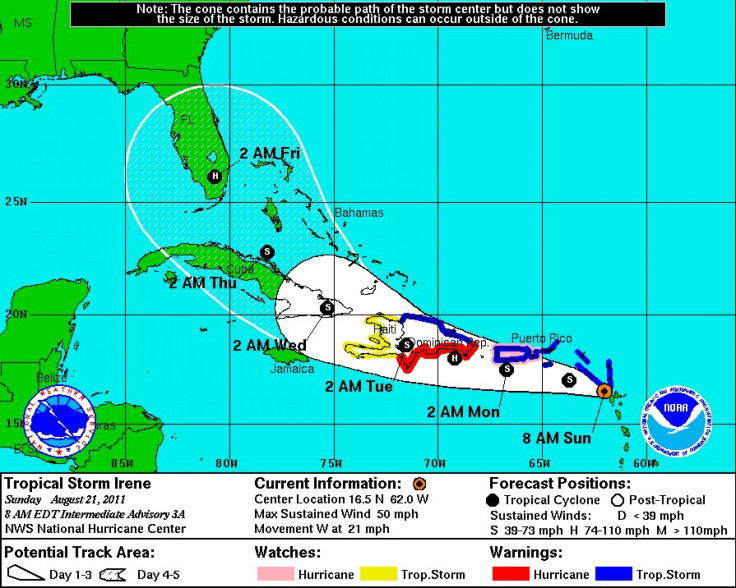 Hurricane Irene intensified Monday morning and is heading toward Florida after pounding Puerto Rico.
Heavy rain, flooding and mudslides are possible in the Caribbean before the storm is forecast to track through parts of the Bahamas from late Tuesday night through early Friday morning. Then, the storm is likely to hit Florida, possibly impacting the state with heavy rains and damaging winds for a couple of days.
Timing for U.S. impacts are possible as soon as Thursday in South Florida, and Thursday night and into Saturday for the rest of the state, Georgia and the Carolinas.
The current storm track is uncertain, though the forecast will sharpen in the next 24-48 hours, but current models show Hurricane Irene could strike Florida as a Category 2 storm, with damaging potential. Some models show the storm could strengthen beyond a Category 2.
Currently, the threat forecast for Florida, Georgia and the Carolinas is medium to high.
By midday Monday, Irene packed winds of 80 miles per hour, and the storm was traveling north and northwest at 14 miles per hour.
On Sunday in San Juan, the storm dumped as much as 8 to 10 inches of rain as people sought shelter.
You can hear the wind, the gusts are relentless, said 59-year-old Maria Antonia Ordonez, as she secured the shutters of her house in historic Old San Juan after inviting neighbors over for dinner and wine to wait out the storm, according to The Associated Press. I can't see anything because I've closed everything.
The island of Hispaniola --which is shared by the Dominican Republic and Haiti -- still has many people who live without shelter after last year's earthquake that decimated Haiti and the region.
In Puerto Rico, at least 120,000 people were left without power and another 13,000 without water as the storm approached on Sunday.
Now, all eyes are on Irene to see if the storm strengthens and makes a strike on the U.S. East Coast. Indications on Monday morning are that Irene will strengthen over the next five days, tracking toward Florida and the Southeast U.S. on Wednesday night, Thursday and into the weekend, most likely as a Category 2 storm with winds of 100 to 110 miles per hour.
The latest forecasting models show Irene making a direct assault in a most likely path entering near Miami and continuing a path straight up the center up the state, reaching Jacksonville by early Saturday morning. If Irene does take that path, the state will be inundated by high winds and heavy rainfall for two to three days, potentially causing severe damage.
Residents of Florida are encouraged to closely monitor weather forecasts and possible evacuation notices.
© Copyright IBTimes 2023. All rights reserved.